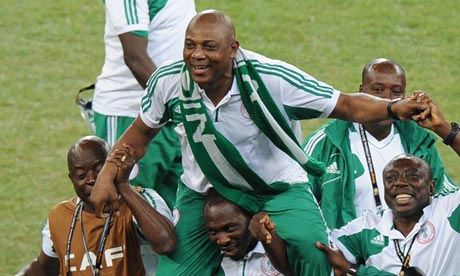 Stephen Keshi has resigned his position as the head coach of the Nigerian Senior Football Team, the Super Eagles.
The news was broken online by SuperSport presenter, Robert Marawa who tweeted the following:
"Stephen Keshi has just announced that he handed over his resignation letter after the game exclusively on [email protected] Marawa on MetroFM"

Keshi hinted that he was "fired" before the AFCON match against Ivory Coast as Nigerian Football Authorities did not believe the Super Eagles would progress beyond that stage of the competition. Though there is no "official" word on the reason for this move, sports pundits are speculating that the continuous "meddling" and "lack of support" by the Nigerian Football Authorities are among the reasons for his resignation.
The Head Coach role of the Super Eagles has a major high turnover rate, Keshi is the 19th coach in 19 years. He was quoted as saying "It's a shame in Africa, When there's an African coach nobody wants to give you time, they want you to have the job today, build a wonderful team tomorrow and next year win the World Cup. If only we could work out how these things work we could have more success. But most coaches aren't given freedom to work so they are held back."
Photo Credit: Alexander Joe/AFP/Getty Images