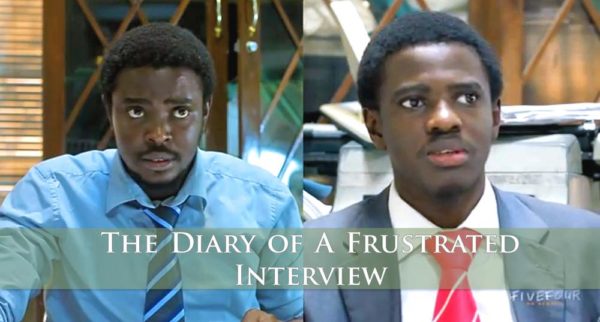 We watched these videos and we laughed so hard. We just had to share! The interviewer must have been sent from the deepest recesses of hell to torment the main character – "Jide Kanni".
Titled "The Diary of a Frustrated Interview", this series is "an experimental comedy sketch created by FiveFourMedia and Lagos Central Productions. It's a satirical look at how our extremely 'busy friends' in HR handle job applications and interviews. This first Season follows the quest of a job applicant "Jide Kanni" and his ordeal through a series of 5 highly depressing NIGERIAN Interviews."
The Diary of a Frustrated Interview was written and produced by MTV Africa Music Award Winner Jide Rotilu and his brother Bayo Rotilu founder of Twelve05Photography.
Jide loves experimental skits and comedy sketches with various influences ranging from 'Saturday Night Live' sketches to 'Family Guy'. He writes as a hobby and founded Lagos Central as an informal satirical writing hub and FiveFourMedia as the Creative Technologies and Production outlet. Over the past decade he has worked on other shorter skits including 'O'Jonah Twist', 'Aunty Chidinma, where's my Breast Milk?', 'Kini big deal spoof' Jide is NOT a fan of HR Departments.
Debayo Rotilu is that fun loving guy who enjoys living life to the fullest. He's got a background in computing and project management and he is currently the founder and the senior photographer at Twelve05 Photography. He's also not a fan of the HR department and decided to join the movement with his brother produce the diary of the frustrated interview series.
Check out Lagos Central on Facebook and Twelve05 Photography here
Part 1

Part 2

Part 3

Part 4

Part 5