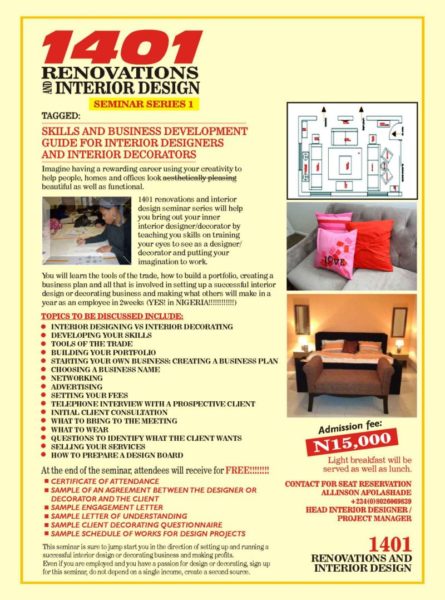 The 1401 Renovations and Interior Designs  presents its first series of a seminar for aspiring interior designers and decorators. The event is aimed at educating these business minded individuals on how to structure their business professionally.
Topical issues like skills & tools of the trade, how to create a formidable business plan & portfolio, marketing services and lots more will be treated by knowledgeable experts. The seminar will also help interior decorators and designers prepare to start their businesses and remain relevant in the market.
There will be freebies like detailed documents on how to run a structured business and run it professionally among many other attractions.
Date: Saturday 6th April 2013
Time: 11AM – 5PM
Contact: For more information & Seat reservation contact;
Allinson Afolashade – +234(0)8026069839 | BB Pin: 2A58B377
______________________________________________________________________________________
Sponsored Content