In my earlier years when my addiction to BBC Food started, I always loved watching Madhur Jeffery and some other Indian shows that explored a lot of whole spices. It was from Madhur jeffery and reading afterwards I discovered that something like curry was a glen dog spices and in India no two households would have the same curry blend.
It varied from home to home or community to community. One combination that always caught my attention was "Dhana Jeera". In English that would be "Coriander and Cumin" and thankfully I lived in a neighbourhood that has a strong Indian presence so all these spices were available.
So, after a few trips to the stores I found these whole coriander seeds and cumin seeds. I learnt that to bring out their maximum flavour you need to dry roast them in a pan till it becomes fragrant. You have to be careful so it  doesn't burn and then you place in spice grinder to  crush it finely.
Apparently that way it brought the spice back to life. I tried it and saw the difference with the powders that always smelled and tasted like dust after a few weeks in the kitchen cabinets. Coriander seeds are not entirely Indian. It is heavily used in Mexican and Latino cooking as well.  Mexicans are bigger on the fresh leaves while the Indians are big on both.
For me I find the seeds very versatile. When mixed with some seasoning cube and some garlic it is perfect on poultry, meat and fish. For fish throw in some citrus like lime or lemon. For beef, mix the roasted seeds that would have been powdered or ground semi-fine with some rosemary and black pepper! It is out of this world I tell ya!
Also, you can use it as a whole to flavour oils. Fry some seeds in some oil like vegetable oil and strain and use to deep fry some fish or potatoes for a different note of flavour.
Coriander leaves are an essential in my kitchen. They have this strong pungent perfume that sometimes can even be over powering. However, (when used properly)  it is the perfect finish to curries, Asian style rice, broths and garnish for fish meats and poultry
My basic paste has coriander in it. I place some green chillies, spring onions, toasted coriander seeds, some toasted cumin, seasoning cube (Knorr being my choice), coconut oil, mustard oil, about 3/4 teaspoon of turmeric powder, coconut cream, loads of garlic and ginger  –  puree away in my blender till it's almost a smooth consistency. I use it to marinade the prawns, fish, chicken(for me it works here best, chicken legs deboned ) and meat of course! The leaves also make excellent coriander oil you can use to garnish meals and add a note of flavour with out the seeds or leaves in sight.
I hope I have shared sone useful info about this amazing ingredient. I implore you to experiment with it and let me know how it turned out in your kitchen.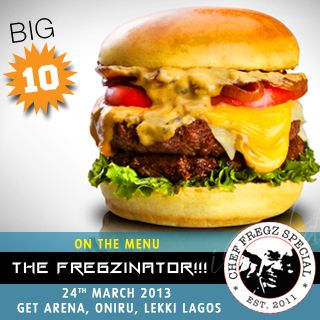 Before I go don't forget Sunday the 24th of March is Chef Fregz Special. I have a special giveaway for my amazing BN readers. I am giving out a shirt from Cool Beans (www.cackland.com). To win this shirt, all you have to do is answer one question correctly!
"Where does Coriander feature in on this Chef Fregz Special Menu?" First and correct answer wins! Please send all answers to features(at)bellanaija(dot)com. The prize is redeemable at the venue so make sure you come through!
If you're to tired to cook this weekend please let me see you at Chef Fregz Special I gat time for' that! A Bientôt!
What To Expect on the Menu
THE FREGZINATOR
A 100% beef patty sitting on crisp lettuce leaves and sweet but spicy chipotle mayonnaise topped with a creamy cheddar sauce topped another beef patty more chipotle mayo then some delicious cranberry sauce, caramelised onions all in between a luscious white bun. – N3000
THE OGA AT THE TOP
Rack of Pork Ribs marinaded in an asian BBQ sauce roasted to juicy perfection whilst being basted with more Asian BBQ sauce. Served with Fries or Rice and a Salad – N3,500
SAMBA
Taking from the a traditional spanish classic this a black seafood rice with juicy bits of calamari and shrimps with a slight kick from chilli peppers. Its blackness is from the calamari ink. N3000
THE HIGH LOW CLUB
In case you're watching your "height" you aren't left out! Heres a delicious brown pasta dish with prawns and a garlic sauce and vegetables. – N2800
DESSERT
French Toast Butter Salted Caramel French Vanilla Ice-cream. – N1500
SPECIAL COCKTAILS
ROYAL MOJITO? I GAT TIME FO' DAT!
An uplift to the classic crowd pleaser. White rum, Brown Sugar Mint leaves and limes all muddled then topped with bubbly!- N1500*
GET LADY
A delicious mix of strawberry orange and bananas. – N1000*
Truffle and Foie Gras Love
*All drinks are on promo prices just for Chef Fregz Special
___________________________________________________________________________________________________
Chef Fregz loves to cook! He is a graduate of Le Cordon Bleu Paris Culinary Arts School in France and hosts monthly "Chef Fregz Specials" where he whips up a yummy menu with a different theme each time then everyone enjoys a taste.He also caters special events and private dinners. To find out more, www.cheffregz.com