Good Morning BellaNaijarians, it's Thursday!
It's time for your weekly dose of all the most-buzzed-about and fabulous events to be spotted with friends and family this weekend. From the Spice Haute Party in Lagos to The Night of Stars event hosted by Uru Eke and Julius Agwu in Calabar, we have you covered.
Sit back, relax and see for yourself where you need to be.
We LOVE you all!
See you next week, Ciao!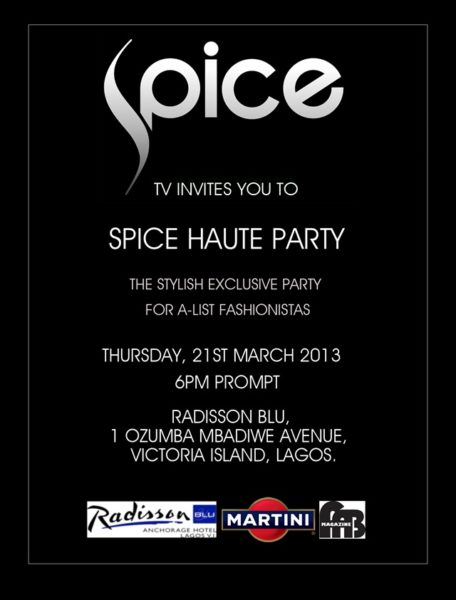 Spice Haute Party
Join A-list fashionistas at the exclusive Spice Haute Party today at the Radisson Blu, Lagos. The party will feature an exclusive guest list of top fashion, lifestyle and entertainment personalities, fantastic entertainment, and fashion display by  ten designers. To attend, RSVP by sending an e-mail to [email protected]
Date: Thursday 21st March 2013
Time: 6 PM
Venue: Radisson Blu Anchorage Hotel, 1 Ozumba Mbadiwe Avenue, Victoria Island, Lagos
Contact: For more info and general inquiries, call 08060022099 | e-mail [email protected] | follow them on Twitter @SpiceTVOnline
_____________________________________________________________________________________________________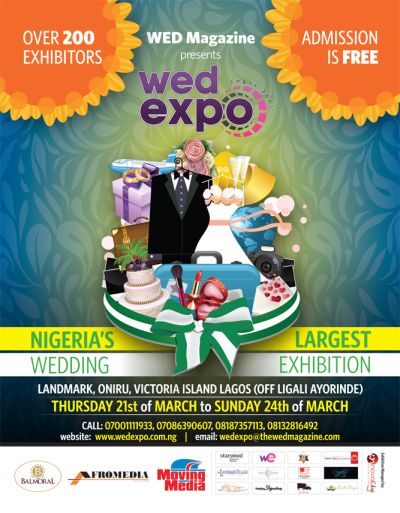 WED Expo Lagos 2013
WED Magazine, one of Nigeria's foremost magazine is back with the 2nd edition of Nigeria's largest wedding exhibition, WED Expo Lagos 2013, scheduled to take place from Thursday 21st March to Sunday 24th March 2013 at the Palace, Tafawa Balewa Square, Lagos.
Date: Thursday 21st March 2013 – Sunday 24th March 2013
Venue: Landmark Village, Victoria Island, Lagos
Contact: For more info and general inquiries, call 07001111933 | e-mail [email protected]
_____________________________________________________________________________________________________
Inner Beauty Outward Radiance (IBOR)
Inner Beauty Outward Radiance is a quarterly program created for women of all ages, profession and race to strike a well-needed balance between their inner and outward beauty. The program assists and helps individuals to achieve and maintain their desired image and gain confidence in how they look and feel. The organizers will assist and help individuals to achieve and maintain their desired image and gain confidence. The fee is N 30,000. For registration details, be sure to get in touch with the organizers.
Date: Friday 22nd March 2013 – Saturday 22nd March 2013
Venue: Best Western Hotel, Allen Avenue, Ikeja, Lagos
Contact: For more information and general inquiries, call 08127665111 | e-mail [email protected]
_____________________________________________________________________________________________________
MTN Link Forum
Award winning journalist and media entrepreneur Chude Jideonwo will be sharing the secrets to his success with young and promising entrepreneurs & professionals at the MTN Link Forum in Lagos this Friday. Jideonwo who has a number of achievements including being a lawyer and the Executive Director of The Future Project has been scheduled to share his knowledge on all forms of traditional and new media in the last decade to inspire leadership, build entrepreneurs and promote the innovative use of new media.
Date: Friday 22nd March 2013
Venue: The Federal Palace Hotel, Amadu Bello Way, Victoria Island, Lagos
___________________________________________________________________________________________________

Pre-Nollywood Week Paris 2013 Cocktail Party
This Friday the French Consulate of Lagos will host a private cocktail for members of the press and Nollywood film industry in preparation for the first festival dedicated to Nigerian films in France, Nollywood Week Paris. The festival will take place from May 30 to June 2 2013 in France and will feature seven of the best films of Nollywood from the previous years. This weekend's cocktail will announce to the public for the first time the seven films to be featured for the first edition of Nollywood Week Paris. Admission is strictly by invitation.
Date: Friday 22nd March 2013
Time: 6 PM
Venue: French Consulate, 1 Oyinkan Abayomi Drive, Ikoyi, Lagos
_____________________________________________________________________________________________________
The Launch of Euphoria Club
You are cordially invited to the launch of Euphoria Club this Friday at Chase Mall, Lagos. Hosted by on-air-personality Toolz, the event promises to be fun with lots of complimentary cocktails and canapes. There will also be gifts from Ciroc for guests who purchase their vodka drink. Admission is free for all.
Date: Friday 22nd March 2013
Time: 9 PM
Venue: Chase Mall, 19 Adetokunbo Ademola Street opposite Skye Bank, Victoria Island, Lagos
Contact: For more information and general inquiries, call 08033677383
_____________________________________________________________________________________________________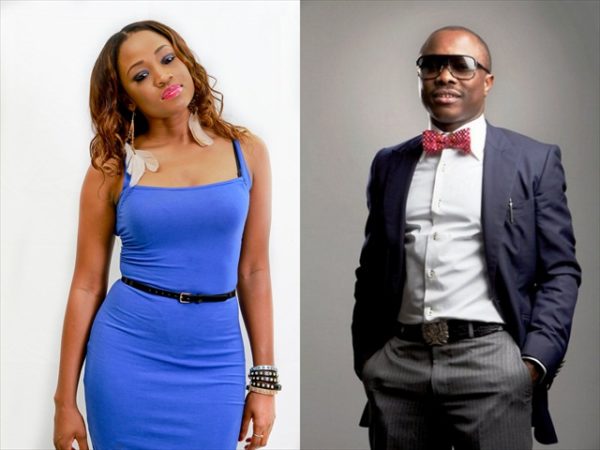 The Night of Stars
The board of Matchmakers Consult International Limited and Nigeria Football Federation present The Night of Stars, a glamorous event that will precede the Nigeria Pitch Awards to celebrate and honour the best of Football. The event will be hosted by Nollywood starlet Uru Eke and Nigerian comedian Julius Agwu. The highlights of the event will be the unveiling of the Nigeria Pitch Awards plaque, rendering the theme song and unveiling of the Award Ceremony Stage in 3D. There'll be wining and dining, music, live performances and rib-cracking jokes. Scheduled to attend are the Governor of Cross River State – Liyel Imoke, Minister of Sports, Minister of Culture and Tourism, Chairman Senate Committee on Sports, Chairman House, Committee on Sports, Inspector General of Police and some of your favourite celebrities.
Date: Saturday 23rd March 2013
Venue: Transcorp Hotel, Calabar
_____________________________________________________________________________________________________
The W.O.W Divas presents the X-Factor
Join WOW D.I.V.A.S and other possibilities postured men & women at their hangout tagged The X-Factor this Saturday at the Wheatbaker Hotel, Lagos. The event is an opportunity of a lifetime to listen and interact with lots of speakers including Dr. Anthony Rapu (Senior Pastor, This Present House), Dr. Ike Kachikwu (Executive Vice Chairman, ExxonMobil), Leo Stan Ekeh (Chairman Zinox Group), Jumoke Adenowo (CEO, AD Consulting/Founder Awesome Treasures), Betty Irabor (Editor-in-Chief, Genevieve Magazine), Claire Omatseye (MD, JNC International) Maxwell Ubah (Leadership Coach, Profilant Ltd) and Udo Maryanne Okonjo (CEO Fine and Country International WA). The X-Factor topics include The X- factor Career, X-Factor Business and Finance and the X- Factor Equation. A special feature at the event will be The Tycoon's Nest "Funding & growing your dream business". Dress code for the event is Tycoon Glam. (Colours – Black, White or Pink)
Date: Saturday 23rd March 2013
Time: 8 AM – 5 PM
Venue: The Wheatbaker Hotel, 4 Onitolo Road, Ikoyi, Lagos
Contact: For more info and general inquiries, SMS 08085867668 | e-mail [email protected] | log on to their website
_____________________________________________________________________________________________________
Zumba Fitness Dance Class
Are you looking to improve your cardiovascular system, lose weight, improve your coordination or simply boost your mood, then Zumba Dance Fitness may be the right choice for you. Join the fun dance fitness class today for more fitted and energized 2013.
Date: Saturday 23rd March 2013
Time: 9 AM
Venue: The BMS Spa, 3 Magbon Close, off Macpherson Avenue, Ikoyi, Lagos
Fee: N 2,000
_______________________________________________________________________________________________________
Watersworth Art Brokers
Encourage your child's creativity by registering them now for Watersworth Art Brokers' training in art. Drawing inspiration from the works in the gallery's collection students will create hands on projects while the master artists help them in learning and creating their own works in different media and styles. Registration fee is N 10,000 while adults will pay the sum of N 20,000.
Date: Saturday 23rd March 2013
Time: 9:30 AM
Venue: Watersworth Gallery, 3B Unity Close off Africa Lane, Lekki, Lagos
Contact: For more info and general inquiries, call 0809999092 | 07030799683 | e-mail[email protected]
_______________________________________________________________________________________________________
Watersworth presents Fit, Fun & Flair
Do you love to dance and are you looking for a fun and fab way to lose weight? Then Fit, Fun and Flair is for you. Watersworth Art Gallery in conjunction with Gbenga Yusuf of Maltina Dance All competition, presents you dance classes that will make all the difference. The offer package/fee is N 15,000.
Date: Saturday 23rd March 2013
Time: 9:30 AM
Venue: Watersworth Gallery, 3B Unity Close off Africa Lane, Lekki, Lagos
Contact: For more info and general inquiries, call 0809999092 | 07030799683 | e-mail [email protected]
_____________________________________________________________________________________________________________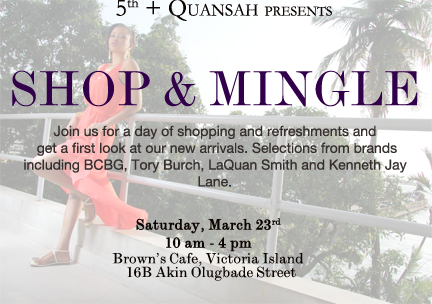 5th + Quansah presents Shop & Mingle
Join 5th + Quansah for a day of shopping and refreshments as well as get a first look at their new arrivals. There will be lots of items including shoes, bags and jewelry from these brands – BCBG Max Azria, Tory Burch, LaQuan Smith and Kenneth Jay Lane. Admission is free for all.
Date: Saturday 23rd March 2013
Time: 10 AM – 3 PM
Venue: Brown's Cafe, 16B Akin Olugbade Street, Victoria Island, Lagos
_______________________________________________________________________________________________________
Business Law Academy presents The Business Clinic for Entrepreneurs
The Business Clinic for Entrepreneurs, a one-day intensive business workshop which will focus on entrepreneurs in all sectors will take place this Saturday at the Protea Hotel, Lekki, Lagos. Facilitators at the workshop including Olukayode B.A. Fabunmi (Partner, Corporate Commercial Practice J.O.Fabunmi & Co.), Ogochukwu Isiadinso (Consultant, Tax & Corporate Advisory Service) and Kamoru Oladimeji ( Nigeria Country Representative FBN Bank UK Limited) will address the everyday and practical challenges to business growth and offer solutions. Delegates will also have the opportunity after the workshop to have a one-on-one consultation session with the faculty on successfully growing their businesses in the Business Clinic Consultation Room (BCCR).
Date: Saturday 23rd March 2013
Time: 10 AM – 3 PM
Venue: Protea Hotel, Oakwood Lekki, Lagos.
Contact: For more info and general inquiries, call 01-2953206 | e-mail [email protected]
_____________________________________________________________________________________________________
LPM March 2013
The 47th edition of LPM will take place this Sunday at the Imperial Place, Lagos. This edition will feature lots of vendors including funky T-shirts from Vang, stylish shoes from Deeh, à la mode pieces from L'Espace. LPM will also be launching its first app to assist vendors with future registrations.
Date: Sunday 24th March 2013
Time: 12 Noon – 7 PM
Venue: Imperial Place, 274 Ajose Adeogun Street, Victoria Island, Lagos
_____________________________________________________________________________________________________
Kidz Kloset Easter Sale
Easter is just around the corner and if you are looking for the right place to have fun with your children and shop, the Kidz Kloset Easter Sale is the right event for you. While you are shopping for clothes, shoes, bags and accessories from these brands – Tommy Hilfiger, Carter's, Oshkosh b'gosh, Timbaland, Polo and Gap at discounted rates, children will indulge in fun activities such as face painting. Admission is free for all.
Date: Sunday 24th March 2013
Time: 12 Noon – 6 PM
Venue: Abeni Plaza, 52b Ligali Ayorinde Street (Next to KFC) Victoria Island, Lagos
Contact: For more information and general inquiries, call 07029577424 | 08067009116 | e-mail [email protected] | like their Facebook page
_____________________________________________________________________________________________________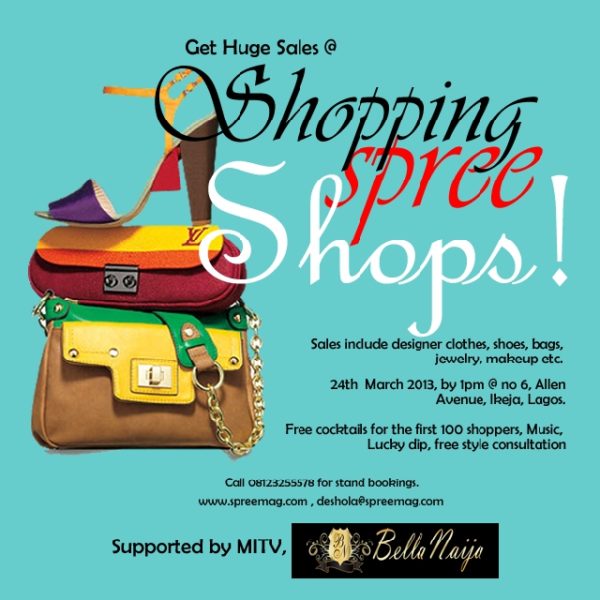 Shopping Spree Magazine presents Shopping Spree Shops Easter Sale
Shopping Spree Online Magazine invites you to its Shopping Spree Shops Easter Sale this Sunday in Lagos. There will be lots of vendors at the event. They will have on display items including clothes, shoes, bags, accessories, jewelry and beauty products, at discounted rates. The first 100 shoppers to arrive will be served refreshing cocktail drinks. You will also get a free one-on-one style consultation. There will also be a DJ to treat you to the best of music as you shop. Admission is free for all.
Date: Sunday 24th March 2013
Time: 1 PM
Venue: 6 Allen Avenue, Ikeja, Lagos
Contact: For more info and general inquiries, call 08123255578 | e-mail [email protected] | log on to their website
_____________________________________________________________________________________________________
Onions Around Lagos
Onions Make Us Cry is a winning play for the national theatre studio London African project. Directed bySegun Adefila and written by Zainabu Jallo, the show creates a fresh style with poetic dialogues and brilliant use of metaphors. The stage play will take place at the Bogobiri House, Ikoyi, Lagos.
Date: Sunday 24th March 2013
Time: Mydrim Gallery 3 PM | Freedom Park 6 PM
Venue: Mydrim Gallery, 74 B Norman Williams, Ikoyi, Lagos | Freedom Park, 1 Hospital Road, Lagos Island
Gate Fee: N 2, 000
_____________________________________________________________________________________________________
Theatre at Terra presents A LAPA Production: Sefi Atta's The Naming Ceremony
Theatre at Terra Kulture is back with another interesting stage show, Sefi Atta's "The Naming Ceremony". Directed by Seke Somolu with Olu Jacobs and Joke Silva on board as executive producers, the event will take place this Sunday at Terra Kulture, Lagos.
Date: Sunday 24th March 2013
Time: 4 PM & 7 PM
Venue: Terra Kulture, Plot 1376 Tiamiyu Savage off Ahmadu Bello Way, Victoria Island, Lagos
Ticket Price: N 2, 500
Ticket Locations: Terra Kulture, Plot 1376 Tiamiyu Savage off Ahmadu Bello Way, Victoria Island, Lagos | Online at Jumia.com.ng | Call 07069771347
____________________________________________________________________________________________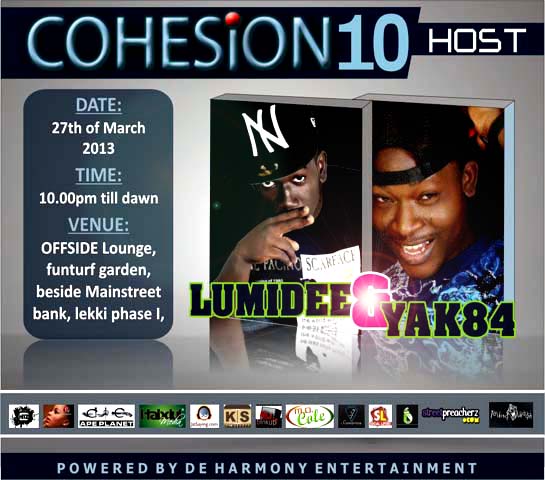 Cohesion 10
The 10th edition of the monthly fun getaway Cohesion will take place this Wednesday at the Offside Lounge, Lekki, Lagos. Organized by De-Harmony Entertaiment, the event will see in attendance lots of upcoming entertainers including Lumidee, Yak84, Myme, Street Preacherz Ent, SJ Spint Tee and comedians Kaycee, Akan and Phronesis.
Date: Wednesday 27th March 2013
Time: 10 PM
Venue: Offside Lounge, Funturf Garden, beside Mainstreet Bank, Lekki Phase 1, Lagos
___________________________________________________________________________________________________
BellaNaija.com is not responsible for the organization or further promotion of these events, neither do we have a stake in their sales or popularity. Inclusion in "Events This Weekend" is Free. Contact – adsales (at) bellanaija.com on or before Wednesday every week if you will like your event to be included. Note that BN reserves the right to choose which events are featured. "Pay to attend" parties attract a fee