Good Afternoon BellaNaijarians, Happy Thursday!
BN Events is proud to present the first listing of Events This Weekend in March 2013. As always BN has searched high and low, near and far to bring you all the most buzzed about events and places of interest.
From Lagos to Port Harcourt, all the way to Asaba and UK, we have got you covered. Sit back, relax and see for yourself where you need to be with your loved ones. P.S: This Sunday 10th March 2013 is Mother's Day, so be sure to treat your mother to a fab day out.
See you all next week
Ciao!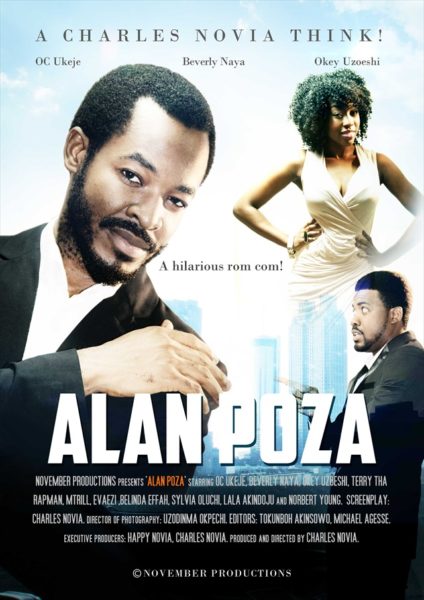 Alan Poza Premiere
On Sunday, Charles Novia will premiere his latest flick Alan Poza starring OC Ukeje, Beverly Naya, Belinda Effah, Kemi Lala Akindoju, Evaezi and Norbert Young in Lagos. The cast of the movie as well other Nollywood actors are scheduled to attend. For the official synopsis and to watch the trailer, click here. Thank you for your entries, the winners have been selected.
Date: Sunday 10th March 2013
Time: Red Carpet 5:30 PM | Film Screening 7 PM
Venue: Film House Cinema, Leisure Mall, Adeniran Ogunsaya, After Shoprite Mall, Surulere, Lagos
__________________________________________________________________________________________________
The UK Nigeria SME Project: Business Networking Event for Oil & Gas
Today 3Invest Limited – one of Nigeria's fast growing Real Estate and infrastructure investment companies will make a presentation on the challenges and opportunities of Nigeria's Real Estate market, especially Small and Medium Scale Enterprise (SMES) to a team of UK experts seeking areas of business relationship between Nigeria and the United Kingdom. It is facilitated by ACIOE Associates with full endorsement from the Nigerian Ministry of Trade and Investment, the department of UK Trade and Investment and the British High Commission.
Date: Thursday 7th March 2013
Time: 8 AM
Venue: Four Points by Sheraton, Plot 9/10 Block 2 Oniru Chieftancy Estate, Victoria Island, Lagos
Contact: For more info and general inquiries, call 08099991603 | e-mail pr@3investmedia.com.
__________________________________________________________________________________________________
SmartMark Limited presents NIKE 50% Sale
SmartMark Limited, the exclusive distributor of the NIKE brand in Nigeria has announced a 50% price slash on selected NIKE merchandise from now till Sunday 10th March 2013 at all FastForward stores in major cities in Nigeria.
Date: Thursday 7th March 2013 – Sunday 10th March 2013
Venues: Adeniran Ogunsanya Shopping Mall, Surulere, Lagos | Murtala Mohammed Airport, Terminal 2, Ikeja, Lagos | Ikeja City Mall, Ikeja, Lagos | The Palms Shopping Mall, Lekki, Lagos | Ceddi Plaza 264, Tafawa Balewa Way, Central Business District, Abuja | 107, Aba Road, Port Harcourt, Rivers
Contact: For more info and general inquiries, call 0814838314
_____________________________________________________________________________________________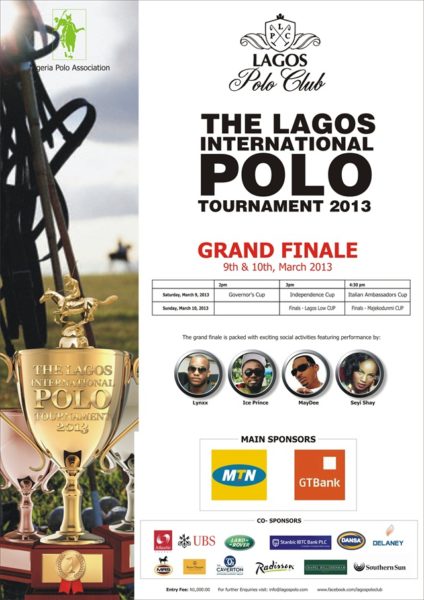 The Lagos International Polo Tournament 2013
Week 2 of the 2013 Lagos International Polo Tournament kicked off yesterday and will run till Sunday 10th March 2013.
Date: Thursday 7th March 2013 – Sunday 10th March 2013
Time & Venue: Please check schedule above for this week's tournament
_____________________________________________________________________________________________
Fashion & Lifestyle on the Move: Easter Shopping Festival
After a successful Christmas shopping outing last year, Fashion & Lifestyle On The Move will host its Easter shopping festival this weekend. The three-day fair is aimed at promoting and publicizing local businesses to help them reach their target market and make shopping easier and fun for their customers. Vendors scheduled to attend include make-up artistes, event/wedding/party planners, men, women and kids' wear brands, accessories, beauty consultants, home decor/wares, IT gadgets, caterers, bakers and fabric merchants. There will also be rides for children as well as bouncy castles, a swimming pool and loads of fun games and prizes to win. Admission is free for all.
Date: Thursday 7th March 2013 – Saturday 9th March 2013
Venue: The Dome Event Center, Okpanam Road Asaba, Delta
Contact: For more info and general inquiries, call 08151877078 | e-mail fashionandlifestyleonthemove@gmail.com | follow them on Twitter @falotm_Asaba
__________________________________________________________________________________________________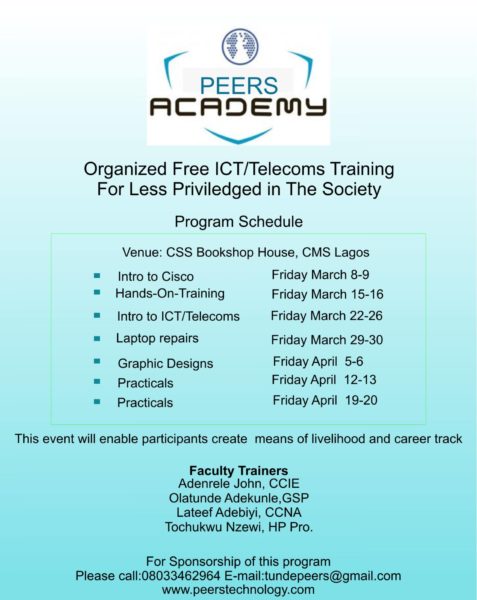 Peers Academy's Free ICT/Telecoms Training for the less privileged
You are invited to take part in Peers Academy's organized free ICT/Telecoms training for the less privileged in the society. The objective for this training is to help orphans and less privilege to develop a means of livelihood as well as build a career track that they can pursue for a lifetime. This week is for the training in Cisco. Attendees will be taught how to design web applications and code writing database management.
Date: Friday 8th March 2013 – Saturday 9th March 2013
Contact: For more info and general inquiries, call 08033462964 | e-mail tundepeers@gmail.com
__________________________________________________________________________________________________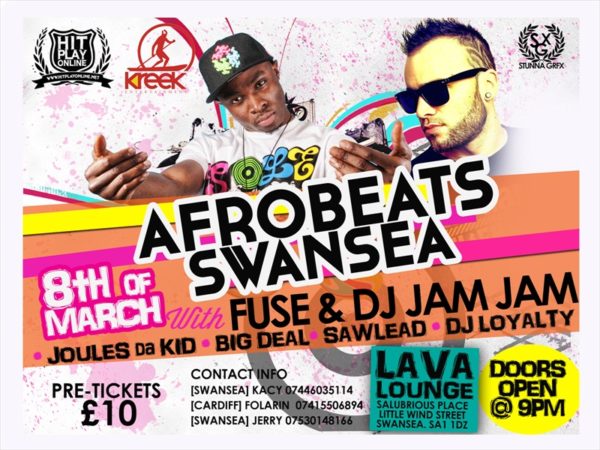 Afrobeats Swansea with Fuse & DJ Jam Jam
Party at the Afrobeats Swansea this Friday. The event will feature performances by Fuse ODG, Joules "Da" Kid, Big Deal and Sawlead. DJ Jam Jam and DJ Loyalty will be on the wheels of steel.
Date: Friday 8th March 2013
Time: 9 PM
Venue: Lava Lounge, Salubrious Place Little Wind Street Swansea, SA1 1DZ, UK
Ticket Prices: Regular £10 | VIP £20
Contact: For more info and general inquiries, call 07446035114 | 07415506894 | 07530148166
__________________________________________________________________________________________________
Dipp & Friends' Club Tour Live in Ibadan
After a fairly successful Tour in Abuja, Phoenix Entertainment in partnership with Prodigy Entertainment and KOC Mag presents Dipp & Friends' Club Tour Live in Ibadan. This tour was created to provide a more familiar and direct avenue for Dipp to connect with his fans all over the country. Joining Dipp on the tour are some of Nigeria's top entertainers including Jaywon, Dammy Krane, Mode 9, Doray and Mike Anyasodo from MTN Project Fame West Africa.
Date: Friday 8th March 2013 –  Saturday 9th March 2013
Time: Friday 11:45 PM | Saturday Venue I 6 PM | Saturday Venue II 11:45 PM
Venue: Friday KokoDome, Ibadan, Oyo | Saturday Venue I GQ Club & Lounge, Ibadan, Oyo | Saturday Venue II E-Bevande, Ibadan, Oyo
Contact: For more info and general inquiries, call 08036977128 | 08063708345 | 07066614414
__________________________________________________________________________________________________
Miss Nigeria Port Harcourt Audition
The Port Harcourt, Rivers State audition for the 2013 Miss Nigeria competition will hold this Saturday. This audition is open to all female Nigerian citizens between the ages of 18 and 25. Click here for all the details for auditions on BN
Date: Saturday 9th March 2013
Time: 9 AM – 1 PM
Venue: Eddiez Wine Bar, 11A Emeyal Street, GRA, Phase 2, Port Harcourt, Rivers State
Contact: For more info and general inquiries, email contact@missnigeria.org.ng | call 08033278752 | 08091892258 | follow them on Twitter | like their Facebook page
__________________________________________________________________________________________________
Zumba Fitness Dance Class
Are you looking to improve your cardiovascular system, lose weight, improve your coordination or simply boost your mood, then Zumba Dance Fitness may be the right choice for you. Join the fun dance fitness class today for more fitted and energized 2013.
Date: Saturday 9th March 2013
Time: 9 AM
Venue: The BMS Spa, 3 Magbon Close, off Macpherson Avenue, Ikoyi, Lagos
Fee: N 2,000
___________________________________________________________________________________________________________
The Enugu Basketball & Music Event
Hosted by Legendacts and Maxibeats, this event is a blend Of Basketball players featuring players and artists on the court both as players and performers. Artistes on the Court include Slowdog, Selebobo, Nonny D, Veecko Kyngz, Jonez, Ransome, Kolo.com, Zoro and Event Birthday Celebrity Sym19. The event will be anchored by Jude and Tobe of Dream Fm. Side Attractions include performances from dance group, Shadowz and a brief modelling exhibition.
Date: Saturday 9th March 2013
Time: 9 AM
Venue: Emole Court GRA, Enugu
_____________________________________________________________________________________________________________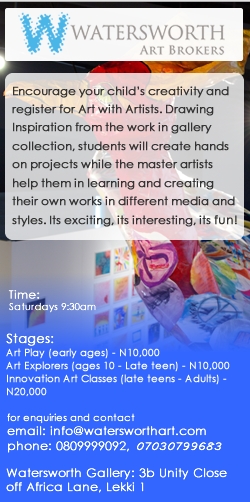 Watersworth Art Brokers
Encourage your child's creativity by registering them now for Watersworth Art Brokers' training in art. Drawing inspiration from the works in the gallery's collection students will create hands on projects while the master artists help them in learning and creating their own works in different media and styles. Registration fee is N 10,000 while adults will pay the sum of N 20,000.
Date: Saturday 9th March 2013
Time: 9:30 AM
Venue: Watersworth Gallery, 3B Unity Close off Africa Lane, Lekki, Lagos
Contact: For more info and general inquiries, call 0809999092 | 07030799683 | e-mail info@watersworthart.com
__________________________________________________________________________________________________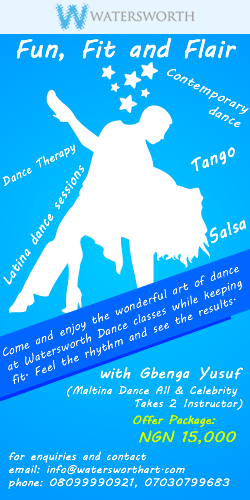 Watersworth presents Fit, Fun & Flair
Do you love to dance and are you looking for a fun and fab way to lose weight? Then Fit, Fun and Flair is for you. Watersworth Art Gallery in conjunction with Gbenga Yusuf of Maltina Dance All competition, presents you dance classes that will make all the difference. The offer package/fee is N 15,000.
Date: Saturday 9th March 2013
Time: 9:30 AM
Venue: Watersworth Gallery, 3B Unity Close off Africa Lane, Lekki, Lagos
Contact: For more info and general inquiries, call 0809999092 | 07030799683 | e-mail info@watersworthart.com
__________________________________________________________________________________________________
Port Harcourt Make-Up Fair
POPS Concepts is bringing to the nation's oil rich city, the first edition of Port Harcourt MakeUp Fair (PMUF). The fair is a make up and beauty shopping gala intended to provide a platform for professionals in the business of make up and beauty, to showcase and demonstrate their products to a select target audience of potential customers and business partners. The exhibition would include categories like make up products, tools & personal care materials, Wellness & Spa, Hair care products and accessories. There will be giveaways like free makeovers, free make up advice, shopping, food as well as presentations, make up demos, networking, music and loads of fun. Admission is free for all.
Date: Saturday 9th March 2013
Time: 10 AM – 7 PM
Venue: Xcape Centre (ICinema), 119 Stadium Road, Port Harcourt, Rivers
Contact: For more info and general inquiries, call 08037862333 | 08188905667 | e-mail info@themakeupfair.com | Add BB Pin
2638BBCC | follow them on Twitter: @themakeupfair | like their Facebook page | log on to their website
_________________________________________________________________________________________________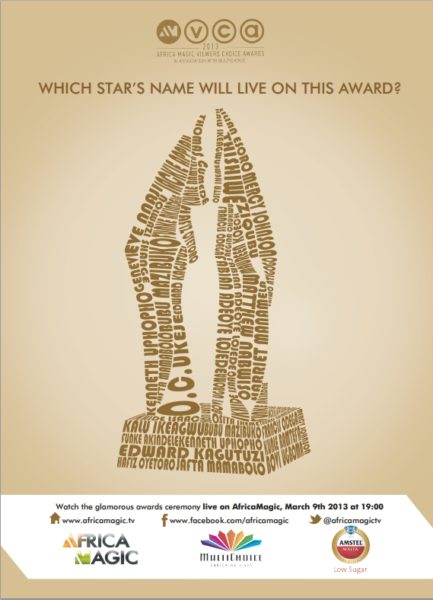 Africa Magic Viewers' Choice Awards
The inaugural edition of the Africa Magic Viewers' Choice Awards (AMVCAs) will take place this Saturday at the Eko Hotel & Suites, Victoria Island, Lagos. Hosted by Big Brother Africa presenter IK Osakioduwa and StarGist leading lady Vimbai Mutinhiri, the event will see all nominees including Genevieve Nnaji, Funke Akindele-Oloyede, Mercy Johnson, OC Ukeje and Lilian Esoro. This event is strictly by invitation. Catch all the live action from awards ceremony on AfricaMagic.
Date: Saturday 9th March 2013
Time: 7 PM
Venue: Expo Hall, Eko Hotel & Suites, Victoria Island, Lagos
__________________________________________________________________________________________________
Onions Around Lagos
Onions Make Us Cry is a winning play for the national theatre studio London African project. Directed by Segun Adefila and written by Zainabu Jallo, the show creates a fresh style with poetic dialogues and brilliant use of metaphors. The stage play will take place at the Bogobiri House, Ikoyi, Lagos.
Date: Sunday 10th March 2013
Time: 3 PM
Venue: Bogbiri House, 9 Maitama Sule, Ikoyi, Lagos
Gate Fee: N 2, 000
_____________________________________________________________________________________________________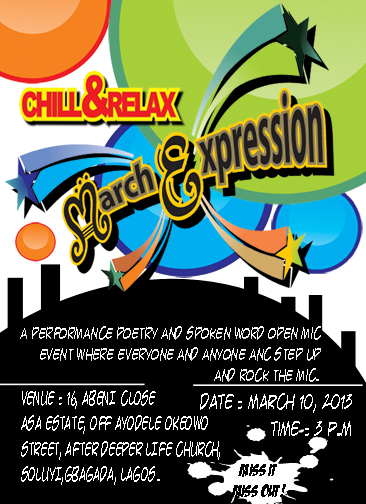 Chill and Relax: March Expression
The March edition of Lagos' performance poetry and spoken word open mic event, Chill and Relax, will take place this Sunday. The event will feature performances by some of the city's finest poets. Admission is free for all.
Date: Sunday 10th March 2013
Time: 3 PM
Venue: 16 Abeni Close, Asa Estate off Ayodele Okeowo street, after Deeper Life Church, Soluyi, Gbagada, Lagos
________________________________________________________________________________________________
Theatre at Terra presents A LAPA Production: Sefi Atta's The Naming Ceremony
Theatre at Terra Kulture is back with another interesting stage show, Sefi Atta's "The Naming Ceremony". Directed by Seke Somolu with Olu Jacobs and Joke Silva on board as executive producers, the event will take place this Sunday at Terra Kulture, Lagos.
Date: Sunday 10th March 2013
Time: 4 PM & 7 PM
Venue: Terra Kulture, Plot 1376 Tiamiyu Savage off Ahmadu Bello Way, Victoria Island, Lagos
Ticket Price: N 2, 500
Ticket Locations: Terra Kulture, Plot 1376 Tiamiyu Savage off Ahmadu Bello Way, Victoria Island, Lagos | Online at Jumia.com.ng | Call 07069771347
__________________________________________________________________________________________________
Bovi Live: Man On Fire
Bovi's anticipated comedy and music show, Man On Fire will take place this Sunday at the Eko Hotel & Suites, Victoria Island, Lagos. Hosted by Basketmouth, the event will feature performances by MI, Wizkid, Seyi Shay and DJ Xclusive.
Date: Sunday 10th March 2013
Time: 7 PM
Venue: Eko Convention Centre, Eko Hotel & Suites, Victoria Island, Lagos
Ticket Prices: Regular N 5,000 | VIP N 25,000 | Table 2 (Seats 10, from 3rd Row) N 500,000 | Table 1 (Seats 10, Rows 1-2) N 1 Million
Contact: For more info and general inquiries, call 08034444616 | 08087670357 | 08174330849 | 08051588472 | e-mail events@locuspromotions.com
___________________________________________________________________________________________________
BellaNaija.com is not responsible for the organization or further promotion of these events, neither do we have a stake in their sales or popularity. Inclusion in "Events This Weekend" is Free. Contact – adsales (at) bellanaija.com on or before Wednesday every week if you will like your event to be included. Note that BN reserves the right to choose which events are featured. "Pay to attend" parties attract a fee