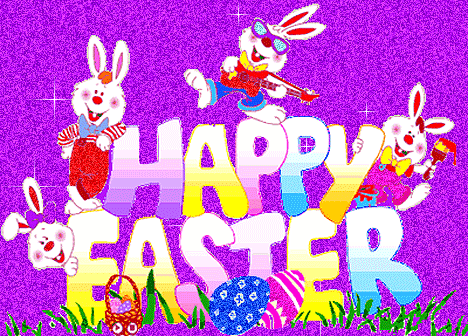 Hello BellaNaijarians, good afternoon.
It's Thursday and it's time for Events This Weekend. Easter is here again. We have searched high and low, wide and far and compiled an interesting list of events from Lagos, Ibadan, Calabar, Cameroon and United Kingdom.
Have fun, stay safe and keep dreaming BIG!!!!!!!
We ❤ you all.
Enjoy!
Playing Safe Movie Premiere
Nollywood superstars Ini Edo and Tonto Dikeh star alongside music star Sexy Steel, Ghanaian actress Matha Ankomah, IK Ogbonna and Chris Okagbue will be present at the Genesis Deluxe Cinemas, Lagos for the premiere of Elvis Chucks' new movie production Playing Safe. BN in collaboration with the organizers are giving 4 pairs of tickets to the premiere; to win leave a comment stating "I want to tickets to the Playing Safe Movie Premiere".
Date: Thursday 28th March 2013
Time: 5 PM
Venue: Genesis Deluxe Cinemas, The Palms Mall, Lekki, Lagos
_______________________________________________________________________________________________________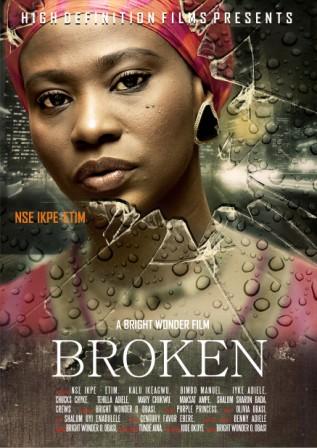 Broken Movie Premiere
Today Bright Wonder will premiere his movie Broken starring Kalu Ikeagwu, Nse Ikpe-Etim and Bimbo Manuel at the Silverbird Cinemas, Abuja. To watch the official trailer, click HERE
Date: Thursday 28th March 2013
Venue: Silverbird Cinemas, Plot 1161, Memorial Drive, By Musa Yar'adua Center, Ctral Business District, F.C.T, Abuja
_______________________________________________________________________________________________________
BOGOF at Totalwrap
For Easter 2013, Totalwrap presents its Buy one, get one free offer from today till Monday 1st April 2013. It promises to be an unforgettable style experience. Admission is free for all.
Date: Thursday 28th March 2013 – Monday 1st April 2013
Venue: Totalwrap, 3rd Floor, 33 Toyin Street, Ikeja, Lagos
Contact: For more info and general inquiries, call 08062315541 | Add BB Pin 25E97E09 | 28A8852F | e-mail [email protected]
_______________________________________________________________________________________________________
JAM Summit 2013
Jesus and Me Summit (JAM Summit) kicked off yesterday but will run till Sunday 31st March 2013. It is an annual International Camp meeting event which plays host to delegates from over 50 Christian Fellowship International (Church of God Mission Campus Outreach) Chapters from around the nation as well as alumni and friends of the Fellowship from within and outside Nigeria. Admission is free for all.
Date: Thursday 28th March 2013 – Sunday 31st March 2013
Time: 8 AM – 5 PM Daily
Venue: Main Auditorium, University of Lagos, Akoka, Lagos
_______________________________________________________________________________________________________
NSS Cultural Night
The Nigerian Student Society at the University of Hertfordshire invites you to her cultural night with dance and drama performances, fashion show and dinner. It promises to be a fun filled event with an appearance by Syndik8 records Lynxxx and UK/Nigerian based artiste Dotstar. DJs EM, Obi, MVP and Kelzz will be on the wheels of steel. IDs are important.
Date: Thursday 28th March 2013
Time: Main Event 5 PM – 8 PM | After Party 9:30 PM
Venue: The Forum Hertfordshire, University of Hertfordshire College Lane, Hatfield Herts, AL 10 90AB, UK
Ticket Prices: 100 Early birds £ 5 | 200 Standard £ 8 | Thereafter £ 10 | Doors £ 12 | Meet & Greet £ 15
_______________________________________________________________________________________________________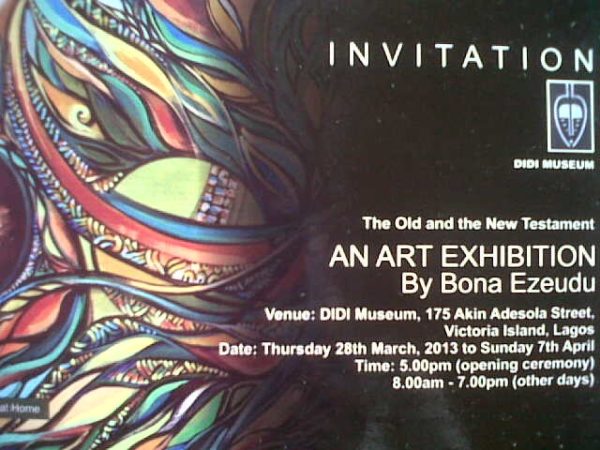 The Old & the New Testament: An Art Exhibition by Bona Ezeudu
Nigerian artist Bona Ezeudu whose works are characterized by flamboyant colors, is an artist allergic to sorrowful sights and outcries of pain. His paintings depict images that bring joy, beauty and tranquility. This exhibition tagged "The Old and the New Testament" is in memory of his son by using art to contain the tragedy. The event is hosted by Chief Dr Newton Jibunoh. The Obi of Onitsha, Anambra His Majesty Nnameka Achebe CFR, MNI will also be in attendance.
Date: Thursday 28th March 2013 – Sunday 7th April 2013
Time: Opening Ceremony 5 PM | Friday to Sunday 8 AM – 7 PM
Venue: DIDI Museum, 175 Akin Adesola Street, Victoria Island, Lagos
Contact: For more info and general inquiries, call 08035454840 | 08067609814
_______________________________________________________________________________________________________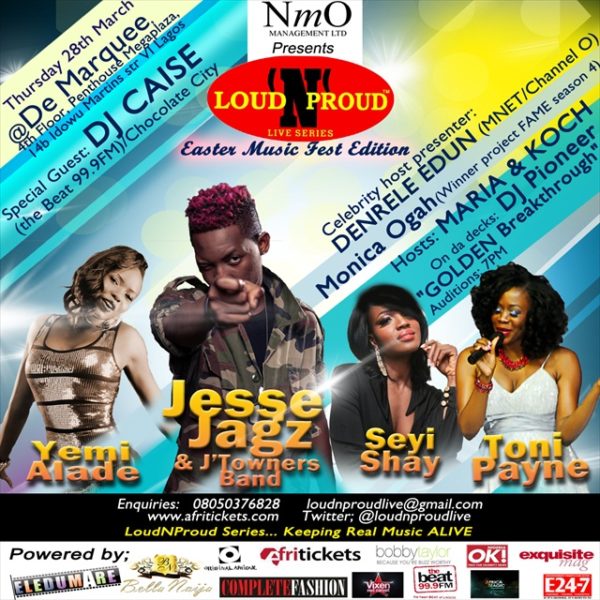 LoudNProudLive Series presents Easter Music Fest Edition
Nmo Management presents LoudNProud Live Series Easter Music Fest this Thursday at DeMarquee, Victoria Island, Lagos. The event promises to a programme full of love music and lots of entertainment. Featuring musical performances by Jesse Jagz, Seyi Shay, Yemi Alade and Monica Ogah. Toni Payne will also be present to deliver her spoken word poetry with a live band. The event will be hosted by Maria Okanrende and Koch of Beat 99.9 FM. Denrele Edun and DJ Caise are also scheduled to attend.
Date: Thursday 28th March 2013
Time: 6 PM
Venue: DeMarquee, 4th Floor Mega Plaza, Idowu Martins, Victoria Island, Lagos
Contact: For more info and general inquiries, call 08050376828 | follow them on Twitter @LoudNProudLive
_______________________________________________________________________________________________________
Lee Monthly Celebrity Birthday Party – March Edition
Entertainment brand Lee Entertainment is back with another edition of its monthly celebrity birthday party. This one is for all celebs given birth in March. Hosted by Yvonne "Vixen" Ekwere and Igos, the event will see in attendance Gabriel Afolayan, Praiz, Sunkanmi Omobolanle, Terry G, Funke Adesiyan, Owen Gee, Koffi, Afolabi Oyekoya, Olu Ait, Wale Dizzy, DJ Atte, Tuale, Olamide, Slim Joe, Yemi Alade, Ajayi Brovas and MC Oluomo. Admission is free for all.
Date: Thursday 28th March 2013
Time: 9 PM
Venue: Club Octopus, 29 Adebisi Street, Alagomeji, Behind Panti, Yaba, Lagos
_______________________________________________________________________________________________________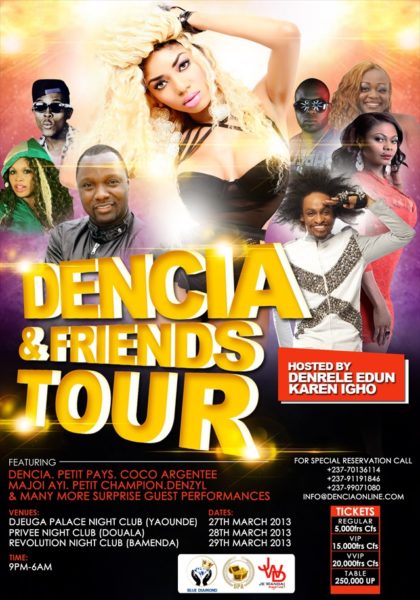 Dencia & Friends Tour
Yesterday pop star Dencia kicked off her 3 day tour in Cameroon for Easter. Tagged Dencia & Friends Tour, the event will take place today and on Friday. Supporting artistes include Petit Pays "Rabbi", Coco Argentee, Majoi Ayi, Petit Champion and Denzyl. The event will be hosted by Denrele Edun and Karen Igho. According to Dencia's team, a percentage of the ticket sales will be donated to the Cameroon Red Cross and the Dencia Foundation.
Date: Thursday 28th March 2013 – Friday 29th March 2013
Time: 9 PM – 6 AM
Venue: Thursday – Privee Night Club, Douala, Cameroon | Friday – Revolution Night Club, Bamenda, Cameroon
Ticket Prices: Regular 5000frs Cfs | VIP 15000frs Cfs | VVIP 20,000frs Cfs | Tables 250,000frs Cfs
Ticket Locations: You can get tickets at the following locations; Djeuga Palace Hotel, Yaounde, Douala, SWS (Sacko World Services) Street Opposite Lyée D'akwa, Cameroon | Revolution Night Club, Bamenda, Cameroon
Contact: For more info, special table reservations, media access & coverage, call +237-70136114 | e-mail [email protected]
_______________________________________________________________________________________________________
Peers Academy's Free ICT/Telecoms Training for the less privileged
You are invited to take part in Peers Academy's organized free ICT/Telecoms training for the less privileged in the society. The objective for this training is to help orphans and less privilege to develop a means of livelihood as well as build a career track that they can pursue for a lifetime. This week, attendees will be taught on how to repair laptops. Admission is free for all.
Date: Friday 29th March 2013 – Saturday 31st March 2013
Contact: For more info and general inquiries, call 08033462964 | e-mail [email protected]
_______________________________________________________________________________________________________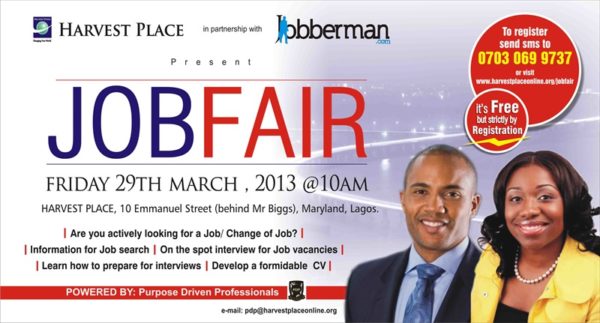 Job Fair
Harvest Place in partnership with Jobberman.com presents Job Fair this Friday. The event is powered by Purpose Driven Professionals, a group of business professionals who provide christian principles in business practices. It is also a network forum to promote business opportunities among members and intending professionals. There will be experts from Jobberman and HR executives speaking at the event. To attend, register at HarvestPlaceOnline.org/JobFair
Date: Friday 29th March 2013
Time: 10 AM
Venue: Harvest Place, 10 Emmanuel Street (Behind Mr Biggs), Maryland, Lagos
_______________________________________________________________________________________________________
Chiviva Hair Sales
Hair extensions brand Chiviva Hair will be holding its maiden edition hair sales this weekend at the Silverbird Galleria, Lagos. The event promises to be fun with over 30 different hair styles to choose from. Attendees stand the chance to win movie tickets and lots of gift items. Admission is free for all.
Date: Friday 29th March 2013 – Saturday 30th March 2013
Time: 11 AM
Venue: Silverbird Galleria, 133 Ahmadu Bello Way, Victoria Island, Lagos
Contact: For more info and general inquiries, call 07031247806 | Add BB Pin 2A9F251A | e-mail [email protected]
_______________________________________________________________________________________________________
Unforgettable Experience
You are cordially invited to Christ Embassy's "Unforgettable Experience" programme taking place this Friday at the Eko Hotel & Suites, Victoria Island, Lagos. Ministering at the event is Pastor Chris Oyakhilome (Senior Pastor and Founder of the Christ Embassy Church). The event will also feature performances by Victor Ike, Joe Praize, Eben, Obi Shine, Amaka, Zamar Choir, Ada, Ayo, comedian Chikason and dance group Demeee. Admission is free for all.
Date: Friday 29th March 2013
Time: 4 PM
Venue: Eko Convention Centre, Eko Hotel & Suites, Victoria Island, Lagos
_______________________________________________________________________________________________________
Laff 4 Christ's Sake in Port Harcourt
Julius Agwu will be bring Laff 4 Christ's Sake back to Port Harcourt this Good Friday. The event which is billed to take place at the Aztech Arcum, will kick off at 6 PM and feature musical performances by Frank Edwards, Tim Godfrey and the Extreme Crew, Afi Douglas and Freke Umoh as well as comic performances by MC Abbey, Owen Gee, Dan D'Humorous, Senator and Buchi. It promises to be fun, be sure to come with your friends and family.
Date: Friday 29th March 2013
Time: 6 PM
Venue: Aztech Arcum Stadium, Port Harcourt, Rivers
Ticket Prices: Regular N 5000 | VIP N 10,000 | Tables N 250,000
_______________________________________________________________________________________________________
Calabar International Jazz Festival
The Calabar International Jazz Festival is here again. This festival designed to provide the ideal Easter weekend getaway for everyone. Connoisseurs of Smooth Jazz, funky R 'n' B and sweet soul music can look forward to 3 nights of fabulous headline performances by D'Angelo and Eric Benet (US), Jonathan Butler (SA) and Nigerian superstars Asa and Darey.
Date: Friday 29th March 2013 – Sunday 31st March 2013
Time: 7 PM Daily
Venue: Friday & Saturday Calabar Cultural Center, Calabar, Cross River | Sunday Millennium Park, Calabar, Cross River
Ticket Prices: Singles (Balcony N 10,000) (General N 20,000) (VIP N 30,000) | Couples (Balcony N 20,000) (General N 35,000) (VIP N 50,000) | To buy tickets e-mail [email protected]
_______________________________________________________________________________________________________
Zumba Fitness Dance Class
Are you looking to improve your cardiovascular system, lose weight, improve your coordination or simply boost your mood, then Zumba Dance Fitness may be the right choice for you. Join the fun dance fitness class today for more fitted and energized 2013.
Date: Saturday 30th March 2013
Time: 9 AM
Venue: The BMS Spa, 3 Magbon Close, off Macpherson Avenue, Ikoyi, Lagos
Fee: N 2,000
_______________________________________________________________________________________________________
Watersworth Art Brokers
Encourage your child's creativity by registering them now for Watersworth Art Brokers' training in art. Drawing inspiration from the works in the gallery's collection students will create hands on projects while the master artists help them in learning and creating their own works in different media and styles. Registration fee is N 10,000 while adults will pay the sum of N 20,000.
Date: Saturday 30th March 2013
Time: 9:30 AM
Venue: Watersworth Gallery, 3B Unity Close off Africa Lane, Lekki, Lagos
Contact: For more info and general inquiries, call 0809999092 | 07030799683 | e-mail [email protected]
_______________________________________________________________________________________________________
Watersworth presents Fit, Fun & Flair
Do you love to dance and are you looking for a fun and fab way to lose weight? Then Fit, Fun and Flair is for you. Watersworth Art Gallery in conjunction with Gbenga Yusuf of Maltina Dance All competition, presents you dance classes that will make all the difference. The offer package/fee is N 15,000.
Date: Saturday 30th March 2013
Time: 9:30 AM
Venue: Watersworth Gallery, 3B Unity Close off Africa Lane, Lekki, Lagos
Contact: For more info and general inquiries, call 0809999092 | 07030799683 | e-mail [email protected]
_______________________________________________________________________________________________________
First Ladies at POP
First Ladies, a weekly Party to celebrate Models & Fashion designers will take place at the Pop Night Club, Victoria Island, Lagos. It promises to be fun. Admission is free for all.
Date: Saturday 30th March 2013
Time: 8 PM
Venue: Pop Night Club, 46 Saka Tinubu off Akin Adesola Street, Victoria Island, Lagos
______________________________________________________________________________________________________
Mad Off
Canary Diamonds and Club Vegas presents Mad Off, a monthly club event to be hosted by Kore Brown and DJ Gunzee. It promises to be fun. Admission is free for all.
Date: Saturday 30th March 2013
Time: 10 PM
Venue: Club Vegas, 1 Sheraton /Opebi Link Road, Ikeja, Lagos
_______________________________________________________________________________________________________

Miss Nigeria Lagos State Auditions
The Lagos auditions for the 2013 Miss Nigeria competition will hold this Saturday. This audition is open to all female Nigerian citizens between the ages of 18 and 25. Click here for all the details for auditions on BN
Date: Saturday 30th March 2013
Time: 11 AM – 3 PM
Venue: Civic Center, Ozumba Mbadiwe Street, Opposite 1004, Victoria Island, Lagos
Contact: For more info and general inquiries, call 08033278752 | 08091892258 | e-mail [email protected] | follow them on Twitter @MissNG2013 | like their Facebook page
_______________________________________________________________________________________________________
Marjene Lifestyle Series: The Beauty & Make-up Edition
Marjene Hair & Beauty Wellness presents the Beauty & Make Up edition of its Lifestyle Series. The networking event and seminar is aimed at providing the ultimate learning experience in skincare and make-up for hopefuls who want to get more in the industry. You can also learn Make-up application skills and get discounts on beauty products, virgin hair extensions, fashion accessories, skincare products and makeovers. The seminar registration fee is N 6000. It includes tutorials, workshops, free giveaways and refreshments. Admission is free for the Networking and Trade Fair.
Date: Saturday 30th March 2013
Time: Seminar 12 Noon – 4 PM | Networking & Trade 4 PM – 6 PM
Venue: The Blowfish Hotel, No. 17 Oju Olobun Street, Off Bishop Oluwole Street, Victoria Island, Lagos
Contact: For more info and general inquiries, call 08033162498 | e-mail [email protected] | follow them on Twitter @MarjeneLive | like their Facebook page | log on to their website
_______________________________________________________________________________________________________
Karen Igho's Exquisite Magazine March 2013 Cover Signing
Media personality Karen Igho covers the March 2013 issue of Exquisite Magazine. In it, she speaks on her role in Tinsel, the day she was assaulted and the future. On Saturday, Karen and the Exquisite Magazine team will be at the Hub Media Store for an autograph session. There will be lots of goodies including hair and beauty products, cinema tickets and a chance to enter to win a Kia Rio car. Some proceeds raised will be used to screen people for cervical and breast cancer.
Date: Saturday 30th March 2013
Time: 1 PM – 5 PM
Venue: The Hub Media Store, The Palms Shopping Mall, Lekki, Lagos
_______________________________________________________________________________________________________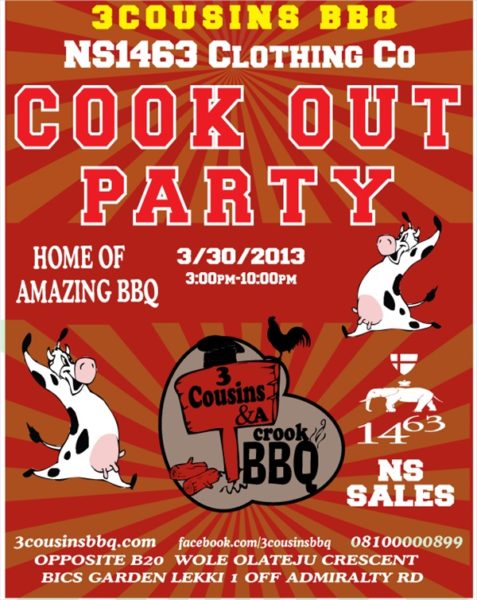 Cook Out Party
3 Cousins BBQ and NS1463 Clothing Co will be holding another edition of its Cook Out Party in Lekki, Lagos. Come and enjoy amazing barbecue, burgers ad more while you shop for outfits from NS1463 Clothing Co.
Date: Saturday 30th March 2013
Time: 3 PM -10 PM
Venue: Opposite B20 Wole Olateju Crescent BICS Garden, Lekki Phase 1, off Admiralty Way, Lekki, Lagos
_______________________________________________________________________________________________________
The Launch of Bazaar Restaurant
Bazaar is an upscale contemporary restaurant set to launch this Saturday. You are cordially invited to join the celebration. To attend, call 08183884223 or e-mail [email protected]. The restaurant will be open to the public on Sunday 31st March 2013.
Date: Saturday 30th March 2013
Time: 6 PM
Venue: Bazaar Restaurant, 14 Idowu Martins Street, Victoria Island, Lagos
_______________________________________________________________________________________________________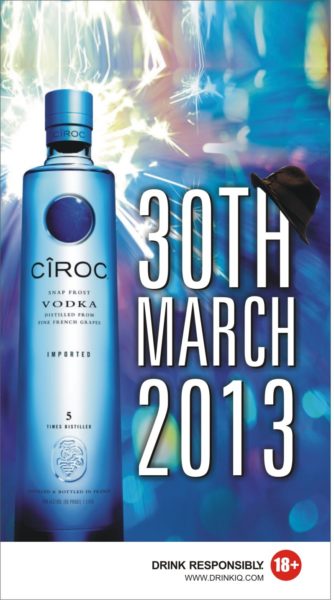 A Night with Banky W
Yesterday Banky W turned 32 years. Club Euphoria invites you to a night with the R&B crooner as he celebrates his birthday. It promises to be a night of fun with lot of exciting performances by surprise guest artistes. To attend, send an e-mail to [email protected]
Date: Saturday 30th March 2013
Time: 9 PM
Venue: Club Euphoria, Chase Mall, 19 Ademola Adetokunbo Street, Victoria Island, Lagos
_______________________________________________________________________________________________________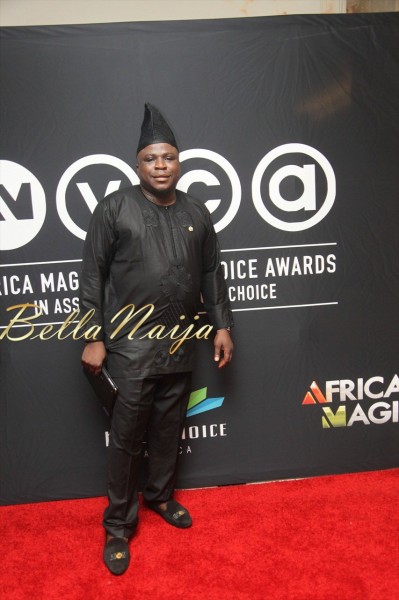 Gbenga Adeyinka presents Laffmatazz in Ibadan
Nigerian comedian Gbenga Adeyinka is bringing his premium comedy show Laffmatazz to Ibadan this Easter Sunday. There will be lots of headlining acts including Davido, Funke Akindele-Oloyede, Seyi Law, Seyi Shay, Capital Femi, Dammy Krane, LKT, Skales, May D, Jaywon, Seriki, Jayru, Kayefi, SB Live Band, Isaac Geralds, DJ Van Vicki, DJ Sexy, Omo Baba, Owen Gee, Lepacious Bose, Baba Gboin, Bash, Laffup, Obama, Eteye, Peteru, Shete and Adetoun of Project Fame.
Date: Sunday 31st March 2013
Venue: Jogor Centre, Ibadan, Oyo
Ticket Prices: Regular N 2,000 | VIP N 5000 | Table for 8 (VVIP) N 60,000 at Tantalizer Outlets
_______________________________________________________________________________________________________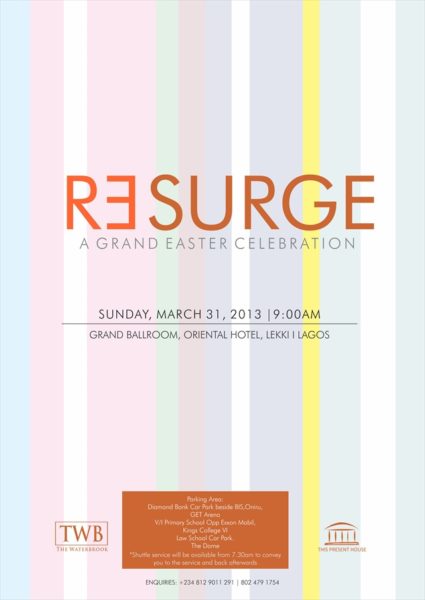 Resurge
You are invited to Resurge, an Easter celebration taking place this Sunday at the Oriental Hotel, Lagos. Admission is free for all.
Date: Sunday 31st March 2013
Time: 9 AM
Venue: Grand Ballroom, Oriental Hotel, Lekki, Lagos
_______________________________________________________________________________________________________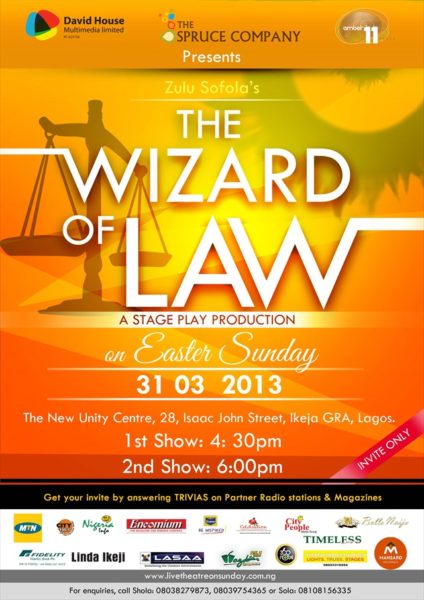 The Wizard of Law
Davidhouse Multimedia, Amber 11 Media and the Spruce Company present a stage play 'The Wizard of Law" this Easter. "The Wizard of Law" revolves around Ramoni's (an old Lawyer) many antics and the "wizardry" he deploys to get out of debt. The production will feature Oluwole Muyiwa Moses, Preeire Yibowei, Shola Adenugba, Tomiwa Kukoyi, Adebola Ogunshina, Febechi Archibong, Emma Nlemadim and Ahide Adum. The play is directed by Leke Gbolade and Adenugba Oluwanishola. Admission is strictly by invitation.
Date: Sunday 31st March 2013
Time: First Show 4:30 PM | Second Show 6 PM
Venue: The Unity Centre, Isaac John Street, GRA, Ikeja, Lagos.
Contact: For more info and general inquiries, call 08038279873 | 08099520481 | 08108156335 | e-mail [email protected]
_______________________________________________________________________________________________________
Onions Around Lagos
Onions Make Us Cry is a winning play for the national theatre studio London African project. Directed by Segun Adefila and written by Zainabu Jallo, the show creates a fresh style with poetic dialogues and brilliant use of metaphors. The stage play will take place at the Bogobiri House, Ikoyi, Lagos.
Date: Sunday 31st March 2013
Time: Eniobanke Art Centre 3 PM | Freedom Park 6 PM
Venue: Eniobanke Art Centre, 19 Adekunle Fajuyi Way, GRA, Ikeja, Lagos | Freedom Park, 1 Hospital Road, Lagos Island
Gate Fee: Eniobanke Art Centre N 2, 000 | Freedom Park N 1,500
___________________________________________________________________________________________________
Influence Party Night Circus
Sims Magazine invites you to its event Influence Party Night Circus taking this Saturday at Elegushi, Lekki, Lagos. The event will see in attendance students from UNILAG, BOWEN, BELLS, Crawfors, Hnaub, Babcock and Lead City Universities. The event will be anchored by Lamu of UNILAG FM. Admission is free for all.
Date: Sunday 31st March 2013
Time: 4 PM
Venue: Iconic Lounge, Elegushi Beach, Lekki, Lagos
___________________________________________________________________________________________________
Theatre at Terra presents A LAPA Production: Sefi Atta's The Naming Ceremony
Theatre at Terra Kulture is back with another interesting stage show, Sefi Atta's "The Naming Ceremony". Directed by Seke Somolu with Olu Jacobs and Joke Silva on board as executive producers, the event will take place this Sunday at Terra Kulture, Lagos.
Date: Sunday 31st March 2013
Time: 4 PM & 7 PM
Venue: Terra Kulture, Plot 1376 Tiamiyu Savage off Ahmadu Bello Way, Victoria Island, Lagos
Ticket Price: N 2, 500
Ticket Locations: Terra Kulture, Plot 1376 Tiamiyu Savage off Ahmadu Bello Way, Victoria Island, Lagos | Online at Jumia.com.ng | Call 07069771347
_______________________________________________________________________________________________________
AY Live – The Old & New Testaments
AY Makun's anticipated show AY Live – The Old & New Testament will take place this Easter Sunday at the Eko Hotel & Suites, Lagos. The event will be a star studded affair featuring these comic acts Ali Baba, Julius Agwu, I Go Dye, Gordons, Gandoki, Helen Paul, Elenu, Akpororo, Shakara, Emeka Smith, Funny Bone, Pencil, Ajebo, Kelly Blind and Acapella. There will be musical performances by Tonto Dikeh, Timaya, Terry G, Iyanya, D'Prince, Tiwa Savage, Kcee and Sexy Steel. You will also enjoy comedy skits by Juliet Ibrahim, Chris Attoh, Ini Edo and Nse Ikpe-Etim.
Date: Sunday 31st March 2013
Time: Red Carpet 6 PM
Venue: Eko Hotel & Suites, Victoria Island, Lagos
Ticket Prices: Regular N 5000 | VIP N 20,000 | Table for 10 N500,000 | Table for 10 Exclusive N 1 Million
Ticket Locations: You can get your tickets online at AYShow.tv/Ticket | Quickteller.com | Jumia.com.ng
*********
The Live in Nigeria Madea Event is a joke. Have a fun April Fool's Day event!
_____________________________________________________________________________________________
BellaNaija.com is not responsible for the organization or further promotion of these events, neither do we have a stake in their sales or popularity. Inclusion in "Events This Weekend" is Free. Contact – adsales (at) bellanaija.com on or before Wednesday every week if you will like your event to be included. Note that BN reserves the right to choose which events are featured. "Pay to attend" parties attract a fee