In February 2013, a BellaNaija reader of mixed heritage went to renew her passport at the Nigeria Immigration Service passport office in Ikoyi, Lagos.
Considering that she is Nigerian on all counts;
She was born and raised in Nigeria
She has one Nigerian parent
She has been married to a Nigerian husband for over 30 years
She has a Nigerian surname
She has Nigerian children
She has 6 previous Nigerian passports which she showed the officers including one that was still valid (It was due to expire in March 2013)
She does not have any other passport and is not a citizen if any other country
With all this taken into consideration, it was expected to be a routine visit.
What she met was this.
After completing the forms, the officer she dealt with informed her that her passport could not be renewed "here". She instantly asked to see the Officer in charge of the Ikoyi Passport Office. She was ushered to her office where the officer in charge was cordial but told her that "Sorry ma, our ogas have told us that yellow people like you need to go to Abuja to get your new passport. That is our new rule". Despite explaining that she is Nigerian, born in Nigeria (with place of birth stated on her previous 6 passports), married to a Nigerian for over 30 years and even speaks multiple Nigerian languages, her request was denied!
She had to travel to Abuja to get a new passport. In Abuja, no special questions were asked or no special investigation was carried out to ascertain her "Nigerianness". Her passport was issued and she returned to Lagos after incurring the expense of a one-week trip from Lagos to Abuja.
Since this first report, several other people have mentioned similar experiences.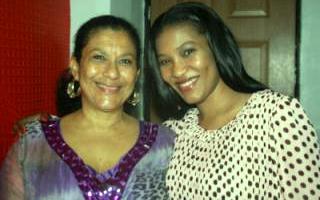 Just a few hours ago, Funke Kuti (PR Executive/Ex-Wife of Femi Kuti)  shared her mother, Laila St Matthew-Daniel's experience.
My name is Funke Kuti (Funke Yusuf for those that know me from before before Lol) and I am a Nigerian born and bred. So my Mother Laila st Matthew Daniels went to the passport office to renew her Nigerian passport ( not to get a fresh new one o)

After all the processes and filling of forms at the final point for signing a lady there who is supposed to be one of the ogas looked at her and said "why are you this oyinbo woman lying? you are obviously not a Nigerian. You look like a Niga wife! Go and bring documents to show that you are a Nigerian."

I was weak when my mother called to tell me how the Lady was shouting and insulting her. My mother showed her all her passports way back to 1982 because her earlier passports and all our belongings got burnt in a house fire. She also tried to explain that at 60 and I repeat 60 years born and bred in her country Nigeria having her own company and most importantly being a champion against domestic violence and abuse under her NGO – Acts Generation, also being a pastor what type of documentation does the woman need? That her mother just died last year.

The oga patapata said she doesn't care that has far as she is concerned if my mother wants she should dig up the grave of my grandmother to come and testify that she's a Nigerian! Remember I said she just wanted to renew her old passport not that she was applying for a new one to become a citizen. I am still in shock! Her passport renewal was rejected till she can prove that she is Nigerian.

Seriously what criteria do we need to be registered and regarded as Nigerians especially after she has spent all her 60 yrs born and bred here? What does she mean by you look like a Niga wife? Even if she looks like a half caste just because she's mixed with mother full calabar and father Lebanese but been here all her life.

Why is she being prosecuted for being Yellow? Married to a Nigerian all her kids are Nigerians at what point after 60 yrs in Nigeria as a citizen would she be regarded as a full Nigerian. If this can happen to my mother because she is a mulatto I can't imagine what this so called oga has done and said to other people that don't have a voice. I have a voice and I will use it. As we speak it may be funny for now because I have jokingly been telling my mother she's an immigrant with no country just to let her calm down and not get depressed.

The truth is her citizens rights have been violated completely by some power drunk passport official. A couple of steps have been taken but I need more advice and support on this. Any suggestions on how to handle this situation please send to me ASAP. Godless us all.My Mother is has and will always be Nigerian no matter the colour of her skin!
With these reports, there has been no formal publicily published update outlining the reason for this new "policy". There is also no published document that outlines the "new" requirements for mixed race or in the words of the officer "yellow people" to renew their passports.
This is really unfortunate but sadly representative of the way most Nigerian public institutions and agencies work. Inconsistent policies, terrible customer service and the list goes on. We reached out to the Nigerian Immigration Service for a formal statement but no one has been willing to speak up. We constantly complain about the way Nigerian are treated at embassies and abroad but this is what happens to us in our own country.
Photo Credit: Jupiterimages/Comstock/Getty Images