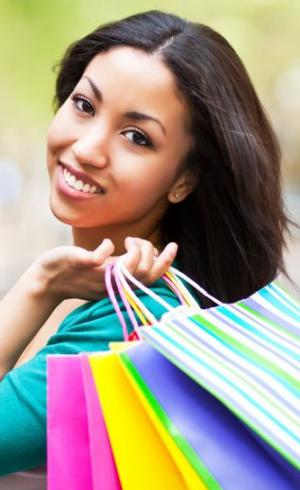 One Thursday afternoon during lunch-break, I left my office for a phone store down the road, to get a phone accessory. On my way, I saw a clothes store I had never noticed on that road. They had such beautiful clothes on display that on my way back, I couldn't resist the temptation to stop by.
It was a new store, the owner told me. He was a friendly young man, and from window shopping, I left the store with a beautiful champagne chiffon shirt in my arm, and made a silent promise to buy from this store regularly.
Getting home, I tried on the shirt and realized, to my utter dismay, that it didn't fit at the shoulders. It came up too tight on one end and too loose on the other- a factory error. Sadly, I had to return the shirt. Fred, the store owner, said I'd have to swap with another item- he couldn't refund my money. After much back and forth, I agreed. Searching round, and not finding anything in my size, I settled for a pink polka-dot shirt which was obviously of a lower quality than the one I had initially bought.
However, Fred remarked that this (polka-dot shirt) was more expensive than the one I had paid for, and I'd have to pay up the difference of N500. Well, I did. This time around, I walked out the store with a feeling of great dissatisfaction, and a silent promise to never return to that store ever again. Needless to say, I've never been there again, and it has been several months now.
That day, Fred lost one customer- me, and many more that I would have referred to his store. All because he failed to look beyond that single sale. He failed to see the value of a satisfied customer. If he had explained that though the shirt cost more than the one I initially paid for (which I strongly doubt), but had let me have it at no additional cost to me, he probably would have won my patronage for life. But failing to look beyond the present, he focused on the returns from that single sale, and hence, lost many more sales.
Morale of the story?
Realize the Power of One Satisfied Customer
When dealing with customers, look beyond the single sale, rather, focus on having a satisfied customer. Have your customer walking away feeling like he won in the buying process. It doesn't have to be a discount, it could be a promise to get discounts on next purchases. It could be a gift to go with that purchase. It could be a free product sample. In fact, something as little as giving your first-time customers a drink while they shop could go a long way. There are several ways to make the customer feel like he won, when you (the seller) didn't really lose anything. That customer will return to buy again and again, and will tell several others who in turn will tell many more and you will reap a net full of customers- all from that one single sale.
On the flipside, if the customer walked out feeling dissatisfied, with a sinking sense of loss, he will most likely not buy from you again, will not refer any potential customers to your business, and will badmouth you to both existing customers, and potential customers.
It Is a Win-Win Situation
Selling should be a win-win situation for both parties- the buyer and the seller. Only the seller can make that happen. Letting me take the new shirt without paying the additional N500 he requested wouldn't have hurt Fred's business. Picture this scenario- he lost N 500 from sales to me that day. The next week I return to buy two items from which he makes a profit of N 4,000. I get to the office and tell two colleagues about the great clothes store I found just down the road. One of them goes to his store and buys an item from which he gains N2,000. She recommends the store to a friend who buys a dress and a pair of shoes for her birthday dinner, he gains N4,000. Let's do the math. In one month since that first sale to me, I have gotten him three customers and he made a profit of N10,000 from total sales to the four of us. See, he lost N 500 but gained N 10,000 and three new customers. Remember it doesn't end here, it's a continuous cycle. More referrals from more satisfied customers, and his customer -base grows bigger and bigger. That is a win-win. Always look-out for ways to make it a win-win situation for you and your customers.
Yes, I know you're in business to make profit. But dear entrepreneur, that single sale will not bring you all the profit you intend to make from your business. It is the repeat sales from that customer, and from the other customers he/she refers to your business that you will make the projected returns.
Treat your customers as if they were news reporters, reporting every experience with your business to the world.
Focus on the long-term.
Look beyond that single sale.
Have you ever left a buying situation feeling like you lost and the seller won? Did you ever return to buy from that seller? Did you recommend the business to anyone?
Photo Credit: glassheel.com
___________________________________________________________________________________________________
Like you, sales and marketing coach and consultant Bukola Olayemi has seen many businesses fail in their ultimate aim of selling their products/services. She works with small-businesses and entrepreneurs that are stuck in this low-sales maze, helping them get more customers and make bigger sales, faster than they thought possible.