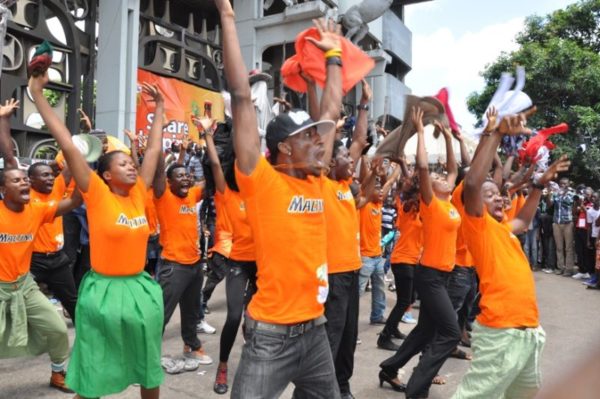 The Easter celebration was indeed one to remember and Maltina made it all the more interesting as they thrilled consumers at the Lagos Carnival. With their orientation of "Sharing Happiness", the brand made its presence felt as they provided an array of Maltina branded costumes, floats and gifts.
They had the Maltina stand stationed outside where competitions were held and gifts were given as rewards. They also organised the biggest ever Flash Mob in Nigeria which included a dance routine performed seemingly-spontaneously for a brief period of time. The performance had attendees stunned at the ingenuity and kept shouting with excitement.
Oluwole James, a student who was present at the Maltina stand during the carnival said he was motivated to go to the stand after he saw countless tweets on Twitter about the fun and entertainment that was happening at the stand.
Another carnival enthusiast Seun Olashile stated that he was indeed happy to be at the carnival especially at the brand's stand where there was continuous music, freebies and different competition going on. He is definitely looking forward to the next one.
Speaking on the Lagos carnival the Senior Brand Manager Maltina, Ngozi Nwoji explained the relationship between Maltina and the Lagos Carnival. "Maltina is about sharing happiness and where else can you share happiness than where there are lots of people including adults and children having fun like this colorful carnival. This is an ideal environment for Maltina to share happiness. Maltina is all about "sharing happiness" and family bonding. Our story has always been the story of sharing, friendship, togetherness and a good time with loved ones which is the core essence of the Maltina brand. Maltina is the biggest malt brand in Nigeria. It can only get bigger. We associate with big events like this where we can fulfill our brand promise."
Watch the Amazing Flash Mob video Here

_____________________________________________________________________________________
Sponsored Content