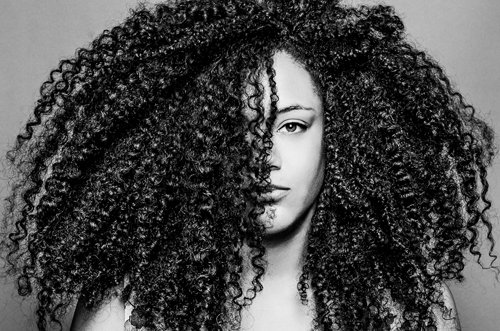 The argument pro and con natural hair has been going on for a long while and even though people have their reservations about going full on natural, there are those who want to embrace the look  but don't know the first thing about it.
Undoubtedly there are a lot of things to consider like deciding if you want to go natural with or without cutting your hair, if your hair will have a natural curl pattern; and thirdly, if this is the right choice for you.
But despite these questions there are those who have decided and want to take the first step in their natural hair journey. This post is for you. Here, we are going to tell you the things you need to know before you make the big decision to go "natural". If you haven't seen an article we published a while ago by Oshokeme, then click HERE. It's all about tips to help make your natural hair journey easier and now here are a few more to add to your think tank.
First of all you should know that going natural is not about staying off weaves as some people perceive to be. It is letting your relaxed hair grow out so you can enjoy your natural hair's texture. Now that we have gotten that out of the way, let's begin.
1. Before you begin this journey you should come to an understanding that hair is personal –  It is individual and it is your decision. Be sure you want to go natural before taking the step. This certainty would make the journey that much easier and smoother for you as you would have to be dedicated to making it work.
2. To transition or not to transition – There is the question of the loss of femininity when going natural. Some people thing that cutting off your hair aka 'the big chop' would make them seem more masculine. There is another option; you could choose to leave your relaxed hair on and just grow it out. Maintenance can be done here by washing or co-washing (washing hair with only conditioner) your hair regularly to maintain a healthy head of locks. Eventually when your new roots get to a stage where you're comfortable with them, you can then cut off the relaxed part.
3. You can never get too much information about your hair – Don't limit yourself; Knowledge is power. Search for more information about natural hair  maintenance and what it really requires to be a natural. Be sure to visit a professional natural hair care specialist to get advice on hair products and help out in the process. You may not need to treat your hair often, but you would need a hair specialist to help customize a hair care regimen to suit your own hair needs.
4. You may/will become product crazy ('Product Junkie') – With your new natural hair you would have the urge to invade YouTube and try all the products natural hair bloggers show you. This is not advisable. Using too much at once could interrupt your hair growth and natural pattern formation. Once you have found your hair regimen, stick to it. If you want to change it, wait until you have exhausted the one you previously used then make the switch.
5. You still have the option of using weaves – Using curly weaves is a great way to help you care for your natural hair. How? Get a weave that has a similar curl pattern to your hair, this would be great practice for you if and when you decide to go all natural.
6. Protective hairstyles help prevent your hair from breakage while you are transitioning. They could be in the form of buns, braids, twists etc. However make sure you do not tie or braid your hair too tight; it could cause tension on your scalp and this could lead to permanent hair loss. Kind of defeats the purpose doesn't it?
7. Keep an open mind – Most times when people think of natural hair they think of Solange; truth is your hair may not turn out that way. It may be more kinky than curly or otherwise. It is important to note that everyone has an individual curl pattern that could involve two or three different types of curls. You have to learn to embrace it and style it to suit you. Don't worry it is possible.
8. Sometimes our natural hair doesn't grow into a defined pattern or curl – You can manipulate this with plastic coils, flexi rods or straws. They help give hair that pattern and bounce and lasts a few days.
9. Maintaining natural hair takes time –  Whoever said going natural was going to be easier, lied. It takes almost as much time and attention that relaxed hair does, maybe even more. Like we said before, you have to come up with a regimen that suits your hair, it wont always be a wash and go process, you would have to work at it.
10. You will still have bad hair days – With relaxed hair you couldn't afford to let that happen, but now that you're natural, is okay to let that happen. Your hair having a little frizz is normal and sometimes might be necessary to pull off some hairstyles.
The journey to natural hair growth is something you have to decide on your own. It shouldn't be part of a band wagon mentality and hopefully you will enjoy your hair as you continue. Are you a natural? Do you know something we don't? Do like the next line and…
Photo Credit: Deluxe-mag.com