First of all, a huge kudos to Mavin Records' first lady, Tiwa Savage and her team for an awesome album listening party and of course, a great album to go with it. The album listening party took place at the Wheatbaker Hotel, Ikoyi, Lagos on Sunday, 26th May 2013.
Tiwa Savage's debut album "Once Upon A Time" is a diverse collection of tunes that can almost soothe any mood you're in. Here's what the official album artwork looks like.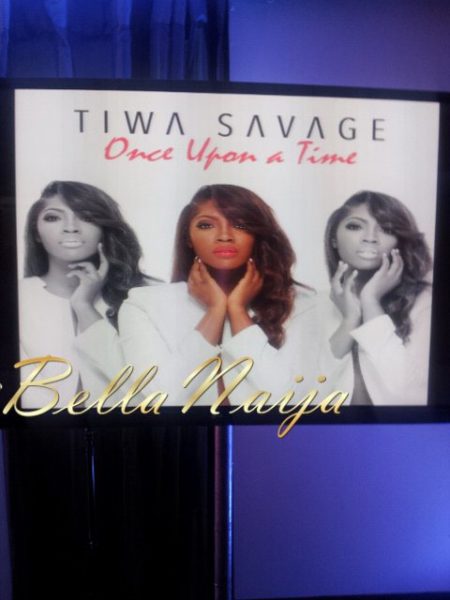 The venue looked outstanding. There were larger than life photos of Tiwa on all the walls. And, on the LCD screens and projectors, footage of Tiwa Savage from different photo shoots was looping.
May 27, 2013 | by onos_ on Keek.com
After a few cocktails, mingling with A-list celebrities and some major delish 'chow' went down our throats, the event started by Tiwa taking us on quite an exciting journey through her new album. She was also put on the spot, during the show, to perform an 'impromptu' acoustic number. She soulfully belted out a sonorous Gospel hymn which kept our belief in Tiwa Savage more than alive. Keep it locked on BN for all the official photos coming soon.
Although it was just one listen, here's the official track list and a concise track by track review.
"Once Upon A Time" Album blurb
The story began with a young lady, driven and dedicated to sharing her musical gifts to the world. Through years of cultivating her act across 3 continents, she is here, and more ready than ever to let the next chapter of this story unfold
Track List
1. Once Upon A Time
Credit: Tiwa Savage, Marcus McCauley, Rahima Balogun, Zakira Ousley
Kicking off the album in grand style, this is a "Disney style" introduction to Tiwa Savage like we've never heard before.
2. Wanted
Credit: Tiwa Savage, Tiffany Fred, Warren 'Oak' Felder
Laced with very hefty beats and a definite Reggae influence, this is one of the album's most memorable tracks. You just always want to hear it again.
3. Ileke
Credit: Tiwa Savage, TJ Billz, Gospel on the beats
This is my best song on the album. Gospel killed this beat, resurrected it and killed it again. It is a tribute to all the women doing great things in their respective industries and as Tiwa asks them to come out and dance, the guys won't be able to resist joining them.
4. Middle Passage
Credit: Tiwa Savage, Raydar Ellis
This song is an instant favourite. The song talks about men abroad taking care of their families back home and Tiwa delivers on this astounding production with the passion it needs.
5. Olorun Mi
Credit: Tiwa Savage, Sauce Wilson
Get out your tissues because this one goes straight to your heart. It's a very touching tribute to all the ones we've lost. It's equally touching and inspirational George Guise-directed music video is slated to drop soon.
6. Why Don't You Love Me
Credit: Tiwa Savage, Don Jazzy, Altims
Trust Don Jazzy to lace us with his hefty bass and staccato snare drums and claps. This track has a very South African House/Kwaito vibe and its lyrics are very spaced out too, in their fashion, to help you appreciate the production a lot more.
7. Fela Interlude
Credit: Tiwa Savage, Sauce Wilson
Reminiscent of Destiny's Child harmonizing, Tiwa Savage sings the ever-popular Fela lyric in tribute.
'if you tell African woman say she be woman, she go say, she go say I be lady oh'
8. Love Me, Love Me, Love Me
Credit: Tiwa Savage, Richard King, Harmony Samuels
We're all familiar with this one and this song has become a staple sound for Tiwa Savage, easily making her the queen of Afro Pop.
9. Eminado Feat. Don Jazzy
Credit: Tiwa Savage, Don Jazzy
Although Tiwa Savage confessed to not knowing the meaning of 'Eminado', don't translate it to Yoruba. This is the catchiest tune on the album. I've literally been humming it since yesterday and I only heard it once. Tiwa & Don Jazzy make magic happen as they do some tag team singing to their beloved 'eminado' (I think it means heartthrob)
10. Folarin
Credit: Tiwa Savage, Wande Coal, Spellz "Magik Boi"
Another potential hit from Tiwa that's still slowly piercing through the airwaves. And, just the way she likes it, the bass bangs.
11. Oh Yeah Feat. Don Jazzy
Credit: Tiwa Savage, Don Jazzy
Tiwa and Don Jazzy take another trip experimenting with Afro Hip-Hop and House. This one is especially for the dance floors.
12. Shout Out Feat. Iceberg Slim & Sarkodie
Credit: Tiwa Savage, Iceberg Slim, Sarkodie, Spellz "Magik Boi"
This is a definite summer time banger as Tiwa slows down the tempo. It has a definite "Like to Party" vibe so I hope there'll be a remix with Burna Boy. Nonetheless, it's a solid grove tune and Iceberg Slim stood out, ahead of stellar performances from Tiwa Savage and Sarkodie.
13. Written All Over Your Face
Credit: Tiwa Savage, Tiffany Fred, Warren "Oak" Felder
The chemistry between Oak and Tiwa Savage is eminent on this 'quite graphic', in Tiwa's words, love song. Laced with very ambient and atmospheric production, this is baby-making music.
14. Get Low
Credit: Tiwa Savage, Sauce Wilson
Dedicated to her loving fiancee and manager, TJ Billz, this is a banging slow jam that you should definitely add to your 'baby-making music' playlist, trust me.
15. Ife Wa Gbona Feat. Leo Wonder
Credit: Tiwa Savage, Leo Wonder, So Sick
We all know how well these two gelled on this contemporary classic love song.
16. Eji Ma Fia
Credit: Tiwa Savage, Trafic, Spellz "Magik Boi", ChiGurl
Tiwa Savage takes an unprotected stroll into Igbo land with commendable bravery. 'Eji ma fia' means 'my market is here' or 'I have the market'. On this tune, Tiwa Savage belts about her 'selling point' and we all know what that is, right?
17. Baby Mo Feat. Flavour
Credit: Tiwa Savage, Flavour, Del B
Another collaboration from these two but they take a more uptempo route and their energy seems endless. 'Are you ready now?'
18. Stand As One Feat. General Pype
Credit: Tiwa Savage, General Pype, Spellz "Magik Boi"
Inspired by the 'occupy Nigeria' movement, Tiwa Savage gets a little R&B on this dancehall vibe with General Pype. They sing about unity, love, peace and the power of the people.
19. Thank You
Credit: Tiwa Savage, Don Jazzy, Altims
As the title entails, this one is for all her fans and supporters.
Bonus Tracks
20. Without My Heart Feat. Don Jazzy
Credit: Tiwa Savage, Tiffsny Fred, TJ Billz, Don Jazzy, Warren "Oak" Felder
21. Kele Kele
Credit: Tiwa Savage, Harmony Samuels
*Verdict*
This is an excellent collection of tunes that will definitely be banging on our stereos for years to come. It was definitely worth the wait and as each song caters to a specifically different mood, there'll be something for every time and everybody.
It's great to see how Tiwa brings out a different side of Don Jazzy. You can tell he wants to diversify his sound as he's more experimental with World, House, Dubstep & Kwaito genres. Plus, she makes him confident as she's the only artiste who has 3 good features with him.
Finally, Tiwa's chemistry with Rihanna & Nicki Minaj producer, Oak and Tiffany Fred is quite an award-winning formula as their cohesion cuts across genres and industries. "Ileke" is my favourite jam right now and I can't wait to cop myself this new "Once Upon A Time" album.
Fun Facts
With "Once Upon A Time" slated to drop this 14th June, 2013, Tiwa's Pepsi endorsement has been extended for two more years.
Apart from mixing and mastering, another thing that delayed the release of "Once Upon A Time" was getting the rights to the sample used on "Wanted".
The emotional music video for "Olorun Mi" is the next one from Tiwa.
Photo Credit: Onos O | Kunle Haastrup for Insigna