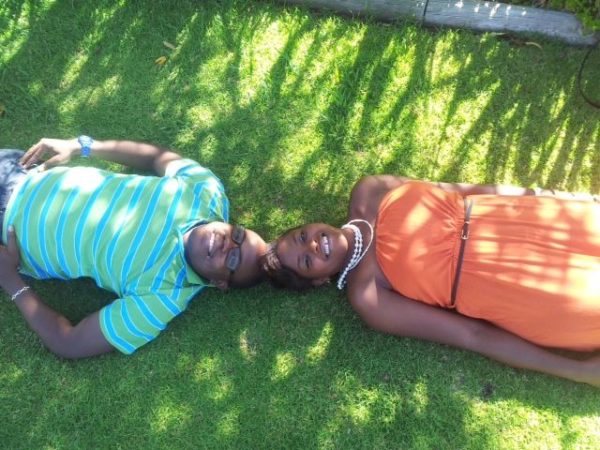 Talk about a super sweet proposal!
Ayotunde put in so much effort to ensure that his proposal to his love Adewunmi was grand and thrilling.
Find out how they met and watch the video below.
How Ayotunde & Adewunmi Met
by Adewunmi
Ok here goes….
My best friend's sister moved to Kano after she got married in 2010. Fast forward, March 7th 2011 we all got the good news of the arrival of their baby boy. My best friend wasn't in town at that time, I would have naturally waited for her and gone together but I ended up travelling with a mutual friend Zainab. I guess a higher power was at work.
When we landed in Kano, we drove the house, this young man (Ayotunde) approached the car said hi to my friend and as he approached me, my eyes flashed over to his 'ring finger'. I noticed he was wearing a band so I just tuned off assuming he was married. He said hello and I responded in a cold manner because I didn't want to be encouraging anything!
As the day progressed, I noticed him in the pool in the midst of about four or so girls talking and all; I thought to myself and he's supposed to be married SMH :). It was time for dinner, one of the girls who had latched on to him came into the kitchen asking for food for him and I was 'thinking can't she see the band on his finger'?!
Next day was the day of the naming at the ceremony I remember the cleric talking about how "goodnews begets goodnews" and all the singles present would get their God ordained partners I remember saying a very loud AMEN that got everybody chuckling (he apparently said his AMEN as well).
Landing in Lagos a few days later, my friend who I travelled with sent me a message on BB saying Ayotunde likes me. I go "Zainab I can see you don't like me oo so it's someone that's married you want me to date?" She then goes ahead to explain that the ring was decorative and he wasn't married and then she gives him my pin, we got talking and the rest is history….
The Proposal
by Ayotunde
By November 2012, I was convinced beyond doubt that we were meant to be together. So I started the planning on how to get the ring. I had help from my jewellery consultant. Once we had agreed design, the next was how to get the ring size.
In a twisted tale of attending to me when I was ill, she forgot her fashion rings. It was an opportunity for me to get the ring size. I called my neighbour to help measure the ring and help bring it back before she came to check on me for that day. It was a close one though as my neighbour got in 5 minutes before she did. Immediately we commissioned the making of the ring.
Next stop was the magical proposal.
My cousin HF and I had begun hatching the plan for the proposal. We hit the studio and did the recording. The next task was now how to get her to the "event". This magical day was the birthday of the baby that was born in 2011 (the event that we both attended when we met in Kano) – March 7. We agreed that Finesse Entertainment (HF's Record Label) was unveiling a new artiste and we wanted support from family and friends at the Genesis Deluxe Cinema in the Palms, Lekki.
We had planned all this and Adewunmi was set to represent me at the Palms to support my cousin's record label (I claimed I was stuck at the office! Little did she know.)
Getting her to the venue was a real suspense drama. She had to pull through nasty traffic that day. Just at the last minute, she decided to go home to my cousin instead of the Palms. It was at that point that I started sweating! I began to cry foul to alert my cousin to change her decision and get her to come to the venue.
It was tough, she had little to eat, she was there chatting me up and I was responding like I was back at the office feeling her plight and displaying empathy.
If only she knew.
So the trailers to the movies started and the trailer unveiling this new artiste came up, the rest is concluded in the video. The baby that connected us celebrated his 2nd birthday on that day and we went in together to propose to Adewunmi.
Watch!