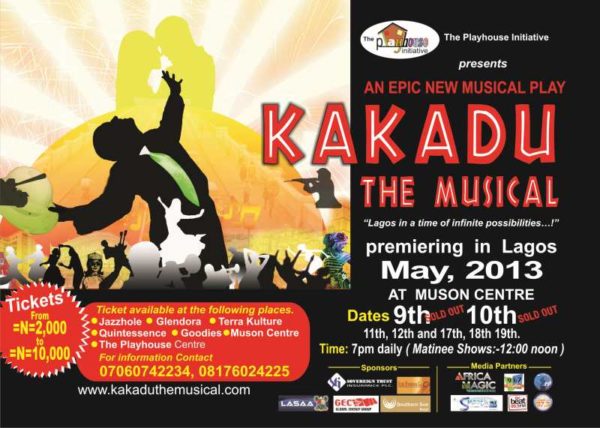 Looking for an exciting, inspirational and moving experience that is indigenous? "Kakadu the Musical" is bringing to you a night of wonderful music and thrilling on stage performances. Set against the inspirational background of newly independent Nigeria "brimming with hope, dreams and expectations" characters like the Manager of Kakadu, Lugard da Rocha, fondly called "Lord Lugard" will take you on a journey that exposes the unique connection between the human stories that connect Kakadu, the club (from where it was birthed) and the dream it represents.
The Kakadu musical is is a seamless weave of music, drama and dance that has never been seen before in Nigeria. Come and experience history come to life.
Date: Friday 17th, Saturday 18th & Sunday 19th May 2013
Time: 12:00PM (matinee/afternoon shows) & 7:00pm (command performance)
Venue: AGIP Recital Hall, Muson Centre, Lagos.
Contact: For more information please visit www.kakaduthemusical.com.
For tickets and reservations call: 070607742234 or 08176024225
Tickets:
Regular: N 5,000 (seated up on the balcony)
VIP: N 10,000 (seated front row)
Matinee/Afternoon Shows: N 2,000 for children and N 5,000 for adults
_____________________________________________________________________________
Sponsored content