Salut a Touts!
Thanks for all the feedback in the comments last week. I think I'll dedicate July to Oven/Baking Recipes.
The truth is I kinda hate baking. Nobody even has time for measuring flour and all that jazz. But like I always say we all, including myself, must take an adventure ride in our kitchens! It's not about being Marry Berry or an MOF or be Pierre Herme. It's just trying stuff out and getting better and more importantly comfortable in your kitchen.
In the spirit of the WOK here's one of the best fried rice you'll ever have!
At Chef Fregz private catering we decided to change up our rice game and voila this was born. Basically, I was pondering on how to get the taste of the fried rice I would ordinarily get from a great chinese or Thai take out.
I'm somewhat addicted to Mega Plaza's Chinese (which I would gladly vote for as the best Chinese in Lagos and possibly Nigeria.) So the rice there kind of challenged me and when it was time to make mine, my thought process was this
"Basmati rice + pad thai sauce *I buy for BBQ sauces and never actually Pad Thai stirfry* a dash of coconut milk, some oyster sauce; because the videos I saw on Youtube showed their Buka women using it; fish sauce because thats Thailand's soy sauce and salt. Sesame oil because I stereotype that its right for all things asian! Carrots and spring onions for crunch and flavour….and shrimps to make it even more appealing"
That was it! The fist time I tried this it was a major hit with my mother whose approval when it comes to food is so hard to get! That day all her defenses were down. She could deny it- I was through the roof.
For this recipe you really don't need a Wok. A normal pot would be just perfect but for the sake of feeling proper use one if you have it. I feel this is one fried rice recipe that doesn't need too many vegetables. I actually dislike when people have fried rice looking like a fully decorated Christmas tree. Thai people would actually use day old/leftover rice to make their fried rice. So if you have that lying around this is a good way to jack it back to new life!
Today, I really do not want to put a recipe because frankly I still eyeball a lot that goes into this dish. However for the sake of guidance and the not so brave I have calculated a few things and would try and come out looking like a recipe.
What You Need (Serves 4-6 persons)
2 cups Basmati or Short grain thai rice
3 tablespoons Pad Thai sauce
3 tablespoons oyster sauce
3 tablespoons sesame oil
2-3 serving spoons coconut milk
1 whole Knorr cube seasoning
1 large onion finely chopped or pureed
3 rather heaped tablespoons of pureed garlic
2 tablespoons ground ginger
3 tablespoons of fish sauce or more if the salt level isn't good for you.
500g shrimps cleaned lightly seasoned with fish sauce, garlic and ginger.
200g carrots finely chopped
medium bunch of spring onions finely chopped. Both the white and green parts
2 serving spoons of vegetable oil for stir frying
salt to tatse
How To
First thing you want to do place the rice to parboil. You want to boil it rapidly till it looks done but still very "al dente" a.k.a hard to the teeth. Once you get to that stage, turn off the heat and rinse through with cold water.
As the rice is boiling be sure to get some prep done. Prep is everything. Clean the shrimps and leave to marinade in the garlic, ginger and fish sauce. You could add some chilli sauce for some heat, cut up the carrots and spring onions and lay them in a small plate or tray. Arrange the garlic and ginger in little containers. Then mix the Pad Thai sauce, oyster sauce, sesame oil in a small bowl mix thoroughly o!
Get your oil hot in your wok or pot. Add the onions, garlic and ginger and stir fry for a half a minute then add the rice and stir fry for another 1-2 mins.
Add the mixture of the pad Thai sauce, oyster and sesame oil along with the seasoning cube and fish sauce (these sauces do not have a substitute to me. Especially the oyster, pad thai and sesame oil mix. It's this dish's secret weapon Continue to store fry until every grain has had a fair share of sauce. Add the carrots (remember they are finely chopped so they would cook quicker and I like them to remain somewhat crunchy) and half the spring onions. continue to move around till flavour has circulated well. Add the coconut milk and shrimp and leave to steam over a low heat for 10mins.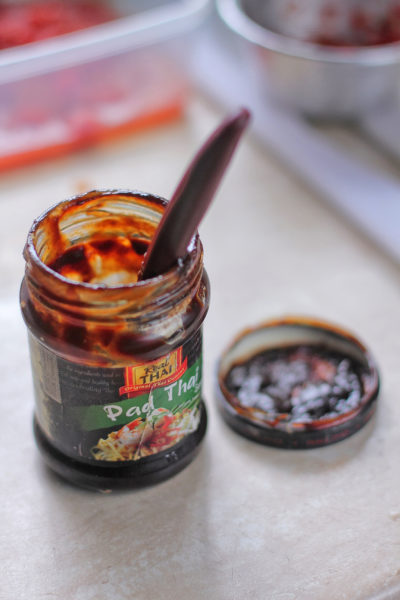 Depending on the type of rice you have used, it should come out either nice and long or broken and tiny. Whatever the case it should taste amazing.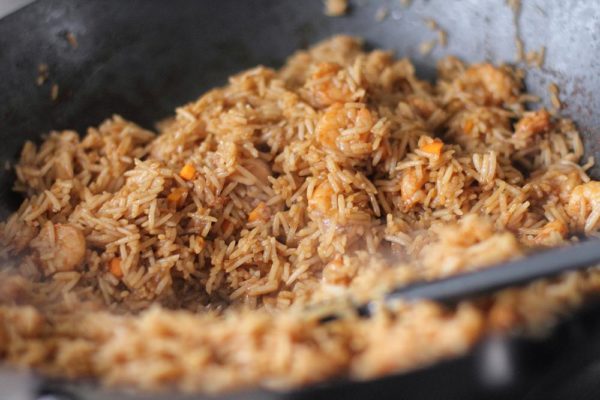 Finish it off with the rest off the spring onions and coriander leaves.Serve with Chicken or even fish done in a curry sauce or Chilli Sauce.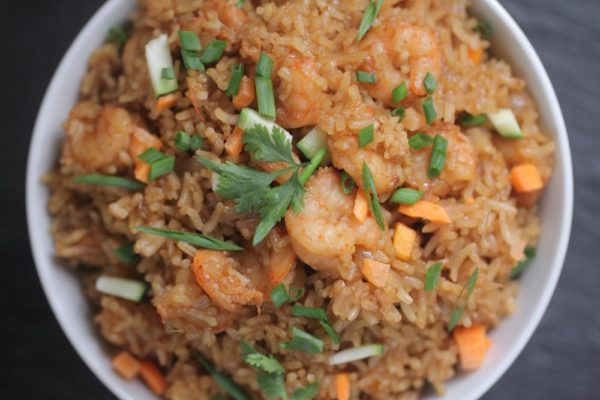 Remember recipes are only guidelines…. you really call the shots!
Don't forget to make an amazing plate, photograph it and email to features@bellanaija.com so we can post and you may just win something courtesy Chef Fregz
So please go ahead and WOK it this weekend!
Ciao!
____________________________________________________________________________________________
Chef Fregz loves to cook! He is a graduate of Le Cordon Bleu Paris Culinary Arts School in France and hosts monthly "Chef Fregz Specials" where he whips up a yummy menu with a different theme each time then everyone enjoys a taste.He also caters special events and private dinners. To find out more visit www.cheffregz.com.