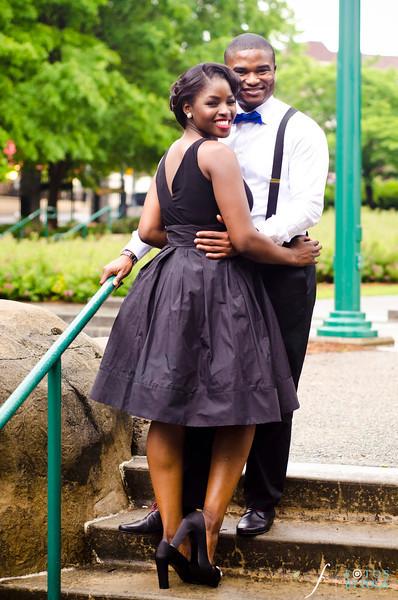 Today we have Mathilda and Osa's pre-wedding shoot by Fotos by Fola. Mathilda & Osa met at a party, after Osa sent a friend over to do some "investigative work".
Fotos by Fola took amazing shots around Atlanta – at Stats in downtown Atlanta, Centennial Olympic Park and The Biltmore Ballrooms. They look so timeless in this shoot – just like their love.
Look for more from this couple on BellaNaija Weddings!
_______________________________________________________________________________
Bride-to-be: Mathilda/Dupe
Groom-to-be: Osa
How they Met
From the groom:
It was a Saturday like any other and I was relaxing after a long week at work. One of my very good friends Bose called to let me know that there was a 40th birthday party she wanted to invite me to. Initially I refused because I was so tired but then my sister from another Mother, Sase, called to ask what was going on that night, I told her about the party and told her I was not sure I was going – but she eventually convinced me – Sase is persuasive like that, her mouth sweet well, well. Lol. So I jumped in the shower and got dressed, went to pick up Sase and was prepared to not stay long at the event.
We walk in and as I surveyed the room I notice her. Standing tall, commanding the room, gorgeous and with the most beautiful smile I had ever seen. She had this mane of hair on her head, looking all Amazonian. But there was one problem – she was hanging around this guy almost the whole night so I was not sure she was single (he would turn out to be her older brother). I kept my eye on her all night, and eventually she moved from the guy's table to a table with a group of 5 – 6 of her girlfriends. As any man with sense knows, it is extremely dangerous to try to approach a group of women, especially when you are not sure the lady you are after is single.
So I sent Sase to  do some Mission Impossible and Inspector Gadget work for me. Sase came back and said that the coast was clear, she was single and that her name was Dupe. The whole time Sase was giving me grief because she said I was "dulling" and I should just go talk to her. But a gentleman waits until the right moment abi? When I saw my opening, I walked up to her. She had her back to me, I put my hand on the small of her back, leaned in and said "Dupe, Right?"
She turned around and smiled – and the rest is history …
Credits
Photography: Fotos By Fola
______________________________________________________________________________________
We love weddings as much as you do – get in touch for inquiries, inspiration & more!
E-mail: weddings (at) bellanaija.com
Instagram: BellaNaijaWeddings
Twitter: BellaNaijaWed
FB: BellaNaijaWeddings