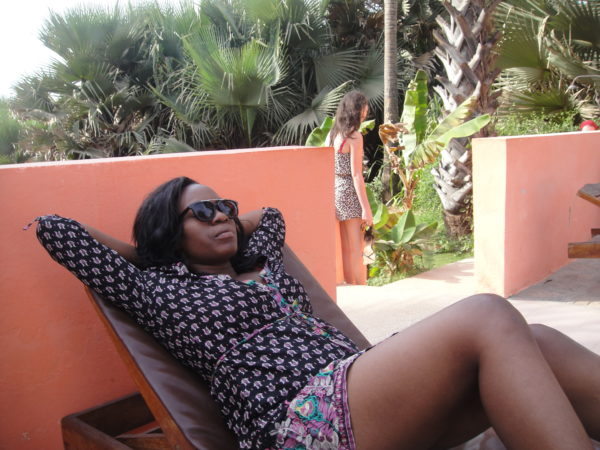 Gambia always brings great memories. Anytime I think of this rustic country with barely 1.7million pple in population, a country crammed with Europeans and some of the best cuisine you will ever eat in Africa especially because it's so affordable.  If you're thinking of a holiday in the Gambia then you should totally check out the restaurant called "The Vineyard" in Senegambia and definitely Pizza at Luigis Place in Kololi (watch out for his cats though.)
I love every part of Gambia, the simple life by the beach in shorts, shades and the tiniest bikinis (for the brave). The people are very tourist friendly so don't they don't mind our tendencies. In fact they embrace our excesses so it's not unusual to see tourists doing everything a local is doing.
The best times to visit Gambia is from October to April. In December the young Gambian repatriates fill the club with their various accents and tattoos. February is the major tourist season with the Annual Roots festival which is always great fun and oh so colorful. It is important to visit the Arch 22 and get a 360 view of Banjul and its environs. Also visit the Katchically Crocodile pond and if you're brave like me see what a live Croc feels like.
Hotels are abundant with some of the best prices and quality you will find in Africa. There's only one 5 star resort (Coco Ocean Beach Resort) but the 4 star hotels are more than adequate as almost all the hotels share the long stretches of endless beaches. Try Sheraton Serrekunda or Laico Atlantic in Banjul.
During off peak times hotels rate from 30-200usd per night rising to almost double that price during peak season.
I stayed at The Golden Beach Hotel in Bijilo which is a simple 3 star facility with nice and simple rooms but great staff and lovely ambience. Price ranges from 30-100 per night but for me completely free (hate me now.)
The hotel chef serves the best Chicken Yasaa in Gambia. The host Aliu Secka (who is also the President of the Gambian Toutism Assoc) made my stay absolutely amazing and made Gambia a wonderful experience.
Looking for another reason to love Africa? Gambia is a reason
For the adventurous please take a boat cruise and experience the Roots Tour where you see and experience the life of Kunta Kinte plus you may get to meet a member of his family.
I had an awesomtastic time in Gambia and honestly it is one place in Africa you should visit with your friends. There's so much to see and do in Gambia.
Please share some of your exciting stories from Gambia if you've ever been there, I'd love to read from you.
____________________________________________________________________________________
Shade Ladipo is what you would call a travel Junkie, CEO of Avienti Limited a Destination Management company with 3 offices in Lagos & Abuja, Shade is as passionate as they come. She's a freelance TV Personality, an On air Radio Personality with Smooth FM Lagos, a Global Shaper with the World Economic Forum where she represents Nigeria at conferences all over the world and also a Philanthropist. When shes not busy being the boss, shes travelling the world one city at a time.