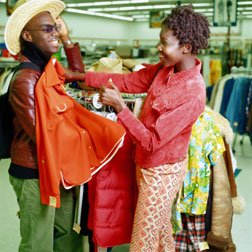 I was watching the Style TV station last night and an advert came on about resold clothes. It's titled 'Resale Royalty' and it had a lot of women, and even some men, queuing to get a hold of pre-owned items. Even though the items ranged from Chanel and Gucci, to Prada and Vivienne Westwood, I couldn't help but ask myself if it was something I would do? Would I be willing to buy any item that I know is being resold? For me, the puzzling part about buying resold items is the fact that someone else has used it, especially when it comes to resold clothes.
When you buy a resold piece of clothing what does it mean? Is it that the former life of the piece is wiped away and a new one is created once you pay for its ownership? Are pieces of clothing like money, taking the shape of whomever is handling it?
In the case of getting hand-me-downs from siblings, your mother/father etc it's okay because you know where it is coming from. Heck you have probably washed it so often you have probably earned it. But talking about shoes, hats, jackets, shirts, trousers, gloves and all that you can find in a resale store, is it okay to still buy them knowing their history?
As the advert went on throwing around phrases like 'One woman's has-been is another woman's must-have', my mind wandered to my University days where some girls specialized in borrowing clothes. Back then, it was basically 'normal' for your friends to come and raid your wardrobe saying things like 'Please now, you know I will return it' or 'my clothes are still wet, don't worry I will soon be back from class'. Does this stem from the same root with resold clothes. They belong to someone else and still you are willing to wear it. Is it okay just because you know the person you are collecting the clothes from?
If you are buying resold clothes It's not like there is a bio page attached to the item; it's just you, that particular piece of clothing and the decision you still haven't made about if you are willing to take it home as your own. It's kind of like adopting a puppy; you have no idea what its parents were like, if he is the child of street dogs or from a royal family of dogs. All you know is that from the moment you saw those bright brown eyes and its curly fur, you just had to have it.
But is 'wanting' enough? I'm trying to understand if it is okay for you to indulge in buying resold clothes knowing that they were previously owned by someone else?
When I brought this question to my neighbor she explained that 'Okrika' was her middle name. She buys clothes irrespective of where they have been, who has worn them or where they are being sold now. As long as they go through her process of washing them twice with Ariel and being soaked in treated water, she's good. "Most times the clothes are still in good condition and I always check them out before I buy. I stretch them, check them against natural light…just because I want to buy '2nd hand' clothes doesn't mean I should be cheated."
I laughed inside remembering the time I caught my cousin knee deep in 'Okrika' clothes in Yaba. She denied and denied, but we both knew what she was doing there. So many ladies would rather donate their left arm than be caught buying 'Okrika' clothes but have no problem if the clothes are washed,  ironed, scented, packaged and calling their names from a  hanger in a fancy store. Isn't that the same thing but in different locations? Does a change in location change the grade of resold clothes?
Her sister Aunty Patience, on the other hand, would not have that at all. According to her "If I am paying for it, then I should have the luxury of wearing it first. How would I in my right senses buy something that someone else threw away? They know why they threw it away and I am not ready to discover what that reason is."
Understandably, the clothes are sold at a lesser rate and some stores don't take in clothes for resale unless they're still in great condition to last a while, but would you still buy them? Would you ignore the pre-owners signature on them and still buy the item and love it like it were your own? What qualities do you even look for in the case of buying clothes that are being resold? What would you do if you realize the pre-owner wasn't as hygienic as you'd hoped?
Please share your thoughts on this issue.
Photo Credit: Slate.com