We absolutely love our wedding today – and we know you will too! Tope Busari and Soji Obasanya's wedding was filled with lots of love and sizzling chemistry. The absolutely beautiful bride and handsome groom celebrated their traditional engagement and white wedding on the same day – going from cultural chic to classic romantic – ending the night in a reception that had everyone on their feet. So fabulous!
Enjoy – BN Our Wedding Story – The Tope & Soji edition!
______________________________________________________________________________
How Tope & Soji Met
by Tope
We met at the headquarters of the company I served with. I was wearing my corper uniform and carrying my NYSC posting letter when I saw him for the first time; he was working in HR. The dude obviously had his eyes on me from that second but I just thought he was very helpful and exceptionally friendly. We became good friends – 1 text message turned into dozens, mails, calls, visits and fast forward 3 and half years to our wedding day!
The Proposal 
by Tope
It was a Sunday, the 26th of June 2011 and we had been dating for 2 years. He planned a very fun get together at the beach – with friends, loads of food, drinks, music and fun in the sun – the same beach we had gone to on our first date. He told a few of our mutual friends the plan so everyone was in the know except me. They even got me involved with the planning, getting small chops and all.
So he decided to attend my church that day before the beach. He was deliberately wasting time – stopping at unnecessary places and shopping. I was even getting upset by all the stops LOL. We eventually got to the beach and were obviously the last to get in.
As soon as we got to the waterfront, I saw all our friends lined up in a row by the water. The first thought that came to my mind was "oh look, they are lining up for pictures, lets go join them" then I noticed they were wearing identical t-shirts each with a letter printed on the back, spelling out the words "W-I-L-L   Y-O-U   M-A-R-R-Y   M-E" So the first guy had W on his shirt, the next lady had I, L, L, and so on. I was confused cos it happened sooo fast.
Before I knew it, he drops in front of me on one knee with the most beautiful ring in the world. I just took off, I ran away and everyone was chasing me. It was the sweetest thing, and of course when I slowed down, I said "YES!"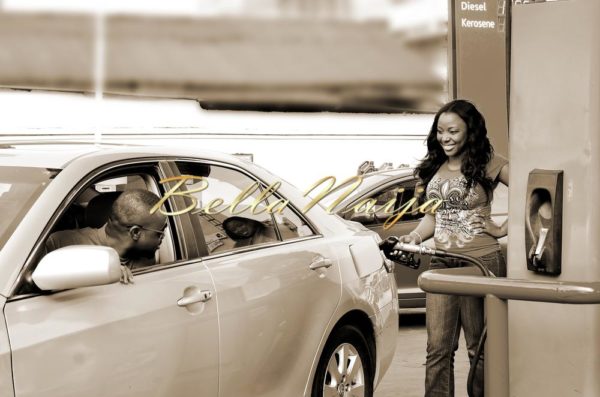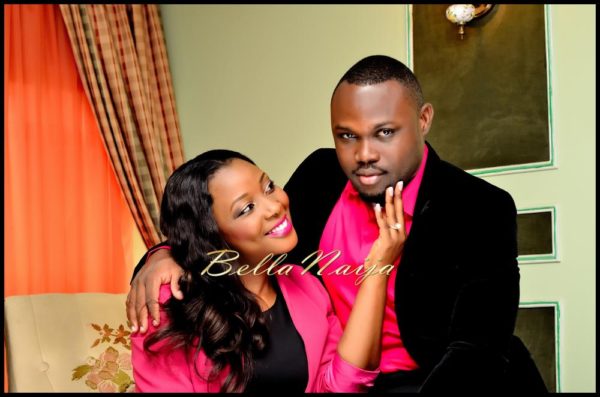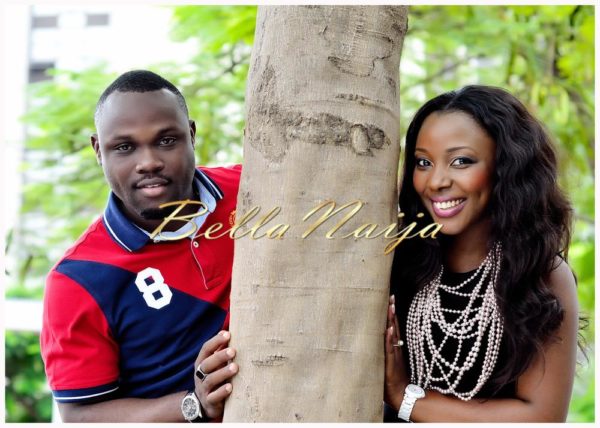 __________________________________________________________________________________________
It was fabulousity from morning to night on Tope Busari & Soji Obasanya's wedding day! Starting with their Yoruba traditional engagement where they celebrated their heritage in true style – with the couple and guests' rich cultural attire and traditions like the bride choosing the most important gift from the groom's family.
With their traditional marriage rites completed, the same day, it was time for Tope and Soji's white wedding. The bride looked radiant in her ball gown dress – the first one she tried on at the bridal boutique embroidered with crystals, and a classic red rose bouquet. The groom looked dapper in his matching red rose boutonniere and bright red socks. After their marriage blessing, the couple and their guests moved on to their wedding reception.
Classic red, black, white and a lot of crystals transformed the venue into Tope & Soji's dream space. The couple was the center of attention as they danced their way into the hall – rocking it and going down low. It was Fun with a capital F as DJ Zeez pulled off an amazing special performance, which had the couple's friends having the time of their lives.
BellaNaija Weddings wishes Tope and Soji all the best in life and love!
****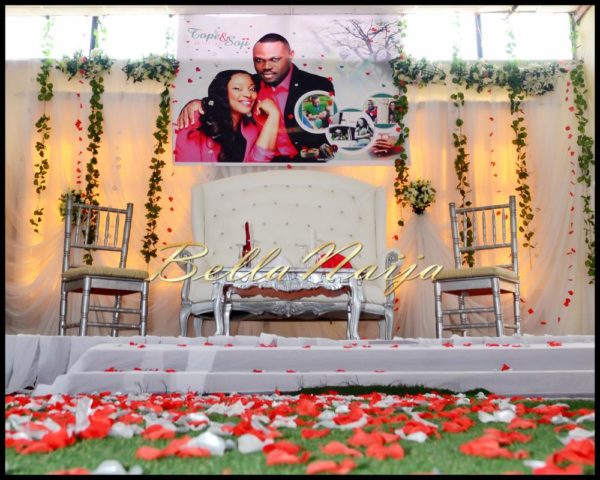 ~ Wedding Photography: Jydiel Studio –  www.jydiel.com | www.facebook.com/Jydielstudio | jydiel (at) yahoo.com
Wedding Venues
Traditional Yoruba Engagement: Dehall Events Centre
Church: Chapel of Christ The Light, Alausa, Ikeja
Wedding Reception: Dehall Events Centre
Wedding Attire
Wedding Dress: Pronovias via Perfect Occasions
Bride's Wedding and Traditional Engagement Makeup: EWAR Makeovers (RIP)
Maid of Honour's Makeup: Ethel's Touch
Bride's 2nd dress: House of Dorothy
Bride's Hair: Yinka, X n B
Wedding Vendors:
Event Coordinators: Ball Events
Wedding Cakes: SayCheese
Food: Betsy Cooks
Fresh Flowers/Red Rose Bouquet: Rare Flowers
Decor/Lighting: Dexterity Plus
Small Chops and Cocktails: PartyJydes Small Chops, Cocktails & Mocktails
Videography: Heartworks
Band: Faith band
DJ: DJ Frank
MC: Uyi
_______________________________________________________________________________________
We love weddings as much as you do – get in touch for inquiries, inspiration & more!
E-mail: weddings (at) bellanaija.com
Instagram: BellaNaijaWeddings
Twitter: BellaNaijaWed
FB: BellaNaijaWeddings