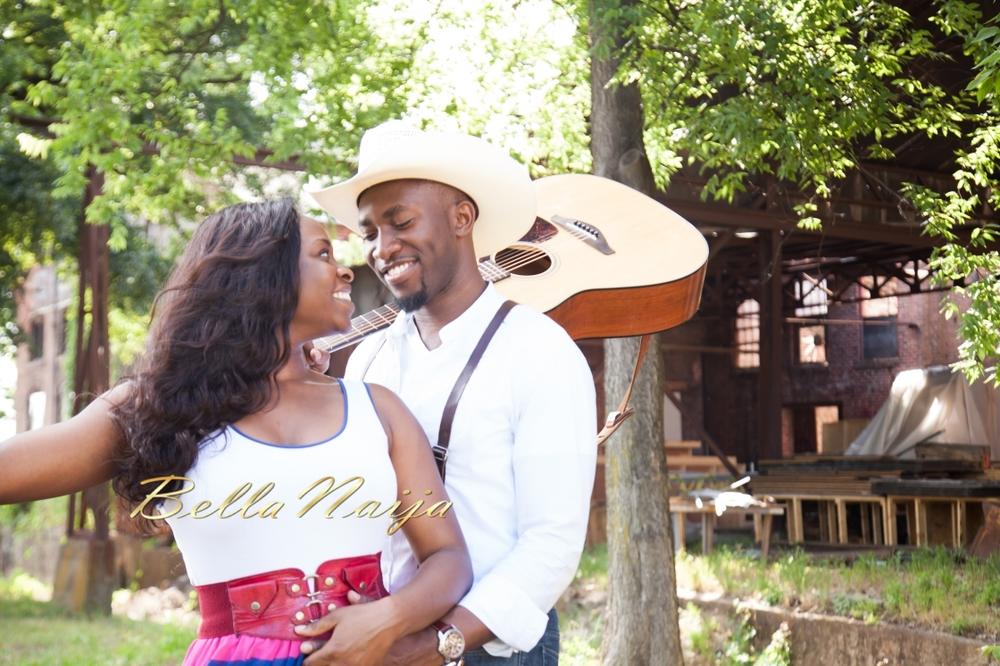 Bride-to-be: Ekibo
Groom-to-be: Boma
Photographer: INIJE  Photography & Films – www.inijephoto.com
How He Proposed
by Ekibo
I'm a very hard person to surprise and I could imagine Boma had been thinking up a storm of ways to propose.
One night, he told me that he would like to take me out for something to eat. After running a few errands with him, he decided to stop by his house to grab something before heading out to the restaurant. We arrived at his front door and as he opened the door, I stood there in awe of an enchanted scene – complete with dim lights, music playing, rose petals gracing the floor, and candle lights trailing a pathway to the basement. As I walked down the rose petal covered staircase, I arrived at the basement. The room was pitch black but the floor was illuminated by a single candle surrounded by more rose petals in the shape of a heart. He turned on the light and I saw my family awaiting me with exclamations of  "SURPRISE!!!!!!"
He gave a beautiful heart felt speech, got down on one knee as I lovingly shed tears of joy, and he asked me to marry him.
The Pre-Wedding Shoot Concept
by the Photographer – Charlton Inije
Stepping out side of the box and bringing something new to the table is something that I always love to do. Photographing Ekibo & Boma was pleasant, the couple had such great chemistry and were very open minded to creativity. Boma, the groom, loves to dance and play guitar he is a big lover of music, while Ekibo she is more of the romantic type but at the same time loves to be different. That is why I chose a rustic, romantic guitar scene. As for the 2nd look – the graffiti street and edgy feel came up at the very last minute once I seen what the couple had on – I asked if they would be interested in shooting at a particular location I loved but never had the opportunity to shoot at they agreed and the creativity began to flow.
Enjoy!
Credits
Photography: Inije Photography – www.inijephoto.com
______________________________________________________________________________________
We love weddings as much as you do – get in touch for inquiries, inspiration & more!
E-mail: weddings (at) bellanaija.com
Instagram: BellaNaijaWeddings
Twitter: BellaNaijaWed
FB: BellaNaijaWeddings