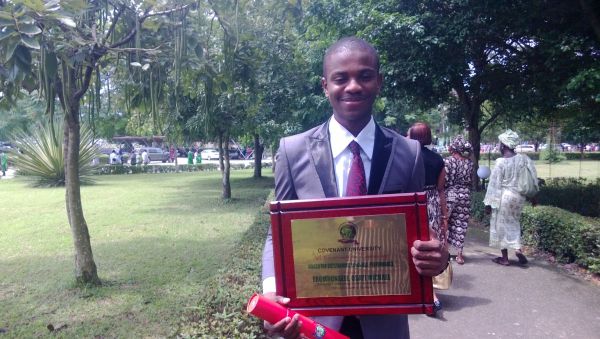 At the recent graduating ceremony of Covenant University (CU) Ota, 21 year-old Michael Eromhonsele stood proud among 1,465 other graduates to clinch the Best Graduating Student Award. His achievement caused quite a sensation on the online media sphere with reports that he  had to make some sacrifices such as not having a girlfriend or attending parties to achieve this feat.
In this exclusive interview with Adeola Adeyemo, Michael corrects some of the wrong media reports about him. He also speaks on his undergraduate experience and how he was able to make such an impressive grade. His story is an interesting one. 
Congratulations on your achievement. How does it feel, coming tops among 1,465 other undergraduates?
I feel very privileged and favoured. My heart is full of praise to God.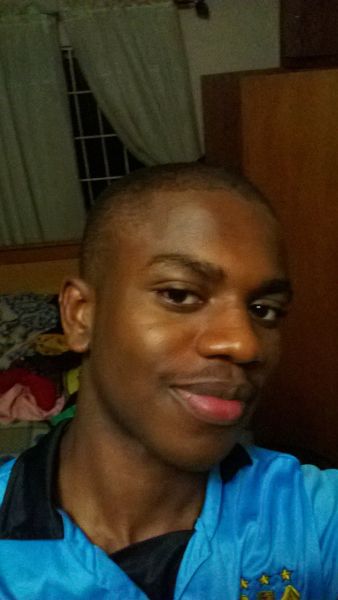 Tell me about your early days in the University. What was your experience like when you first gained admission into CU?
I spent my first two weeks getting used to the school rules and the environment. I remember getting lost the first time I went to Joseph Hall to see a family friend. It was during this period I became a course representative, was baptized in the Holy Spirit and joined communion service unit of the school's chaplaincy. The decisions I made during these two weeks shaped my destiny in Covenant University.
Why did you decide to study Civil Engineering?
During my secondary education I had a strong passion for statics and structural mechanics. I also loved further mathematics. These were the reasons why I chose to study civil engineering.
For many students, Engineering and Mathematics are tough courses. How were you able to cope with the demands of studying such courses in your department?
When you are doing something you love, you will see challenges as stepping stones for success. My mindset helped me overcome the challenges like they never existed.
Tell me about your educational journey from Primary School to this point and how you fared in your classes.
During my primary education at UNIBEN Staff School, I was usually among the top three in my class. I was 10 when I got into Junior Secondary School at UNIBEN Demonstration Secondary School and I was a little above average. It was during my senior secondary education at Greater Tomorrow Secondary School that I began to take academics seriously. After the first year of my senior secondary education, I finished as the best in my class (SS1B) and won an award in Mathematics. At the end of my second year, I was the 2nd best in the SS2 class and won a STAN award in science. I finished my secondary education as the best graduating student and as a finalist in the Maltina National Reading competition and got into the University at 16.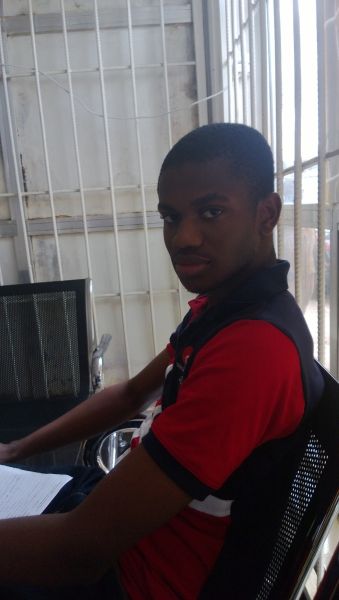 Was CU your first choice or did you just find yourself there by chance?
Covenant University wasn't my first choice. My first choice was UNIBEN but my dad and his friend convinced me to go there. I will be forever grateful to them.
Many people are of the opinion that it is very easy to gain admission into Private Universities in Nigeria as long as one can afford the school fees, and thus, very easy to pass courses there. Is this true?
Well, in Covenant University, you have to pass an aptitude test and an interview to get in. Every year over 10000 students apply but only about 2000 are taken. So it is not "very easy" to get in. Students excel easily in a good learning environment which Covenant University and some other private universities provide.
How well can a CU graduate compete with any graduate from, let's say, a Federal University in Nigeria?
A Covenant University graduate will more often than not perform better than graduates from other universities because he/she has undergone spiritual, moral and academic training.
To achieve a CGPA of 4.92, you must have excelled in all your courses. What was the lowest grade you ever had in the University and what course was it?
My lowest grade was a "C" in EDS 521. EDS stands for Entrepreneurial Development Studies. I finished with a CGPA of 4.93 not 4.92.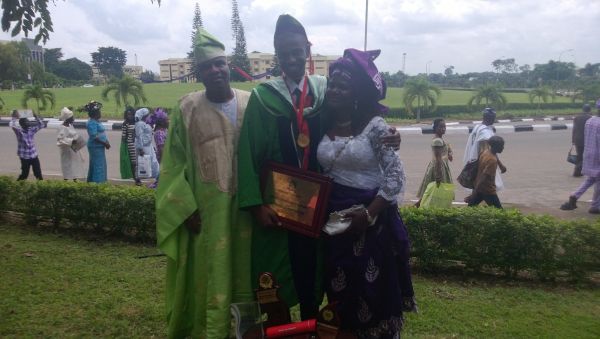 You are a graduate at age 20. This means you must have been one of the youngest in your classes while growing up. Did this affect you in any way?
It didn't affect me. Maturity is not in how "old" but how "wise". I am actually 21 years old not 20.
What sacrifices did you have to make to achieve a CGPA of 4.93?
I am a lover of video games and soccer but when I was in school I only watched six football matches and I hardly played games.
Looking back at your life at the University, is there anything you wish you had done differently?
I wish I had asked out a friend I liked in 300 Level before she was taken.
Punch reported that you said you never had a girlfriend while in school. Now that you are through with your undergraduate studies, are you ready to start dating?
Contrary to what Punch Newspaper reported, I dated someone when I was in 200 level. I have always been ready for a relationship.
So tell me, what happened to the relationship? Why did you decide to end it?
The girl got tired of the relationship because I wasn't spending enough time with her. She ended it.
What kind of girl would you be attracted to?
Well, I would prefer to keep that to myself.
What about the Punch report that stated you never attended parties. Is that also true?
Yes I didn't attend any parties.
Do you feel bad that you had to sacrifice your relationship and social life for your academic achievement?
No I don't. If I had another opportunity I would do the same thing.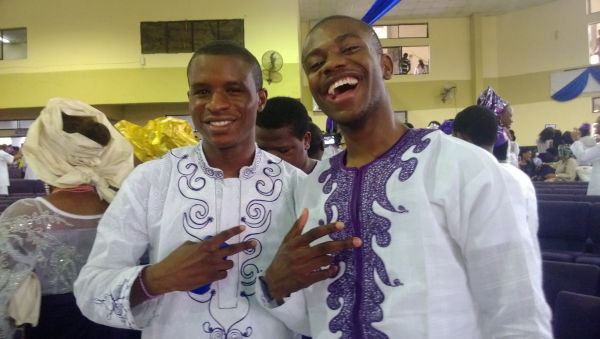 At what point did you know you were going to be the best graduating student this year?
It was just two days before the convocation ceremony. At the beginning of the last semester, another student Aiwa and I were on a CGPA of 4.93. Also in my last result, I had my first "C" in the University so I wasn't expecting to be the best. I felt sorry for her because the gap was just 0.001. It couldn't have been closer.
What is your study style like? Are you the kind of person who spends long hours reading or did it take you just a short time to understand your courses?
I am blessed with quick understanding. I understood 90 percent of my courses while the lecturers taught. I spent little time reading but a lot of time teaching people. During my 100 level I was studying for 2-3 hours per day but as I began to go higher I got involved with a lot of leadership positions. From my 200 level, I have been reading for an average of 3-4 hours per week. As at last semester, I observed that my reading time was less than 2 hours per week because of my project work. I always studied in my room. I only went to study in the library on four occasions. In contrast, I spent an average of 8 hours per week teaching people throughout my stay in Covenant University.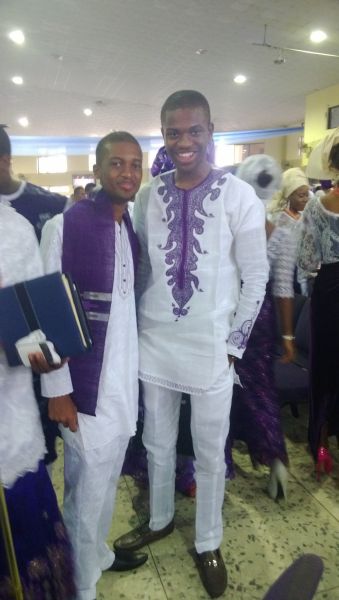 Who were the people that inspired and supported you academically and otherwise throughout your stay in the University?
My major source of inspiration is God. Dr David Oyedepo has been a mentor and a father. Pastor Ubong Ntia, Pastor Victor Oluwadamilare, Mr. Victor Ubong and many others have inspired me. My course mates, close friends and fellow communion stewards have also inspired me.
What is the CU student experience like? Many think it is very dull and conservative. Is this true?
Covenant University is unique. We have our own definition of "fun". The Covenant University experience is very far from being dull. The creativity and ingenuity of the people connected to the institution makes the experience very interesting. There are so many social and sporting events in the school's calendar and these events are organized by students. The most popular events are the Redefinition Fashion Show and the Covenant University Football League.
In the past few months, CU has been in the news for issues such as expulsion and students complaints over strict rules. How do you feel about this?
I have no comment on it.
From an ex-student's point of view, were the school rules too strict?
No, they weren't. It just takes the first semester to get used to them.
What are your future aspirations, both academically and professionally?
Academically, I want to obtain a masters degree and probably a PhD in Structural Engineering. Professionally, I want to become one of the leading Structural Engineering consultants in the world.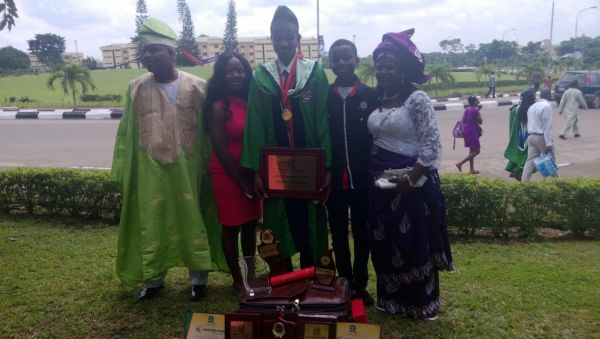 What else are you passionate about apart from your academic interests?
I am passionate about Nigeria and Africa. I strongly believe that in the next 20 years Nigeria will become the giant of Africa again. I am eager to play my part in achieving this.
For someone wishing to achieve a feat such as yours, what would be your advice to the person?
Spirituality, Possibility Mentality, Capacity Building, Integrity, Responsibility, Diligence, and Sacrifice have to be your core values.
_________________________________________________________________________________
Adeola Adeyemo is a writer and journalist. When she is not writing news and feature articles or conducting interviews, she slips into her fantasies and writes interesting books for children. You can visit her website www.greenbiro.com or follow her on twitter @deolascope