BellaNaija presents "Celebrating You! Class of 2013." A few weeks ago, we called for submissions of graduating students who had excelled in their course of study. We acknowledge the fact that everyone who has graduated this year is a winner. We, therefore, want to celebrate people who have gone over and above the norm. People who have gotten meritorious distinctions and awards from their institution of study. We hope that you are inspired and we look forward to receiving more entries.
We're very happy to bring you Nina Ene's story. Nina graduated with a Masters of Science in Journalism from Columbia University. Nina's mother gave all she had for her to live her dream. Growing up in a single-parent household, things weren't always easy but her loving mother made sure she never lacked. Faced with adversities in a place far from home, Nina learned to survive.
Nina's dreams
Growing up, many things in my life all seemed to fall in place. I was at the top of my classes from Corona to Covenant University. You wanted the As? I had them. I had the 4.8 GPA and the 4. something CGPA. I was bold, confident and at the top of my game in almost every aspect of my life. After a stint at the now defunct NN24 (News Network 24) and a television show for the Aviation Ministry, I realized my strengths and figured one way to give back was through professional journalism. Even amongst my friends, I was considered "favored." No problem I ever went through was worth them losing sleep over. I remember one day on one of our many school-wide meetings back then in 2008 when I took the mic and said I hoped to further my education at an Ivy League University. The laughter that erupted from the larger part of the group was quite demoralizing. Some even gave me "the look" for a few days after.
The Struggle
It wasn't easy applying to Columbia University in the first place. I only finished my application at deadline and the testing was very rigorous and thorough. Even my days at school were filled with tedium so much so that eating food was a distraction. Besides, the cost of attendance was an arm, a leg, and then some. My family didn't even think they would be able to pay for the whole year at school or even visit me while I was away.
Fast-forward a year later, I was struggling at Columbia University. A few of my 'Ivy league' professors thought I was a forgone issue. They were condescending in tone and manner to me and when I spoke, it seemed to make things even worse. They said my accent was 'incomprehensible.' I remember one professor stopping his lecture to explain to me the meaning of "incongruous," even without me asking for an explanation. In fact, on an occasion before this, he asked me if English was my first language. To him, none of the work I turned was good enough.
He even told me to drop out of one of the school's most exclusive classes. And then he told me I may not graduate but if I did, I wouldn't be employed by anyone in America. Soon frustration and self-doubt began to set in. I began to ask myself if I'd made the wrong career choice. Was I really good enough to be there amongst some of the top journalistic minds in the world? Reflecting on that question, I considered giving up, packing my bags and hopping on the next plane back to Nigeria. At one point, I lost interest in schoolwork and didn't even talk in class.
Nina's Faith
I gathered all the faith I could in those who had dropped everything to make sure I would live my dream: my mother, my family and my boyfriend, who I met at Columbia. Closest in proximity to me, he wouldn't let me give up: telling me positive words everyday and even helping me do my schoolwork into the night. It took me a whole semester to build my confidence again and want to succeed. I began to speak up in class and offer ideas. At some point, even my professors wanted to hear my contribution. In March, I composed a Masters thesis on skin color bias within the African-American community–a controversial issue that caught the interest of talk show programs who've even asked me to appear as a guest.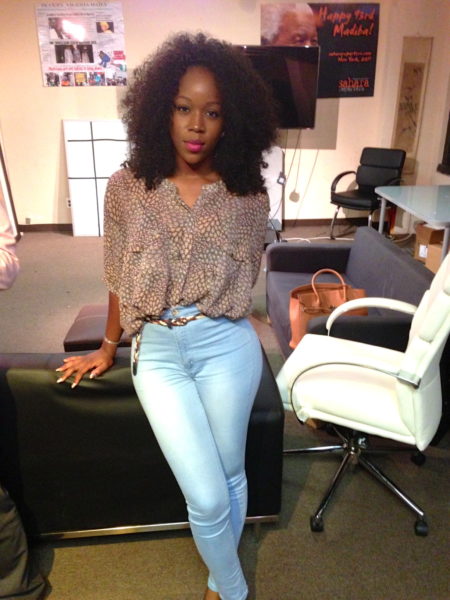 Thanks be to God, last month I topped that with Masters of Science Degree in Journalism and New Media Technology from Columbia University in the City of New York. I graduated in flying colors and excellent evaluations from my professors. Today, I'm still picking up the pieces and trying to understand God's purpose for my life. But one thing I've learned is in times of adversity, you can only go two ways: give up or persevere until the end. Though the road to the end may be tough, filled with setbacks and pain, you'll always learn and be stronger for it.
My journey to where I am today is made complete not only because I earned a very competitive Masters degree, but also because I learnt how to survive in imperfect situations and to keep my head up high till the end.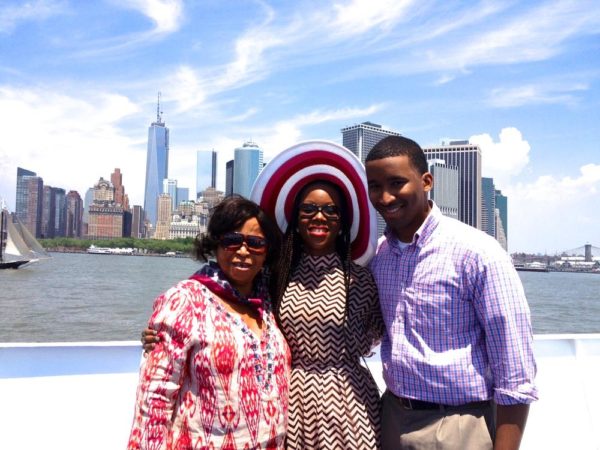 Fun fact: Nina is an adventurer. She loves spending time at the shooting range.
__________________________________________________________________________________
If you want to be part of this inspiring and amazing feature or if you know someone who is part of the Class of 2013 who should be featured here, please send an email to features(at)bellanaija(dot)com. We look forward to reading from you and sharing your academic excellence.