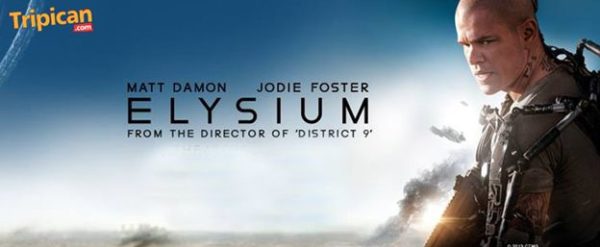 Synopsis
In the year 2159, two classes of people exist: the very wealthy, who live on a pristine man-made space station called Elysium, and the rest, who live on an overpopulated & ruined Earth. The people of Earth are desperate to escape the planet's crime and poverty and they critically need the state-of-the-art medical care available on Elysium. But some in Elysium will stop at nothing to enforce anti-immigration laws and preserve their citizens' luxurious lifestyle.
The only man with the chance of being equal to these worlds is Max (Matt Damon), an ordinary guy in desperate need to get to Elysium. With his life hanging in the balance, he reluctantly takes on a dangerous mission—one that pits him against Elysium's Secretary Delacourt (Jodie Foster) and her hard-line forces. If he succeeds, he could save not only his own life, but millions of people on Earth as well.
"Elysium" is a cautionary tale about what happens if all the good gear winds up closely-held by the elites of society. Ironically, here in our real world, the clear trend has been toward technology as widely self-proliferating and disruptively democratizing force.
Elysium explores political and sociological themes such as immigration, health care and class issues. When asked whether the film reveals how he sees Earth turning out in 140years, director Blomkamp responded "No, no, no. This isn't science fiction. This is today. This is now"
The film will be released on Friday16th August 2013 in Nigeria.
Cast
• Matt Damon as Max Da Costa
• Jodie Foster as Secretary of Defense Delacourt
• Sharlto Copley as Agent C.M. Kruger
• Alice Braga as Frey Santiago
• Diego Luna as Julio
• Wagner Moura as Spider
• William Fitchner as John Carlyle
The World of Elysium Official Featurette
Elysium Official Extended Trailer

Matt Damon Talks about Elysium

Elysium- Sharlto Copley Featurette

Three things you should know about the Elysium movie
It is Not Very Subtle
The first thing you should know about "Elysium" is that it's an incredibly political science-fiction film, one in which immigration, health care reform, the "occupy" movements and behavior in the Middle East is addressed head on.
Matt Damon's Acting was great
Damon plays Max, an orphan living in a Los Angeles that looks more like a bombed-out Mexico City (where the movie was shot). Damon's character work is skillful; Max goes from being a selfish jerk to a quasi-savior of planet Earth, and Damon works that evolution with grace and measure. Unfortunately, his relationship with Frey (Alice Braga) is less developed and feels more perfunctory.
The Visual Effects are very Impressive
The effects combine to produce something that seems wholly real; the robots that interact with Damon have an eerie lifelike quality, and Elysium is so well visualized that you can practically smell the freshly cut artificial grass. While it's full of space ships and robots and planetoids, it never seems to be on a campaign of shock and awe. The effects are subtle, which makes them even more impressive.
Behind the Scene 
Credit: Facts on Elysium culled from Moviefone.com