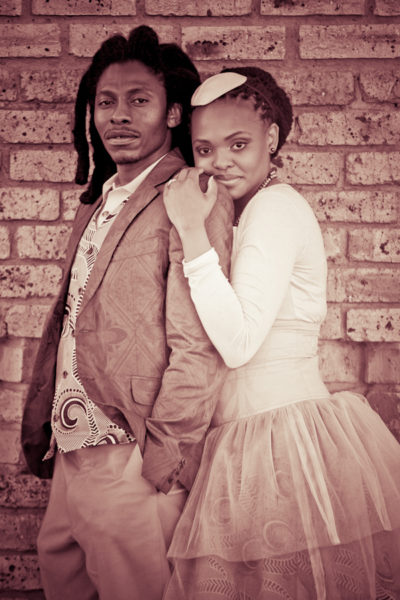 BellaNaija Weddings in collaboration with Munaluchi Bride Magazine brings you sweethearts Lerato & Siya's wedding in Soweto, South Africa.
The couple had an intimate affair with only the closest family and friends, where everyone pitched in to make the ceremony spiritual and reception special.
Enjoy!
_____________________________________________________________________________________________
Bride: Lerato Dikotsi
Groom: Siyabonga Ngcakani
Wedding date: June 30, 2012
Location: Soweto, Johannesburg, South Africa
Photography: Anabela Lourenco Photography
How They Met
From Lerato, bride
I remember laying my eyes on Siya for the first time at a live music venue he was managing, in one of Johannesburg's very artsy, bohemian like suburbs called Melville. A cousin who's good friends with him took me there and we were introduced … Something about him stopped everything around me and blocked out the hustle and bustle of Melville's busiest street, 7 Avenue. He was calm, gentle, humble and spoke with such ease and respect. I remember feeling like "I'd love to get to know this man"… We then continued to bump into each other at friend's birthday parties, baby showers and gigs till we started to chat more and exchange numbers. He truly was and still is a breath of fresh air in my life …
The Proposal
From the bride
Now Siya's an artist but don't get it twisted, he's not the mushy, soft, roses and poems kind. He's hardcore; a hip hop MC, and also a very rooted Xhosa man. So, on one of my birthdays I come home from work – it was a Friday. He hands me a small plastic bag, says "Happy Birthday" and he goes off into the lounge. So I open the bag – there's a small box and inside it is a beautiful ring! So, I'm frantic jumping up and down, I call him and ask him what it means. His response: "What do you think it means baby?" as he shrugs, Lol. To celebrate he'd planned a dinner and after to catch QuestLove of The Roots playing as he was in town. I wouldn't have had it any other way!
Culture
Our wedding took place in Soweto, Johannesburg, SA in the middle of winter so I decided to use bright, warm and earthy colors – orange, brown and beige. We are proud Africans and wanted to incorporate that so we used African print material for our attires, the cake and décor had an African theme, and our wedding ceremony was in our language, Xhosa. We set-up our tent in the middle of Dikotsi Street, in Soweto just outside my dad's home. The weather was lovely despite that it was winter – friends and family gathered singing, jubilating and dancing in the middle of the street! It was a true celebration of two families coming together, the Ngcakanis and Dikotsis. What made this wedding even more special is that everything was done by family, no professionals where brought in apart from the company that set up the tent. I had unbelievable support from the Dikotsi family who cooked the most amazing food, decorated the tent, served guests and ensured things ran smoothly. The Ngcakanis gave us spiritual guidance to prepare us for this covenant and ensured smooth running of the ceremony at the church. And lastly, a very bright young designer who put together this vision I had of my wedding dress and groom's suit, Kha'Iso Designs! Photography was done by the very talented and professional Anabela Lourenco Photography, she was the only person we could trust with capturing such an important day in the most artistic way, as we'd worked with her before.
For more of Lerato and Siya's intimate wedding day, visit https://munaluchibridal.com/?p=30389
Vendors:
Bride & Groom's Attire: Kha'Iso Designs
Photography: Anabela Lourenco Photography
_______________________________________________________________________________________
We love weddings as much as you do – get in touch for inquiries, inspiration & more!
E-mail: weddings (at) bellanaija.com
Instagram: BellaNaijaWeddings
Twitter: BellaNaijaWed
FB: BellaNaijaWeddings
Google +