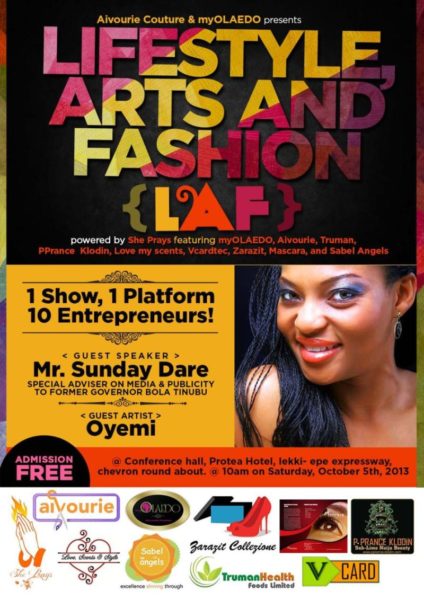 Are you a promising entrepreneur with a registered business in the lifestyle, art or fashion industry? Then come and join other entrepreneurs at the Lifestyle, Arts & Fashion 2013 (LAF).
LAF seeks to open the window of opportunity for talented and promising entrepreneurs with registered businesses, creating an avenue to showcase their products and services in an exceptionally creative way. The event will also allow attendees create brand awareness, network, increase client base, make sales, experience opportunities for mentorship and coaching and ultimately grow their businesses.
This event is powered by ShePrays, an organization that brings together women willing to spend quality, productive and life changing times together in the presence of God and also willing to stand in the gap for the nation. Established entrepreneurs expected at the event include myOLAEDO, Aivourie Couture, Zarazit, Vcardtec, Sabel Angels, Mascara Make up, Pprance Klodin, Love my Scents 'n' Style and Truman Health.
Guest Speakers include Sunday Dare (Special Adviser on Media & Publicity to Former Governor Bola Tinubu) and guest artist Oyemi. LAF 2013 creates a window for emerging entrepreneurs and this cannot be possible without you. Come and have fun in a market environment.
Admission is Free.
Date: Saturday 5th October 2013
Time: 10AM
Venue: The Protea Oak Wood Hotel, Lekki-Epe Expressway, Chevron roundabout, Lekki, Lagos.
For more information on LAF email Chioma Anasoh at [email protected] or Ivory Ahuama at [email protected] | Call 08098643970 or 08165818029 | Like their Facebook page www.facebook.com/theolaedogroup
______________________________________________________________________________________
Sponsored Content