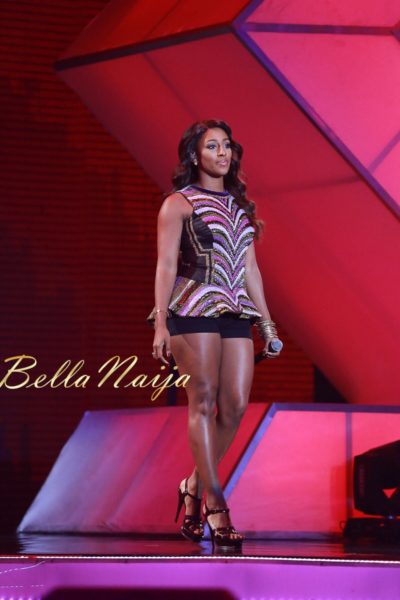 British pop star Alexandra Burke was in Nigeria for the Glo X Factor Finale show held at Dreams Studio, Ogba, Lagos. The show was taped on Wednesday 18th September 2013 and aired on Saturday evening.
29 year old DJ Switch won the competition. (Click here to read)
The UK X Factor alum took to the stage to perform some of her songs including the hit track – Hallelujah. BellaNaija Style presents her looks for the event.
Dr Sid's fiancée Simi Osomo styled her for the event.
Check it out!
Alexandra arrived the venue for the finale, in a pretty black-and-white frock.
The dress by budding design label Ms Makor, which features a black sequined neckline and a crisscross black-and-white print skirt, accentuated her silhouette.
She accessorized with silver earrings, gold and diamond bracelets. Although we can't see her shoes, a pair of black peep toes will work, or which colour will you prefer?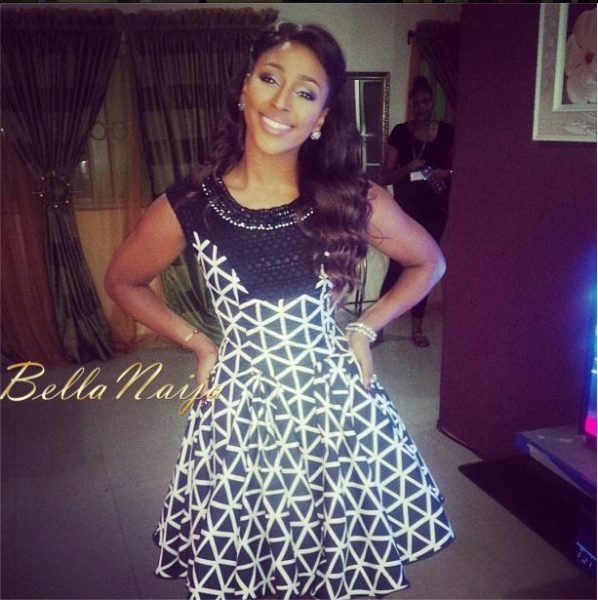 Look 2 – Iconic Invanity
To perform Hallelujah with the finalists, Alexandra rocked an embellished multi-coloured peplum top by Nigerian design label Iconic Invanity.
She styled the sleeveless, round neck top, with black shorts to show-off her long legs. For accessorizing, Alexandra took a simple approach – opting for diamond stud earrings, gold and silver bracelets, a gold cocktail ring and a pair of brown sandals.
Soft wavy locks, pink lipstick and red nail polish completed the look.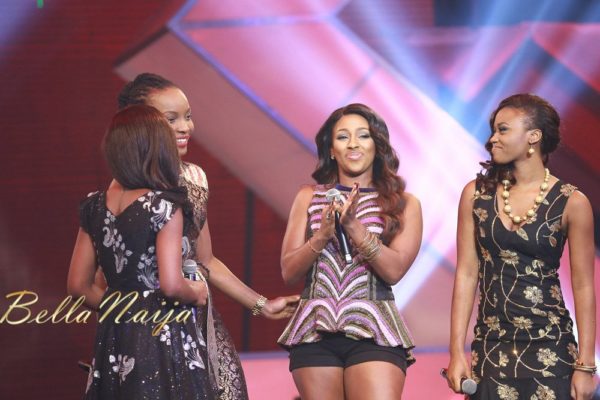 Look 3 – Iconic Invanity
Once again she took to the stage in another Iconic Invanity piece.
This time, it was a grey embellished knee length frock with pink-and-green floral detailing.
Her look was styled with a gold bracelet and cocktail ring, and a pair of silver heels. She kept her hair the same, but opted for neutral lipstick.
So…BellaNaija Style Watchers, which is your favourite look?
Alexandra had a quick chat with Glo team, read the interview;
How does it feel being in Nigeria?
I feel really great. My best friend lives in Nigeria, Abuja to be precise. When I announced that I was in Nigeria, even though I'm part Jamaican and Irish, many felt I'm a Nigerian because of the enthusiasm I have for this country. Nigerians are lovely.
Tell Us a bit about your X Factor Experience?
I went in for the X Factor twice. The first time was when I was 16 years old. I didn't win, because they told me I needed more experience.
After that, my mum was very supportive making sure that I attended as many open mic sessions as possible, and when I eventually went for the competition the second time, I won.
What is your perception of the Nigerian Music industry?
I think the music industry down here is really doing great. It is fantastic, for me, I always love Afromusic. I am Jamaican, Indian and Irish. I've already recorded a song with Dr. Sid, and I hope to work with other Nigerian artistes because I'm a fan of Wizkid, D'banj, Tiwa Savage and I'll also like to meet Burna Boy.
What do you think singles you out for the UK X Factor Top Prize?
I don't really know what singled me out, but I think it's just about me being me. I sing from the bottom of my heart.
As an X Factor alumni, what's your advice to the top 3 contestants on how to stay relevant in the music industry?
I think the real work starts from after the show. I will advise them to try to touch people with their music. They just have to be themselves.
Would you ever Retire from Music?
No. I plan to take a break sometime in the future to have kids, but I'm just 25, so you should get used to seeing me around for a long time to come.