Salut my Cuisine Fam…
I hope someone made the Lemon Coconut Squares or at least made a physical and mental note to do so?
If you're reading for the first time this month on BN Cuisine we are looking out for all the sweet things that can come out of our ovens and kitchens in general. So, for four Fridays baked goods are coming your way. Again if you have never read or heard here it is… I really do not like baking but as a chef I had to suck it up and love it at least for you all!
I had help though. My friend and food lover Mosun Aderinokun was on hand to give me a hand this time around
We went back and forth on what type of muffins we should do. We bought agreed there should be white chocolate, some kind of red berry oats was an easy last choice but I tipped the scale and voted for the trail mix I had in my pantry. Trail Mix is basically a mix of nuts, dried fruit and sometimes chocolate (usually dark) that's supposed to be an alternative bad snacking aka healthy snacking. So this was my alibi for my trainer when I ate the muffin. That it had trailmix in it so it was healthy. *insert straight face here*
Okay I kid. I used the Ocean Spray (The cranberry juice people not Stute though… prefer Ocean spray) Trailmix because it had so much awesomeness going on when you took a handful in your mouth so I knew it was going to be perfect randomly scattered around soft warm baked sweet carb house.
Muffins are a classic and I think we must have one recipe that we can easily whip up for that special breakfast or brunch when we want to prove that pastry chefs have nothing over you.
SO white chocolate still made it to the mix. If you want a "healthier" muffin substitute 100g of the 300g of flour for 100g oat flour (make that by blending oatmeal into a fine powder) then add an extra teaspoon of baking powder
Without much ado, you'll need the following to make the muffins.
300g plain flour
1 tbsp baking powder
1tsp baking soda
120g caster sugar
100g unsalted butter
2 large eggs
200ml semi-skimmed milk or whole milk
1 tsp plain vinegar
1 tsp vanilla essence
1 tsp butterscotch essence
150g Trail mix
200g granola bars chopped into small cubes
120g white chocolate chopped into little cubes or white chocolate pebbles
12 Muffin/Cupcake cups or greaseproof paper cut into squares and scrunched into the muffins tins.
This recipe makes 12- so 2 6-muffin or 12-muffin pan is needed here.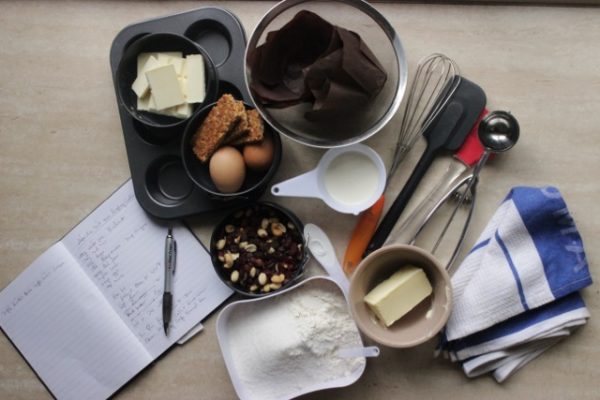 How To
Measure and layout all you need to make the muffins. Have some bake spray on hand as well. Line the muffin tins with whatever paper you are using and set aside. After all that has been sorted, preheat oven to 200C (400F) or if you still have an old school oven, gas mark 6.
Start by sieve the flour, baking powder and baking soda into a large bowl then add the sugar. Frankly, you could place all the dry ingredients and sieve all at once.
In the microwave or on a stove, melt the butter, in a separate bowl, whisk together the eggs and milk. Pour the melted butter and the egg mix then take this mixture and pour into the flour. Stir a little with a wooden spoon or whisk. Then take ¾ of the trail mix and white chocolate and mix gently through the batter. Caution notice…DO NOT go 'joyful joyful we are mixing' on the batter. Your muffins may be the next addition to Olumo.
Preferably with an ice-cream scoop, spoon the mixture between the cases. Top with the remaining trailmix and white chocolate. You can also do this as it comes right out of the oven.
Place in the middle level of the oven and allow to cook for 15-25 check when its minutes or just wait till its golden. If your muffins don't look brown by 20 minutes just brush with one egg mixed with three tablespoons of water. This would speed up the crust look.
When they are ready dig deep not to start eating them so hot. Allow them to be become warm to touch but still steamy hot in the middle. This perfect with some good hot chocolate or that Chai tea latte!
This is a really simple but extremely gratifying recipe I find. Go ahead and be great in your kitchens this weekend.
Do not forget to show me how it went –  features(at)bellanaija(dot)com
Have an amazing weekend.
Ciao!
_____________________________________________________________________________________________
Chef Fregz loves to cook! He is a graduate of Le Cordon Bleu Paris Culinary Arts School in France and hosts monthly "Chef Fregz Specials" where he whips up a yummy menu with a different theme each time then everyone enjoys a taste.He also caters special events and private dinners. To find out more visit www.cheffregz.com.Chef Fregz provides premium private catering services. For bookings and orders email info@cheffregz.com @Chef_Fregz on Instagram and Twitter. You can check out the Chef Fregz Page on Facebook as well.