Salut BN Cuisine Fam
It's been a month of nothing but classic sweet stuff and I really want to take this moment to say thank you to everyone that read and tried the recipes.
Today, I bring you what I consider a classic when it comes to baking. This one baked item I had growing up as a kid when my aunties used to make it at home and my grandmother when she was in spirit went ahead and made too.
The All Hail Banana Bread!
My friend, Rufina Ogunlesi  and her brother make what I found to be one of the most amazing banana bread. I also have great love for the one from Chocolat Royale. My recent favourite is from Cactus as they add walnuts to theirs and top with some cream cheese frosting! Sheer joy! So these are some of the few places my inspiration for this recipe came from.
However, I had to take it up a few notches. This recipe can be used three different ways so you can look like you put in a lot of work into the baked goods but it's really one batter!
Today we have cupcakes, a loaf and some mini loaves that can serve as small snacks or gifts. My favourite has to be the cupcakes with chunks of dark chocolate and a strawberry cream cheese frosting with raspberry coulis. This recipe has dark chocolate chips in it because I actually LOVE dark chocolate and I felt it would be a deeper flavour profile for the banana to be friends with.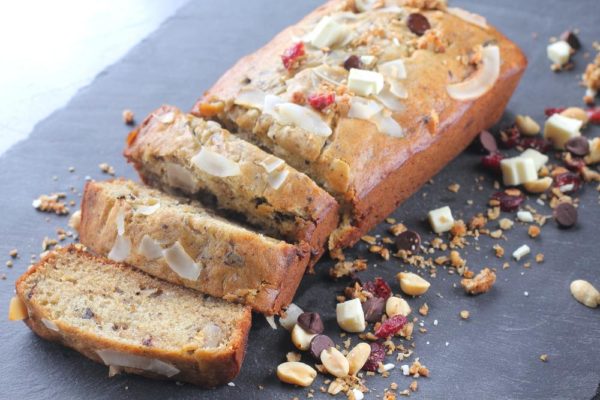 I had some more trail mix left and that went in and some desiccated coconut from the lemon square(s) recipe. You could replace the dark chocolate with white chocolate regular milk chocolate I find is rather lack luster but if you find it tasty and appealing please by all means go ahead. You could throw in some mixed nuts or like cactus some walnuts and make a good cream cheese icing/frosting to make it sing!
Oh for this recipe I have added a small surprise… cayenne pepper! It wakes up the chocolate even more and gives a rounder flavour. Co not worry it would not be pepper banana bread,I promise!
This recipe is pretty ideal for easy Sunday lunches or something to enjoy with tea at work or send to a friend on their birthday or whatever occasion you decide to make up or deem fit.
This recipe makes  1 (10") loaf or 5 (3") loaves or12 cupcakes
What You Need
For the Banana Bread
2 1/4 cups all purpose flour
1 teaspoon baking powder
1 teaspoon baking soda
1 teaspoon freshly ground cinnamon or good cinnamon powder
1/2 teaspoon salt
1/4 teaspoon freshly grated nutmeg
3 medium (over-ripe) bananas
2 1/2 tablespoons buttermilk (if you do not find just add a 2 teaspoons of plain vinegar to the same quantity of whole milk and leave to stand for 10 minutes)
1 stick butter (230g approx.) plus 2 tablespoons unsalted butter, softened
1 cup plus 2 tablespoons granulated sugar
2 eggs
1 teaspoon vanilla
1/2 cayenne pepper
Add ins (options)
3/4 cup of dark chocolate chips or chopped dark chocolate
½ cup desiccated coconut preferably sweetened
¾ Cranberry Trail Mix
or
¾ White chocolate chips or chopped white chocolate
How To
Measure out all your ingredients and be set in your mind to bake.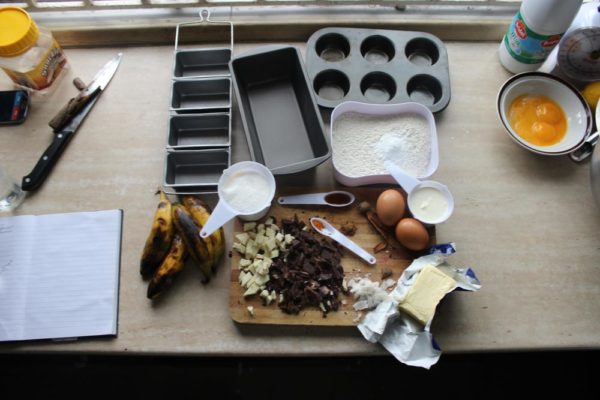 Preheat your oven to 325°F. or 163°C. While that's getting hot, sift the flour, baking powder, baking soda, salt, cinnamon, and nutmeg together into a mixing bowl and set aside.
In another bowl, using a fork or whatever tool of choice, mash the bananas with buttermilk and set aside.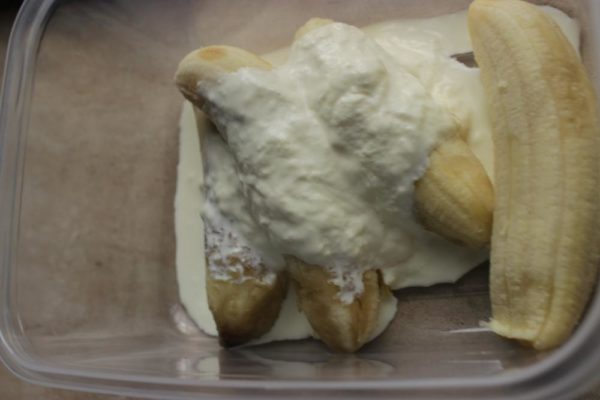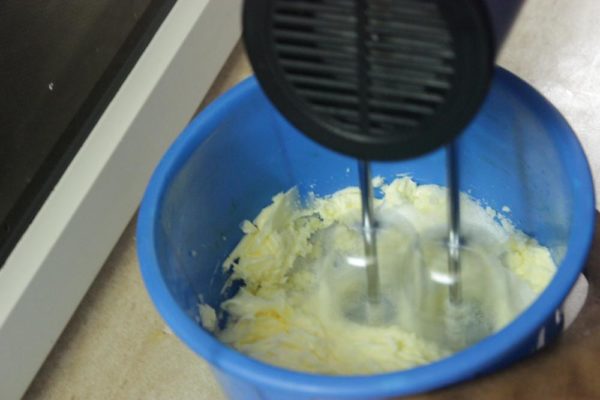 With your hand mixer or if you have a mixing bowl, cream together the butter and sugar for 2-3 minutes. Ensure as you do this, you scrape down sides of the bowl. At this point, mix in eggs, dropping them in one at a time.
 with a spatula of wooden spoon, stir in the vanilla, followed by the banana mash mixture, until all is well mixed.

At this stage softly stir in flour into the mixture until its well incorporated. After that, fold in whatever add ins you are using. Be careful not to over weigh the bread in the name of add ins. I used dark and white chocolate chips (I chopped up whole bars) for the cupcake batch and coconut chocolate chips and some trail mix for the loaves.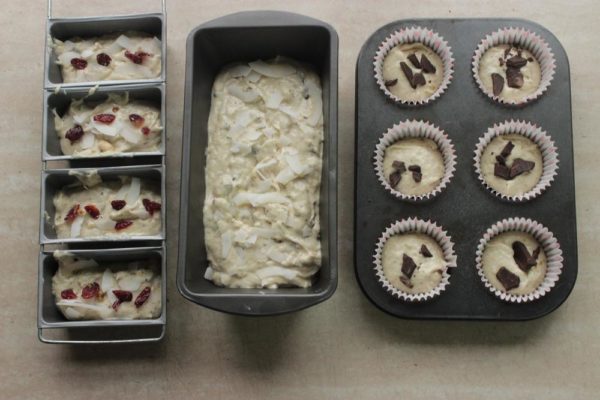 Oven time! Go ahead and grease a 9 inch loaf pan or mini loaf pans and a 6 tray cupcake pan and add batter. Allow to bake for 1 hour to 1 hour 20 minutes or until you stick a toothpick or wooden skewer in the middle of bread and it comes out clean, you are good to go!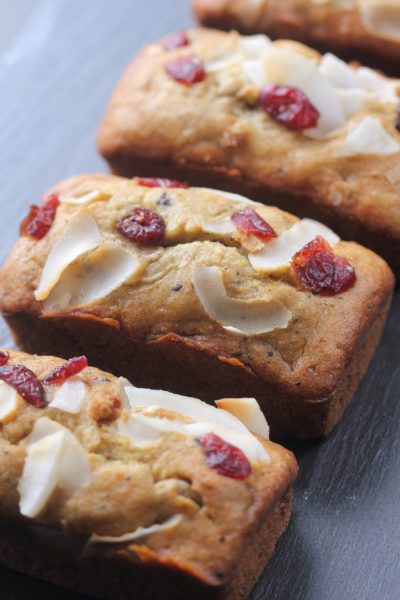 TRY and allow bread to cool in pan for about 20 minutes before removing and allowing bread to cool completely. Before serving.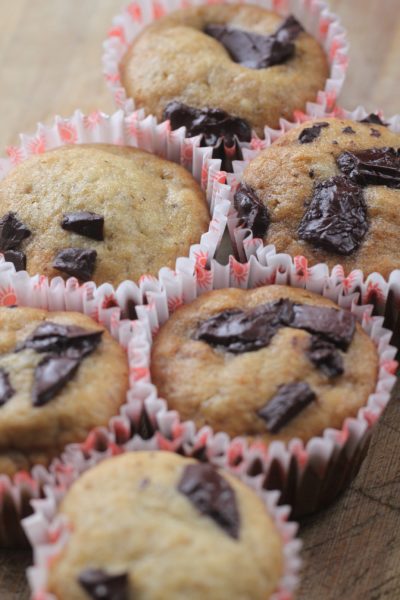 However, that's for serving it cold. I particularly love it when it's pretty warm so from the pan – after 15 minutes I am good!
For the cupcakes, whip together 150g -200g of pureed strawberries ,3-tablespoons of cream cheese and 150g icing sugar till smooth and use to top of the cupcakes. I used a strawberry frosting because I know Banana and strawberry complement each other from smoothies and sweet ice-cream treats.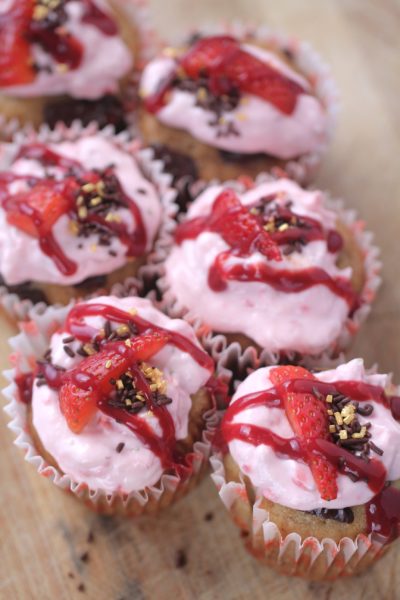 So, that's it folks! The Sweet September is "officially over". But the cooking must continue in your kitchen! If you haven't tried any of the recipes, desist  from last carrying and do the needful.
Many thanks to Adebayo Rotilu for Twelve 05 Foodography for the AMAZING photos!
Have a great weekend and see you in October!
Ciao!
Photo Credit: Adebayo Rotilu of Twelve 05 Foodography | Gbubemi Fregene for Chef Fregz
____________________________________________________________________________
Chef Fregz loves to cook! He is a graduate of Le Cordon Bleu Paris Culinary Arts School in France and hosts monthly "Chef Fregz Specials" where he whips up a yummy menu with a different theme each time then everyone enjoys a taste.He also caters special events and private dinners. To find out more visit www.cheffregz.com. Chef Fregz provides premium private catering services. For bookings and orders email info@cheffregz.com | @Chef_Fregz on Instagram and Twitter. You can check out the Chef Fregz Page on Facebook as well.