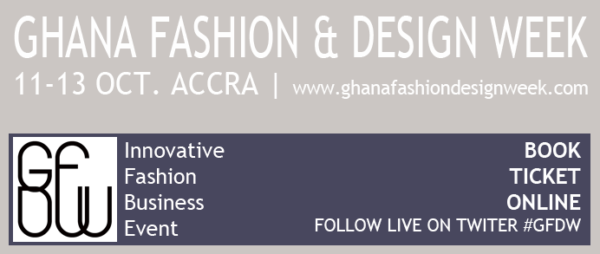 An impressive range of local and international designers and exhibitors will be participating in the upcoming second annual Ghana Fashion & Design Week.
The event will bring together Ghanaian and International fashion, media and industry professionals and fans. Selected designers from around the globe will deliver an exciting selection of creative designer's collection during the catwalk shows, with a diverse range of Exhibitors hosted at the contemporarily styled PopUp Exhibition Salon during the event.
Heading the GFDW backstage team will be international celebrity hairstylist Charlotte Mensah. Charlotte will lead the team to create the desired looks for the shows using ORS, formerly Organic Root Stimulator, official hair sponsor of GFDW 2013
The event will welcome international press, media, and buyers. The catwalk show is scheduled to take place over two days from the 11-12th October 2013. Also scheduled to take place over the two days are the trade exhibitions and knowledge transfer seminars at the Movenpick Hotel Accra, followed by an invite only VIP event on the third day hosted in partnership with Villa Monticello Hotel and exclusively sponsored by Moet & Chandon.
In addition to the line up of activities, selected designers will have the opportunity to be part of GFDW Pop-Up Showroom hosted by the prestigious Viva Boutique in Osu where potential buyers and press will have the opportunity to view and engage directly with catwalk designers.
GFDW will be welcoming an impressive range of local and international guests, including press, buyers, and industry bloggers, celebrities and fashion enthusiast from around the globe. The event will be broadcasted from the heart of the capital to a global audience from TV, Magazines, Radio and Social Media platforms.
GFDW sponsors include, Moet & Chandon, ORS (Organic Root Stimulator, Villa Monticello (Accra), So Aesthetic, Largess Affair, Vogue Italia – Italy, New African Woman Magazine-UK, Africa Style Daily (The Africa Daily Groupe), Shadders Africa, The Independent, Time Out, Raine Magazine, Designing Africa TV – with Diana Opoti , Haute Fashion Africa, Pana Television, Urban Buzz Ghana, Bella Naija, and a list of local and international press coverage.
Date: 11th – 13th October 2013
Venue: Movenpick Ambassador Hotel
More Information: The event and show schedule can be viewed by clicking HERE:  Press Accreditation, Ticket purchase and general inquiries, Email: [email protected]
_____________________________________________________________________________________
BellaNaija is an official media partner for the 2013 Ghana Fashion & Design Week