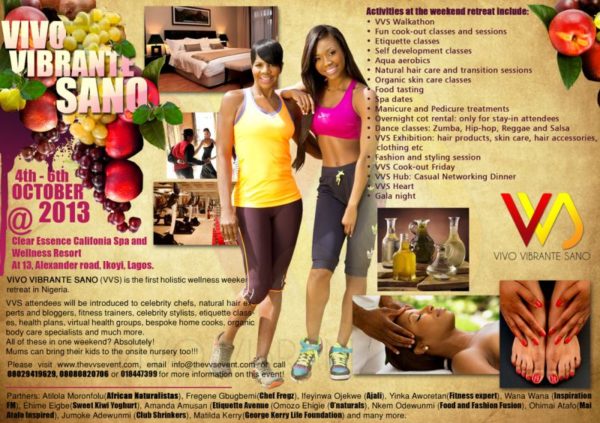 Vivo Vibrante Sano (VVS), one of the first holistic wellness weekend retreats in Nigeria, is set to take place at The Clear Essence, Ikoyi, Lagos from Friday 4th October 2013 to Sunday 6th October 2013.
The event addresses holistic health for the 21st century woman with emphasis on encouraging organic products in everyday life in different ways; hair, food, skin care, fitness, wellness and fashion.
Attendees will be introduced to celebrity chefs, natural hair experts and bloggers, fitness trainers, stylists, etiquette classes, health plans, virtual health groups, bespoke home cooks and organic body care specialists.
Activities include VVS walkathon, etiquette classes, self development classes, food tasting, spa dates, dance classes (zumba, hip hop, salsa, reggae) and gala night.
Mothers are also encouraged to participate as the resort has a child friendly nursery.
To register, contact them by calling 08029419629 | 07043602713 | 08080820706 | 018447399 | e-mail [email protected] | log on to their website www.thevvsevent.com
Date: Friday 4th October 2013 – Sunday 6th October 2013
Venue: Clear Essence California Spa & Wellness Resort, 13 Alexander Road, Ikoyi, Lagos
You can keep up with the Vivo Vibrante Sano team by following them on Twitter – www.twitter.com/thevvsevent | liking their Facebook page – www.facebook.com/thevvsevent
________________________________________________________________________________
Sponsored Content