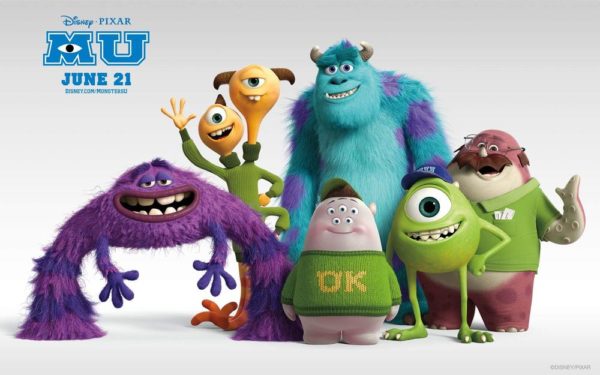 Directed By: Dan Scanlon
Story and Screenplay by: Dan Scanlon, Daniel Gerson and Robert L. Baird
Stars: Billy Crystal, John Goodman, Steve Buscemi and Helen Mirren
Why did it take Pixar Studios 12 years to make a sequel or as the case may be in this situation a prequel of one of their best animations ever made?
Monsters Inc molded my imagination as a boy. I was fascinated when I first saw it, that's probably because it was the first animated film I ever saw. So I guess that's the reason why the carton has remained very precious to me till this very day. When I heard Disney and Pixar were going ahead with a Sequel to Monsters Inc, that news was met with two expressions. The "Yaaay! I get to see Mike and Sullivan do their thing again" kind of expression and the "Why can't you guys just let a good story rest in peace" kind of expression. After all Pixar hasn't made very impressive movies since the buy over by Disney so I felt they had lost their 'Toy Story/Incredibles' edge.
After seeing Monsters University, here is what I think of the movie.
The Synopsis
Mike(Billy Crystal) and Sullivan(John Goodman) weren't always best buds, as a matter of facts, they hated each other. So Monsters University takes us back in time to tell the story about how they first met in their School days and the events that led to their friendship. Quite an interesting story they have –  if I may add.
The Script
Let me just put this out before anything else. Monsters University isn't as good as its prequel or is it sequel now(this things confuse me I must say…*Sigh*). As a matter of fact, this movie wasn't even necessary. It's a story that didn't need to be told but then, studio must chop na, abi? That said, I must say I am impressed with what the writing team of Dan Scanlon, Daniel Gerson and Robert L. Baird were able to cook up. They all worked on the Cars movie (lets act like Cars 2 never happened. Preposterous and nonsensical movie!) and Gerson and Baird both worked on Monsters Inc, so I guess the studio did well by giving the creators of the characters the task of revisiting their world.
What I loved the most about the movie was the turnout of events in the end. I must say, I didn't see that coming and it holds a lesson which is overused but never gets old, "Never Give Up On What You Love" This movie is intended for the young audiences and I am glad there is something they can take away from when the movie is done.
The Directing
Dan Scanlon has this as his best work in my opinion. He hasn't had much directing experience, but has previously worked on Mater and the Ghostlight a Pixar short film which he co-directed and Tracy a mockumentary about Tracy Knapp, host of a 1970's children's show.
He did a pretty good job with the story which he co-wrote, the character development and the overall execution. My favorite execution in the movie has to be the scare scene in the human world towards the end of the movie, pretty impressive. As we all know, this is a Pixar and Disney movie so if the animation is horrible, then the world is definitely coming to an end. Hope to see more good works from him
The Acting
Billy Crystal, John Goodman and Steve Buscemi return as the voices of Mike, Sullivan and Randy while the most notable addition is Helen Mirren who plays the role of the dreaded Dean Hardscrabble. This are all veterans so we shouldn't expect anything less from any of them and they did deliver pretty well. Personal favorite was Helen Mirren's character. Perfect way to describe her will be the five letter 'b' word with an 'I' in the middle and a 'h' to round it up.
The Verdict
Monsters University manages to earn itself a Popcorn and Soda.



It is a lot better than last year's Brave, and I believe should be a strong contender for the best animated movie at the Oscars. I expected very little from the movie and it delivered a lot more than I bargained for and is a lovely follow up to its parent Inc. Let's just pray it ends here.
Think likewise or otherwise? Feel free to leave your comments.
The Ratings
Traffic Popcorn-1/5
Popcorn & Water-2/5
Popcorn & Hotdog-3/5
Popcorn & Soda-4/5
Popcorn, Soda & Hotdog-5/5
This review is brought to you by Sodas & Popcorn …… We watch movies, so you (don't) have to.
Photo Credit: www.twiniversity.com