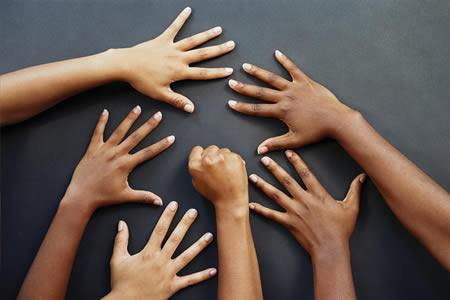 I am never in a hurry to enter Lagos buses. It is usually at such places – crowded Lagos bus stops with buses flashing their ubiquitous yellow and conductors hanging by the doors summoning passengers – that I am conscious of our individuality.  Here, no one knows you and I like that it is a huge contrast to the society we live in, a collectivist society conscious of solidarity. Here, we become like single broom sticks from a bunch of broom – scattered, each one now on its own. But on this day an event reminded me that it is in that shared capacity for singularity and communality that 'we are', that we are branded Africans, Nigerians. And that while Descartes had said "I think, there I am," we should counter like we would have done a faraway time ago, "You are, therefore I am."
So on this day I boarded a bus at Cele bus stop going to Oshodi. The fare was fifty Naira. Few other passengers got in and in a bit the bus joined a throng of cars toward our destination, a typical Lagos traffic. At the various bus stops between Cele and Oshodi, people got off the bus and more people got in, faces coming and going. Shortly, we got to a bus stop where a boy and an infirm old man flagged us to a halt and they got in. I assumed the man was the boy's father. Their entrance seemed to have sparked off a volley of arguments and Yoruba words rent the air, none of which I understood. Not long after, the driver stopped the bus and the boy and his old man got down. There was a look about the decrepit man's face that showed a million emotions that I was soon to understand.
When the driver continued on the journey few English words were spoken so I had an idea of what had just transpired.The boy and his ailing father had begged the conductor to accept their 40 Naira instead of the 50 Naira that was the due fare. It was all they had, and the conductor had agreed. Somewhere in the bargain there had been a bad communication and hell broke loose when the conductor realised that they intended to use a seat, one of them lapping the other, instead of two seats that would have fetched him a fair 80 Naira. The driver who was having none of it had promptly stopped the bus and ordered them away.
In those few English words and in the consenting gestures I could figure out that accompanied the Yoruba voices, the driver and his conductor were being blamed for acting heartlessly. I thought, how convenient! My unasked question was, was there no one in the bus at the time who could have offered the 60 Naira or 10 Naira difference and blessed these less privileged with that momentary comfort? How was it no one saw what they could have done to help but found it appropriate to apportion blame? I imagined where they got the justification. My inability to understand the event as it unfolded due to language constraint did not feel like justification either. I wondered if, in the case that I understood what was going on, I would have helped or if like the other passengers I would have felt it was not my business. As the short journey continued and the noise died down I felt a gnawing sense of loss. I realised how slowly but steadily we are drifting to one end of this polarised elements that make us who we are, choosing to embrace the 'I' over all else.
We assert our 'I's' and neglect our 'Our's – me over us. By itself this assertion is not out of place, only it becomes an aberration when we it is an 'our' situation.
A friend who lives in Lagos was amazed when he visited Enugu and noticed that people still greeted strangers in buses. He made a joke of how people would think you were short of transport fare and warming up to them for help if you did same in Lagos. As incongruous as the instance is I look at these cities and I see how they typify our situation, where we used to be and where we are. Enugu style becomes so yesterday, and the Lagos style is chic.
Growing up in the now dreaded, tout-infested Onitsha town it would be a thing of honour and joy if you helped an ailing old woman across the traffic. Try it now and you would have to explain which shrine you planned taking her to for money rituals. A lot has changed.
Being who we are and from where we are it would be belabouring the obvious to say how important these aspects of our lives are, for not only do they brand and make us, they are the simple solution to many of our societal issues. How many things would really go right if for instance our brothers and sisters in Abuja would, for just a year, balance their 'I's with our 'Our's and forgo tipping the scale to one side? In our society and for its purposes, it is like the two wings of a bird that gives it balance aflight. And in that forlorn look of that aged man, I saw that one of those wings is grossly impaired.
Photo Credit: wiki.washjeff.edu
_______________________________________________________________________________________
Chinagorom Martin Emeka is a without-job graduate of philosophy from the Pontifical Urbaniana University Rome. He grew up in Onitsha Nigeria where he now lives. When he's not reading he's trying to dance or trying to write. He's available on [email protected]