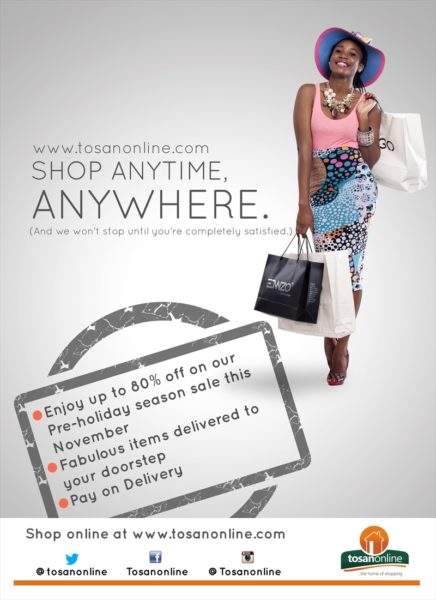 It's time for some healthy holiday shopping.
Tosan Online is having a pre-holiday season sale you can't afford to miss; get a whooping 80% discount on most items.
The e-commerce brand plans to reward its customers with this discount as they shop for the holidays.
They are working with FCMB as financial partner, the e-commerce website equipped with SSL, TLS and VeriSign (for secure shopping), user friendly interface for both buyers and sellers and customer services and delivery.
TosanOnline.com can be accessed on PCs, iPads, iPhones, Blackberry and Android devices. Check out the amazing offers at www.tosanonline.com
Contact: For more info and general enquiries, call +2348091168832| e-mail [email protected]| log on to their website – www.tosanonline.com | follow on @TosanOnline | Instagram – www.instagram.com/tosanonline | like their Facebook page – www.facebook.com/tosanonline
___________________________________________________________________________________
Sponsored Content