Are you ready for The Ake Arts and Book Festival 2013? Well lovers of stage plays and literary works can look forward to a great event as they will be having a celebration of literature in Ogun State, Nigeria.
At the festival, participants will enjoy the best of spoken word poetry, stage plays, exhibitions, music, film shows, book chats, amongst many other activities. The festival is also offering specialized master classes by experts in specific areas for a limited number of pre-registered applicants.
Registration for the Creating Graphic Novels master class is free. This master class will be taken by renowned German graphic artist & illustrator Line Hoven who will be flown into Nigeria for the Ake Arts and Book Festival by the Goethe-Institute and the German Consulate General. During the book chats, registered participants will be able to direct their questions at their favorite authors. Entry to the book chats is free.
Can't find a baby sitter? Don't worry, they have also designed an amazing package for kids so please make sure you bring them along. A child pass is valid for a day.
Check out the programmes below.
The Shadow of Memory
The Shadow of Memory event is the highlight of the Ake Arts & Book Festival 2013.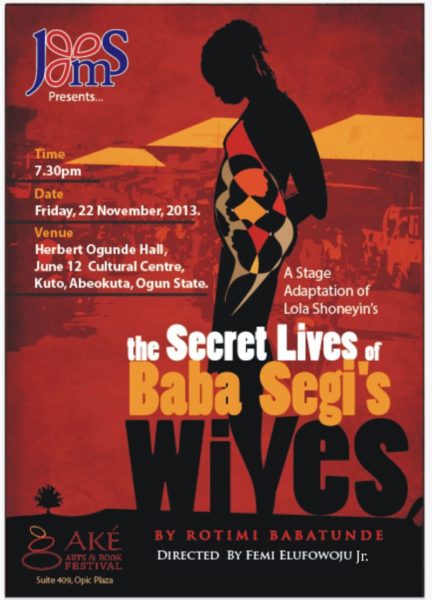 Stage Adaptation:  'The Secret Lives of Baba Segi's Wives'
The acclaimed novel by Nigerian author Lola Shoneyin has been adapted for stage by Caine Prize 12 winner Rotimi Babatunde and directed by director Femi Elufowoju jr. The play is 100 minutes long.
Other Events at the Festival include the Nigeria Now Art Exhibition and the Book Fair.
Date: Tuesday 19th – Sunday 24th November 2013
Venue: The Cultural Centre, Kuto, Abeokuta, Ogun State
This maiden edition of the festival is supported by The World Bank, Shell, Chevron, the British Council, Goethe Institute, Rwandair, Channels TV, the Ogun State Government, Ekiti State Government, Miles Morland Foundation (UK), Arcadia Group (UK) and many others.
More information about the festival events can be found on their website, www.akefestival.org.
For all enquiries please call 08180389525 or send an e-mail to [email protected]
______________________________________________________________________________________
Sponsored Content