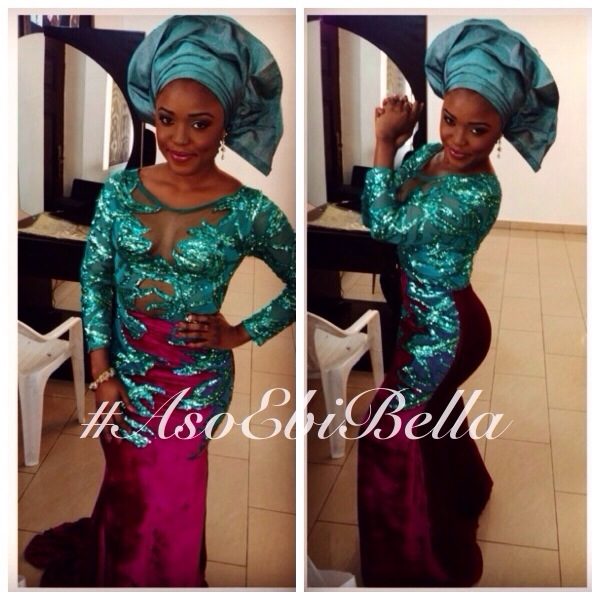 Happy Friday fashionistas!
We love our readers – you're the smartest and of course the most stunning around. Reader Deborah posed this question to us via our #AsoEbiBella e-mail (asoebibella "at" gmail.com) – "What do you do with the fabulous aso ebi after the wedding is done?"
Specifically she said,
"What happens to the colour coded gele and aso ebi after the wedding?
There are so many weddings that require their guest to come in their preferred colours with the required material. As a wedding guest I personally wouldn't want to re-wear my gele or eso-ebi.

So the big question is what happens to their gele's and eso ebi's after the big day?"
We posed the question on our social media – Facebook, Twitter and of course Insta, and we promised to publish the best responses.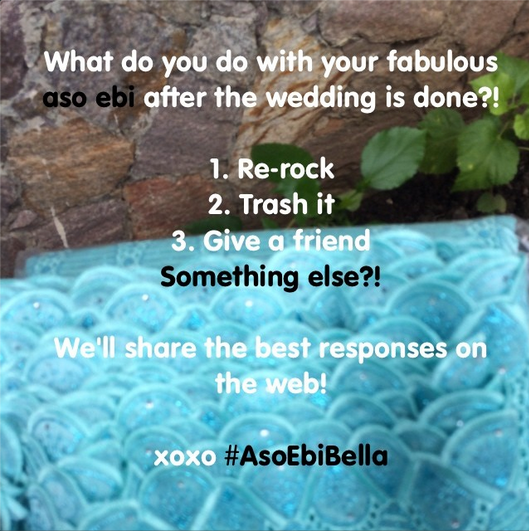 Here you go:
Via Insta:
@funmysho: Re-rock… To church

@abenasweetheart: Save it for my daughter

@prettykoats: Send them to Naija, can't re rock too much for church and can't wear to other parties

@mzmary9: Trash ke? Def re-rock or you can take it to the tailors to have them change it into something else!!

@omolaramumuni: Over re-rock ni o if I like the material, if not it goes into storage for charity tinz
Via Facebook:
St Cellins Ijeoma: Re-rock it with different accessories.

Maryam Yagana Waziri: Trash it
Via Twitter:
@x_Neleh: re-rock till it doesn't fit… Then I'll try and slim down till I fit back into it

@er_rays: Definitely re-rock and that's the reason the style has to be #onpoint

@golden_boo: I'm gonna re-rock it … but won't be in all occasions! Just 1ce in a blue moon
What's your take?! Remember if you want to send your styles via e-mail, send to asoebibella(at)gmail.com.
xoxo
______________________________________________________________________________________
We love weddings as much as you do – get in touch for inquiries, inspiration & more!
E-mail: weddings (at) bellanaija.com | E-mail for #AsoEbiBella: asoebibella (at) gmail.com