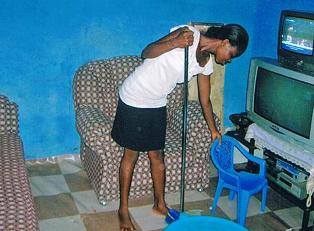 You're away from your home country abroad. Your children are young, you want them to speak their language and 'know their culture', so you take your nanny with you on a short holiday. Or maybe you ask your people to send you one. A few months turns into a few years and you didn't renew the visa, made the housekeeper work more hours than was on the contract you showed when you applied for the visa (probably a fake, as the help probably never saw it), and by extension, paid them less than you agreed to.
It happens.
… but is it right?
Indian diplomat Devyani Khobragade, 39, the deputy consul general of India in New York, USA found herself in that situation last week. She was arrested after dropping her daughter off at school, strip searched and detained in a holding cell with drug addicts, for visa fraud over her domestic help aka house girl in New York, before being released on $250,000 bail.
The charges were paying the house help far less than minimum wage and providing fake documents for her visa. Although the diplomat assured American authorities the maid would be paid $4,500 a month and would work only 40 hours a week, the U.S. prosecutors are alleging she paid her only $573 a month, for working far more hours than agreed.
The truth is, this could be someone you know. As it relates to Nigerians and indeed many Africans, many people take their nannies on short term holidays, especially when their child or children are young. They may sit in first or business class while the caretaker sits in economy. Then some others have helps sent over for long term care.
Right now, the Indian government is reportedly outraged especially in relation to diplomatic immunity – it's insulting that such a high ranking official could be held in such conditions. But less noise has been made about the victim … how do you feel?
In their defense, for diplomats, and indeed an African abroad, it's very common to have domestic helpers from your home country. There are many benefits including:
1. Having someone familiar with your language and culture around you and your family – they can share in your religion, cook the food you're used to, it helps with home sickness.

2. They are able to speak your language to your children when you're not around.
On the flip side, the help's education may be neglected, they might be underage, they might be lonely (no family around, if they're not related to you) and they are underpaid and overworked.
So BellaNaija-rians what's your take on this issue?
If a family friend told you they had a help that you know damn well isn't getting paid at all or getting paid enough would you report them? Not bat an eyelid? Warn them to be careful?
Share your thoughts!
________________________________________________________________________________
Source: New York Times
Image Source: househelpconsult.webs.com