Happy Weekend! What better way to spend it than with BN Weddings?! We have such a splendid wedding to share this Saturday! Uju Chikelue & Edosa Ogbebor are sweethearts with a love for all things sparkly! They have such a sweet and funny how they met and proposal tale. Edosa said he would marry Uju on the first date! Then he was going to propose at church but the bride got nosy and … well just read their cute story below!
***
How We Met
By Edosa & Uju
Edosa: I was running on the treadmill at our residential gym, VGC Club Gym. When I looked up I saw Uju approaching the treadmill with my cousin (who at the time was her classmate in the Nigerian Law School).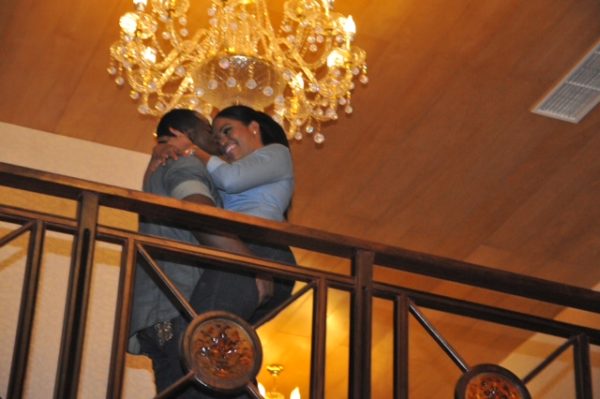 Uju: When I got on the treadmill, I knew Edosa was checking me out, and I was annoyed at first. My first thought was "Haba! Even in the gym?!" Edosa started chatting with his cousin and dragging me into the conversation. Before long, we had set up a group date to try out a new restaurant in a couple of days.
Edosa: I tricked her into a group date because I knew if I'd asked her out at that time, she would have said "No". She had on this strong face like "Don't come at me". Lol! I was really intrigued. I don't know what it was about Uju. Matter of fact – she had on no make-up and this 'Simbi goes to school' hairstyle, but immediately I saw her walk into that Gym I knew this was it was for me. I couldn't stop staring at her.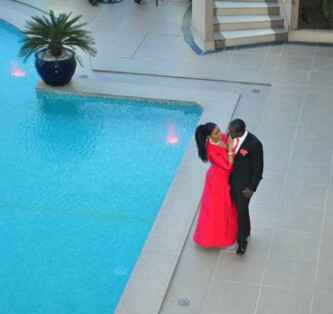 Uju: Our first date was an eye-opener. The "group date" mysteriously turned into an intimate dinner on the balcony of the restaurant because NO ONE SHOWED UP! And I knew Edosa had something to do with that. During dinner, Edosa said to me – this is who I am, this is where I come from, I need you to know this because you're going to be my wife. I wanted to laugh because it was unbelievable to hear that sort of talk on a first date, but I couldn't. Edosa looked so serious and kept staring right into my eyes as he told me how he felt a connection the moment I walked into the gym that night. All I could think was "This guy is deep … and HOT!"
Edosa: Lol! All I could think was "This girl's not going anywhere…"
The Proposal
By Edosa, the groom
I proposed to Uju on the 1st over to the New Year at the City of David (RCCG church). I actually meant to propose at the stroke of Midnight while in Church, but trust the ever-nosy Uju – she felt something in my pocket and kept trying to yank it out. Till today, I still suspect her Twin Sister (Nneka) gave Uju the heads up. So I had to change plans quickly. So on the 1st of January, 2013 at 1:00a.m., immediately after we crossed into the new year, we went to the pool side at the Oriental Hotel to watch fireworks and have light snacks. After ordering our food, I took Uju to the Patio area and asked, "What do you think about having a wedding reception here?"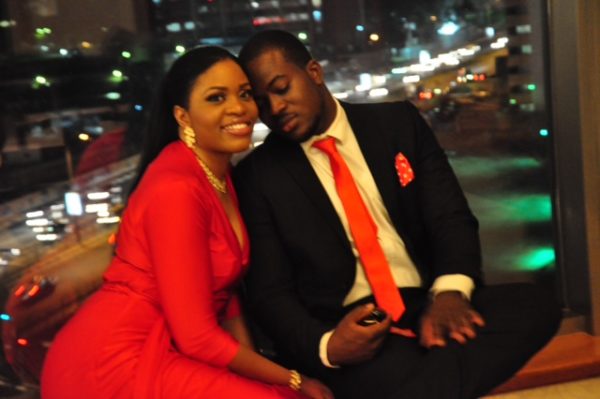 Knowing Uju (so predictable), she launched into an analysis of logistics, crowd control, and started walking away to survey the area. I pulled her back to me, got on my knees and asked her to marry me. We had to have our pre wedding shoot at Oriental, where I proposed. Our intimate friends know the significance beyond the engagement. It means so much to us.
The rest is history, and this is us, now married … excited about spending the rest of our lives together.
Aww so sweet!
***
The couple held an intimate engagement dinner with their closest friends, where they went round saying equal parts sweet and embarrassing tales of the lovebirds. The bride wore a stunning one strap wonder – a teal lace mermaid gown. The groom looked so dapper in his powder blue blazer and pink pocket square.
For their traditional wedding, the bride and groom blended their Igbo and Edo cultures for a fabulous fusion affair. Uju's first outfit was stunning peach and gold george with a bejeweled headpiece and gold lace blouse. Edosa wore his traditional Edo attire – a velvet wrapper and coral bead accessories. The bride changed into Benin traditional wedding wear – resplendent in coral beads. The last outfit of the night for the bride was a gold and silver fit, with bell sleeves and embellished gele.
The white wedding was truly stunning – crystals, white and pink adorned the wedding party wear to the breathtaking decor. The bride wore an embellished mermaid gown with lace sleeves for her first dress – the one she said "I do" in, while the groom wore a sharp white tux, suspenders and a bow tie. The bride let her hair down and changed into a stunning sequin number where she shared her flowers to her single friends and danced the night away into her married life. The groom was smiling by her side the whole day, and you could truly see they have found paradise in the other's arms.
BN Weddings prays the couple has a blessed and beautiful home! xoxo
~ Photography: SWG Photography
Couple's Engagement Dinner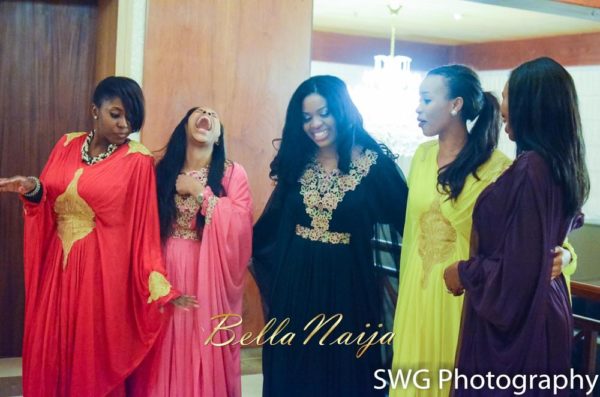 Bride Price Negotiation
BN Weddings would like to thank Victoria Roberts, the wedding planner for working with us for this feature.
All photos are copyright of the couple, photographer and BellaNaija. We kindly ask that you do not republish without due permission.
Thank you.
Photography: Mgbolise & Kevin for SWG Photography | Sealedwithgold (at) yahoo.com | (+234) 8167711750
Wedding Planner & Coordinator: victoria (at) victoriarobertssolutions.com
Wedding Details
Wedding Dates: 15th & 17th of August 2013
Vendors
Wedding Planner: Victoria Roberts Solutions
Traditional Decoration: Sara O Events
White Wedding Decoration: Victoria Roberts Solutions
Wedding Attire
Bridal Party Makeup: BM Pro
Bride's Crystal Bouquet: Crystal Wedding UK – http://www.crystalweddinguk.com/
Bride's Engagement Dinner Dress: Brides by Nona – Nneka.Alexander (at) gmail.com – instagram.com/bridesbynona
Bride's Wedding Gown: Brides by Nona
Bridesmaids' Dresses: Brides by Nona
Maid of Honour Dress: Brides by Nona
Bride's Reception Dress: Brides by Nona
Bride's Hair Extensions: Lo'Lavita Hair – www.LolavitaHair.com
Bride's Hair: El'Mai Concepts
All Aso ebi & Bride's Traditional Material/Attires: Be Dazzled Asoebi & More | 0803.716.1128 |0802.907.7194
______________________________________________________________________________________
We love weddings as much as you do – get in touch for inquiries, inspiration & more!