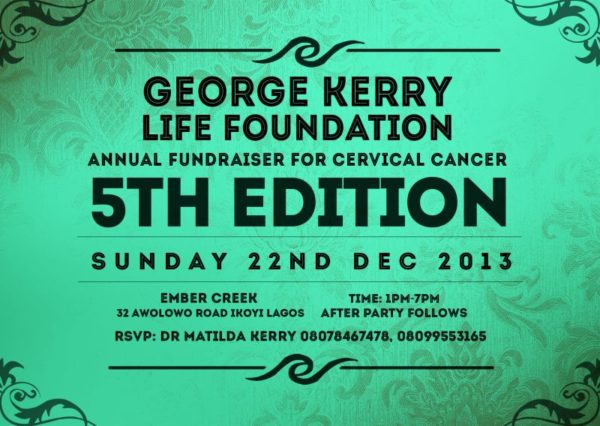 You are cordially invited to The George Kerry Life Foundation and Kings of Barbeque Grill and Bake Charity Dinner, to raise funds against cervical cancer.
This event by Phat B inexcess Entertainment company, famous Papi's Grill and Ice Box in support of George Kerry Life Foundation will kick off this December in Lagos.
It promises to be an entertaining event from beginning to the end with hot delicious American style barbecue, a cake auction, canapes, refreshing drinks and musical entertainment.
Cervical cancer kills 1 woman every hour; that means that over 8000 mothers, wives, sisters will die each year if we sit around and do nothing. Be a part of this event and help raise funds against cervical cancer.
There will be barbecue by Papi's Grill to hole every Sunday at Ember Creek with 20% of the profits going towards the cervical cancer prevention.
Admission is free.
Date: Sunday 22nd December 2013
Time: 1PM Prompt
Venue: Ember Creek, No. 32 Awolowo Road, Ikoyi, Lagos.
For RSVP and sponsorship details please call 08078467478 or +447713147013 | Email: [email protected]
This event is supported by Sterling Bank, BUA group, Bella Naija, LAWMA and LIRS.
______________________________________________________________________________________
BellaNaija.com is a supporter of the George Kerry Life Foundation Annual Fund Raiser