Fancy a date night with the boo or the other half? You've come to right place!
Tripican.com in partnership with Genesis Deluxe Cinemas will be giving away movie tickets to watch The Best Man Holiday to 5 very lucky couples.
Some of our favorite characters return to the big screen for the sequel to The Best Man (1999). The Best Man Holiday is one of the most anticipated movies this holiday and a great date night movie!
Synopsis
After nearly 15 years apart, Taye Diggs (from television's Private Practice), Nia Long (Soul Food), Morris Chestnut (Kick-Ass 2), Harold Perrineau (Zero Dark Thirty), Terrence Howard (Hustle & Flow), Sanaa Lathan (Contagion), Monica Calhoun (Love & Basketball), Melissa De Sousa (Miss Congeniality) and Regina Hall (Scary Movie franchise) reprise their career-launching roles in The Best Man Holiday, the long-awaited next chapter to the film that ushered in a new era of comedy.
When the college friends finally reunite over the Christmas holidays, they will discover just how easy it is for long-forgotten rivalries and romances to be ignited. Malcolm D. Lee returns to write and direct this sequel to his directorial debut. Sean Daniel (The Mummy franchise) will produce alongside Lee for The Sean Daniel Company.
Watch the Trailer

To Win:
Leave a comment telling us why you deserve a date night with your boo or other half. 5 individuals with the most compelling stories will win two tickets each to see The Best Man Holiday this Thursday 19th December 2013.
Winners will be contacted via email. All 5 winners will receive an email containing a special coupon code to retrieve tickets on Tripican.com. So please register with correct email addresses when commenting.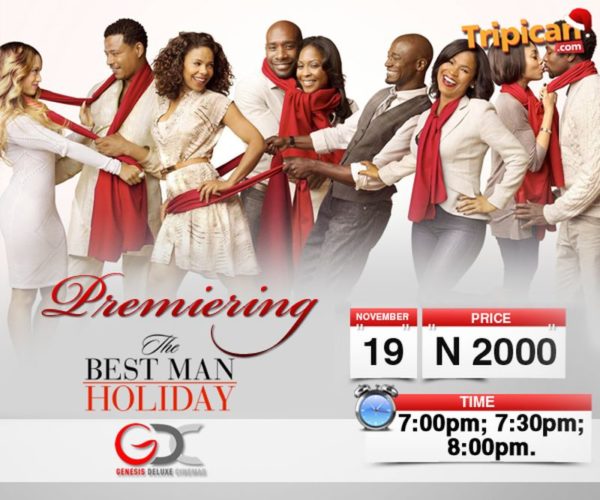 Please Note: Tickets are exclusive to the Genesis Deluxe Cinemas, The Palms on Thursday 19th December 2013.
WINNERS
-Oregbemi Martins.
-Adeola Gbemisola.
-Centurion.
-Damilola Adeleke.
Congratulations on your win and please watch out for an email from Tripican.com.
Follows them on Twitter and Instagram @tripican and Facebook: Tripican
Visit www.tripican.com for more information.