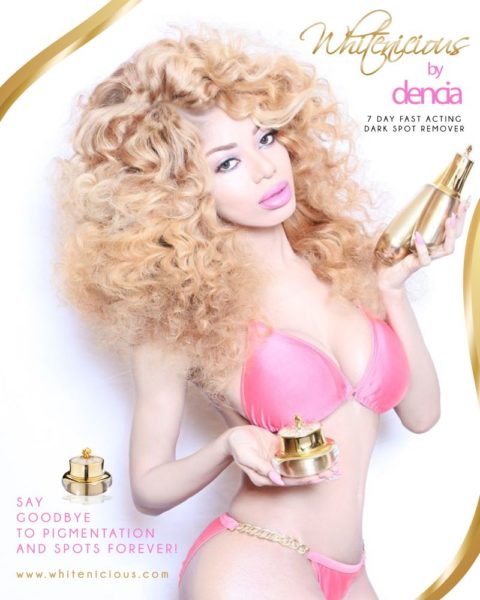 All Dencia wants to do with her skincare line – Whitenicious, is to help people.
The Cameroon-Nigerian singer has had everyone buzzing since she unveiled her products. While some criticized her for promoting bleaching, a few are fans of the product. In a day, she sold over 5000 units of the products.
Denica recently had an interview with Encomium Magazine where she dished on the brand, her music career and her decision not to have sex for 2 years.
Read excerpts below;
On the inspiration for the skincare line: "I am beautiful and I found something that can help millions of people around the world. I wanted to go into clothing line because I am a great designer but it seems every celebrity around the world is already doing that. I thought of perfumes, lipsticks. I also realized that everybody is into that as well. Earlier, a lot of companies had approached me to use my image and name on their products. A good friend of mine advised me not to do that but to start my own since I had the money to do it. I took her advise and started the journey to launch Whitenicious around June 2013, but it took longer because I was sick and was travelling. Thank God, it is here now and it is helping my brothers and sisters around the world suffering from dark spots and hyper pigmentation."
On selling out: "Technically, we had a soft launch and sold 2,000 containers with no publicity from the media or anything. That was between December 25 and January 6, 2014. I later had a press release and within 24 hours, we sold 3,000. I originally started with 5,000, I wasn't surprised it sold out. I was surprised about the speed. I know I am a brand, I know women love what I do, that is why they bought it".
On who her clients are: "We had the highest purchases from Europe and the USA then Nigeria, Ghana, South Africa. We have men, women, whites, blacks, Asians."
On if Whitenicious bleaches the skin: "Whitenicious will take care of all dark spots and hyper pigmentation. Most people ask if dark skin people can use Whitenicious. It is also for dark people. Sometimes they have darker knuckles, knees. If they use the cream under two weeks, their skin colour will blend. Some people call it toning cream. What are they toning? If people want to tone, they should go to the gym. In America, if you are as black as Alec Wek, you can still use it. A lot of people alleged that I am encouraging bleaching. No, I am not. They can see it from the size of the cream. It is used for certain things. I cannot control how people will use it but Whitenicious is not for bleaching."
On her decision not have sex for 2 years: "Sex is over-rated and sex is for lovers who are trying to make babies, I am not trying to do so, it is not in my agenda."