The bond of love between a mother and her daughter is one that should never be taken for granted. BN reader, Seun Ojuri, has chosen to write this beautiful ode to her mother. Seun's mom just turned 49 and she has written 49 reasons why her mother is simply fabulous.
We found it sweet in its simplicity. We hope you enjoy reading it as much as we did.
***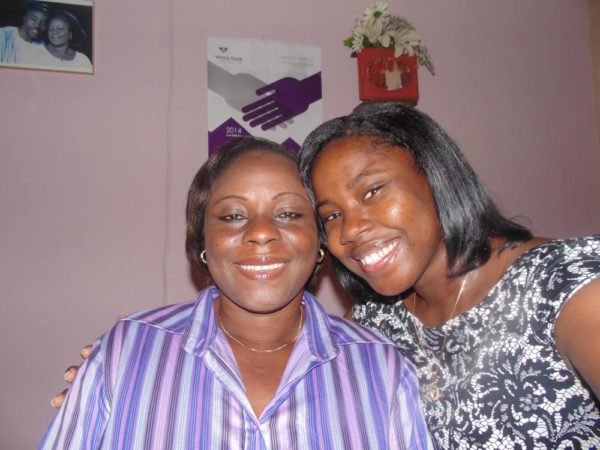 Everybody claims their mother is the best. My mom is not in competition with any other. She would leave "best mom" for anyone who cares to have it and raise the standard for 'bestest mom' award. I'm not sure I can quantify or reduce to words how much I love her, but as she turns 49, I would like to share 49 reasons why my mom is fabulous.
1. She is very kind.
2. She has a huge sense of humor.
She knows how to make you laugh and She's got sarcasm going for her as well. The other night, she called me to listen to a song she composed to sing on my wedding day, so that my in-laws will know that their wife is a nail-biter.
3. She makes amala and ewedu just the way I like it.
My mom can really cook. She makes that nice kind of Ewedu that has Egusi and Titus fish in it. Every Amala-and-Ewedu-experience is usually better than the former.
4. She can't tolerate dirty dishes.
5. She's very hardworking.
She's my superwoman.
6. She loves music.
From Ebenezer Obey to Kirk franklin and Tope Alabi; right down to Davido and back to Tope Alabi. She loves listening to music. She even knows there's someone by the name "Sean Tizzle"
7. She's a disciplinarian.
I think my mom has outgrown her flogging skills. She used to be one whose cane should be avoided. She also knows how to talk sense into your head.
8. She's not afraid to speak her mind.
9. She knows what I like.
And gives them to me when they are most needed.
10. She can dance.
Like 21st century dance… yeah, she is that cool.
11. Her sunday afternoon jollof-rice is A-MAY-ZEEN!
12. She's a praying mother.
Nights when you wake up to see her praying in your room and for you, you simply pretend you are still asleep. 🙂
13. She knows her onions.
My mummy knows her books. She's really smart.
14. She has very beautiful handwriting.
15. She's very safety conscious.
16. She won't let you go to bed hungry.
Even when I misbehave, and I'm trying to be all "am-not-hungry" about it, Mrs Ojuri' will make sure you don't let her food go to waste. You must eat.
17. She let's you have your way.
She really likes Africa Magic yoruba but she will let you watch something else which in most cases, is something she's not really interested in (doesn't work all the time though).
18. She's very respectful.
19. She loves her man 🙂
20. She'll buy me a nice dress and buy hers later.
Sometimes "later" never comes.
21. The only time she thinks it's right to tickle me is when I'm not in the mood.
22. She KNOWS stuff.
Like who you've been spending time on the phone with.
23. She's a good listener.
24. She likes dòdò (friend plantain).
25. She enjoys 'looking for my trouble'.
26. She loves singing.
As a matter of fact, she used to be in the choir. Not as the lead singer though, she is either on the far end or at the back. The point is, she was in the choir 🙂
27. I'm not afraid to tell her the truth.
But that's because I learnt the hard way. I once lied to her about how I lost my phone. I told her it was stolen in the bus. Honestly, I lost it in school. In less than 24 hours, she found out. Bottom line: don't tell her lies.
28. She's nice to all my friends that come to visit and reserves her opinion for when you leave.
29. She's generous.
30. She doesn't like it when we go back to school on Sunday evening and we don't call to let her know.
31. She forgives.
32. She is strong and selfless.
I remember when I was ill; as a chubby 16 year old, she put me on her back and carried me to the nearest health centre (which wasn't very near).
33. She is open and approachable.
You can practically discuss anything with her. The God talk, boy talk, career talk and back to the boy talk.
34. She makes every birthday a happy moment.
My mom will always make sure there's a gift for you at 12:00am. No matter how small.
35. She's a twin.
I know this doesn't get you any money from the bank but I enjoy telling people that my mom is Taiwo.
36. She's my support system.
37. She doesn't tell you half the things she goes through to make you comfortable so when you find out, you can't but love her some more.
38. She tries not to miss school meetings.
She will probably come late, but eventually, you will see her there.
39. She's a peacemaker.
40. She doesn't have favourites.
People always say that parents have favourites when it comes to their children. If my mom had, she never let it show.
41. She commends you for a job well done
…and vice versa.
42. She doesn't stay angry for too long.
Her vexation never lasts long but in those few minutes, she will make her point VERY clear.
43. She knows the strength of each child.
She knows what to expect from each of us. However, she still strives to make sure that you are getting better.
44. She is a wonderful daughter too.
My grandma still talks about how wonderful she was as a child.
45. She is REALLY patient.
46. She is super cool  .
47. She's my number one fan.
She believes in me.
48. She's not perfect.
49. She loves God.