Ifeoma and Alex are a couple that walks in love and faith. They do everything together so it was such a surprise on the day when the groom proposed – she didn't suspect a thing!
The cute and accomplished couple, both lawyers, had embarked on a Masters program at the same university when she said YES! Their intimate and beautiful wedding took place in Nigeria's capital city – Abuja as was captured beautifully by Obi Somto.
Hear from the couple about the moments leading up to their special day…On the very first day we met, Ifeoma thought, "He is annoying" while Alex thought "She's beautiful", God in his infinite wisdom decreed, "You two, together will do exploits in my kingdom."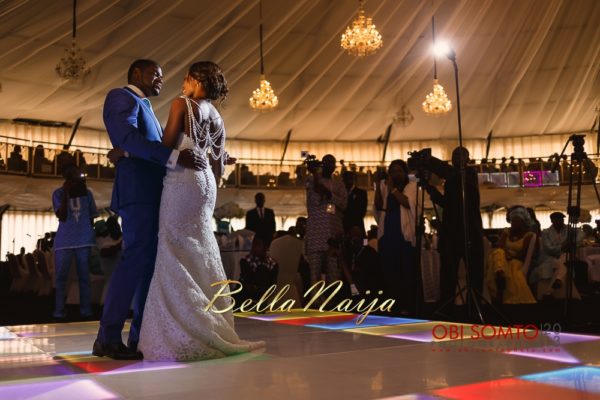 The Proposal!
from the groom, Alex
Because of how close we are, I knew it wasn't going to be easy to hide such a huge thing from her. So I bought THE ring from Hirsh, Hatton Garden on one of my business trips into Europe. I held the ring for 5 months without Ifeoma knowing a thing about it. I had planned how I wanted to propose and I knew when the circumstances were right as I wanted it, I would pop the question. In September 2012, we started our Masters together at the University of London. Shortly after settling down in London I told Ify we should do dinner with some friends while we still had the time, before things got way too busy for us at school, for us to hang out with friends and see people. Meanwhile, I had informed family and friends invited about what I was about to do 😉
On THE day, I took Ify shopping (her most favourite thing). Normally I hate walking around the mall, but on that day I was unusually patient and walked almost half the day from store to store with her. After choosing the right dress for the evening, shoes, and much more we were set for the evening. I had made reservations at the Royal China Club on Baker Street. I know the manager so I arranged for the P-Square song "I love you" to be played before I proposed.
I think I pulled a fast one on her – Ifeoma didn't suspect a thing, because leading up to the day I kept passing comments like, "I am still saving up for your ring" or "I need to get your size for the day I order your ring".
And on that day as she went to the ladies room with my sisters, "the song" started playing. Ify rushed out to tell me about the song they were playing while she was out, but as she came back in, she saw me with a ring in my hand, family and friends looking as the whole restaurant went silent, I got down one knee and popped the question.
After she said yes, everyone applauded and congratulated us, making it one of the most magical nights ever!
So sweet
***
On Ifeoma and Alex's wedding day, the bride wore what has to be one of our favourite dresses ever! A lace v-neck Ronald Joyce wedding dress with an elaborate pearl back from a bridal store in Hatton Garden – the same street where her groom found her dream ring! The bride tells us "After trying out over 10 different dresses from different stores I almost purchased a dress before this, but I called Alex and told him about it. The first thing he asked me was "Did the dress call you?, did it speak to you?", and my answer was clearly "No", so he told me to keep looking until I found "the one". The day I saw my dress – after trying it on, everyone I went with was in agreement, and when I called Alex with a "Yes" answer to his question, I knew that was it."
With the dazzling bride is her white dress, the handsome groom, his groomsmen and her bridesmaids wore blue.
Ifeoma and Alex's wedding was faith filled and intimate with the couple writing their own vows for the wedding ceremony. They tell us "You cannot work without Jesus Christ in your marriage. That has been the foundation of our relationship. Our wedding planning was so easy because we learned that God is THE Perfect wedding Planner and Perfect Matchmaker. So our advise is truly to put God first, as cliché as it may sound, it's so simple that it works."
BellaNaija Weddings wishes Ifeoma and Alex a marriage even more beautiful than their wedding.
***
~ Photography: Obi Somto Photography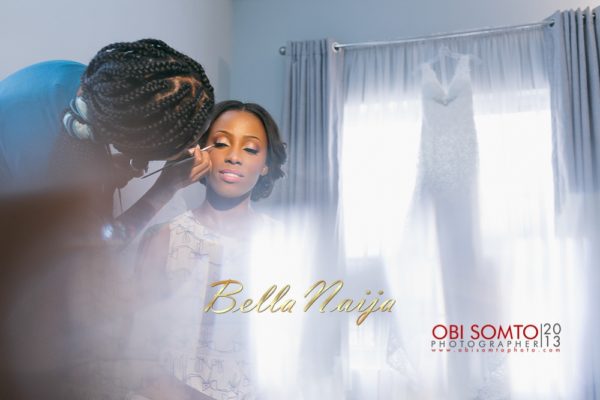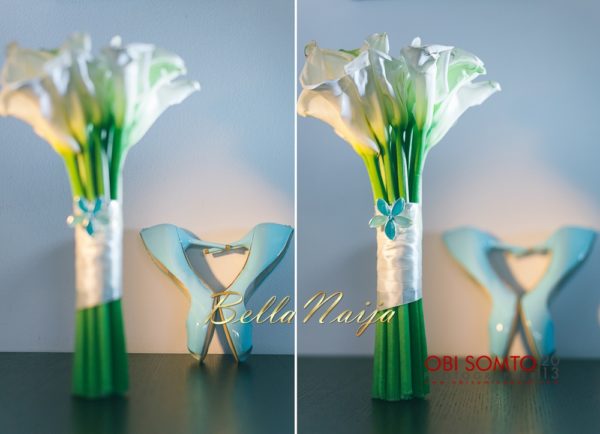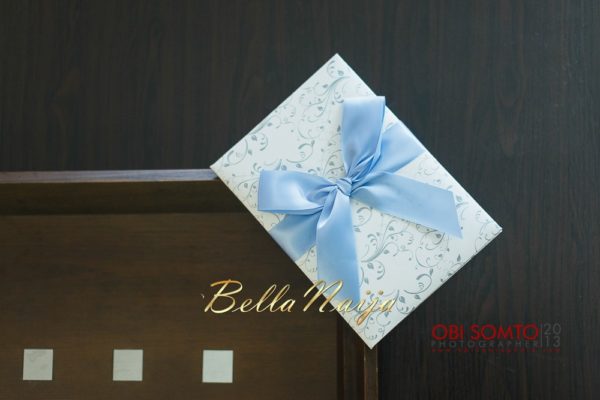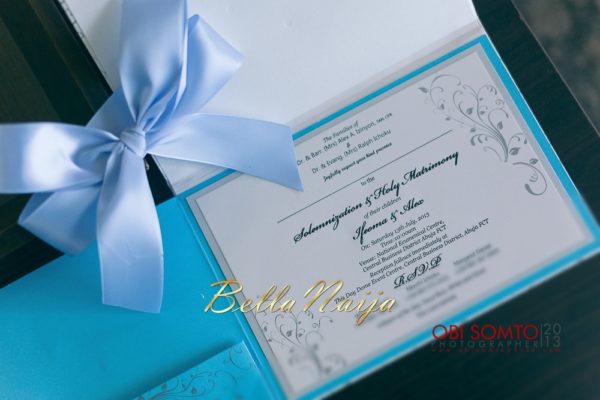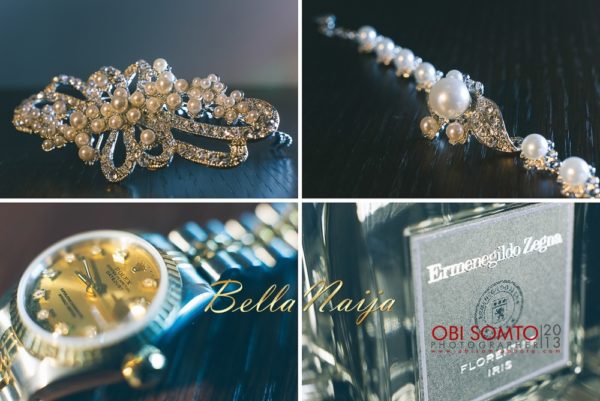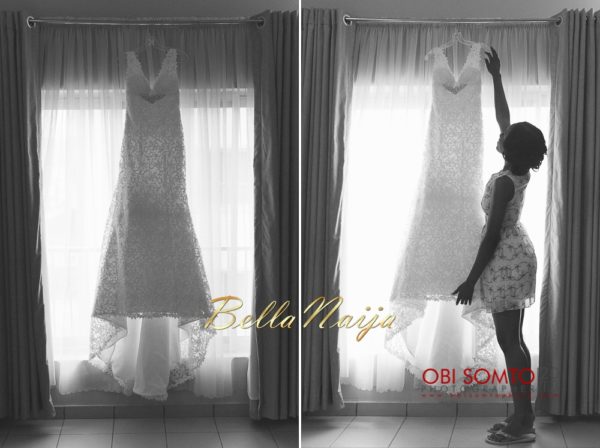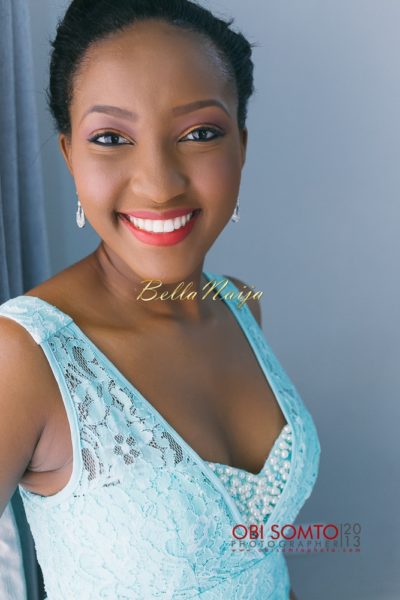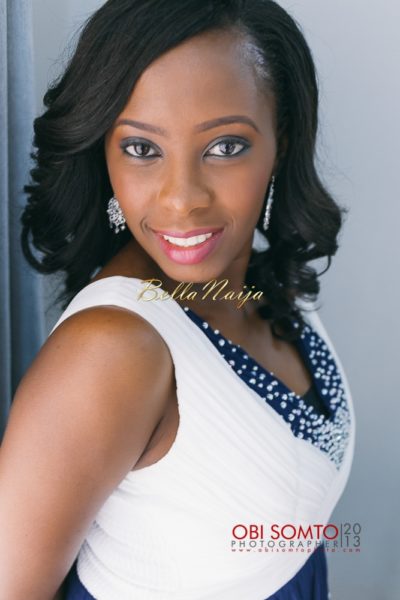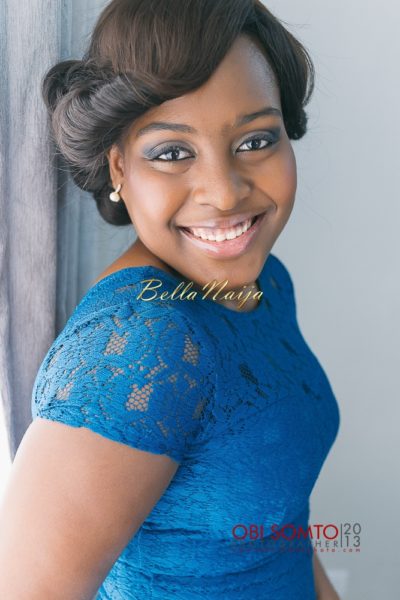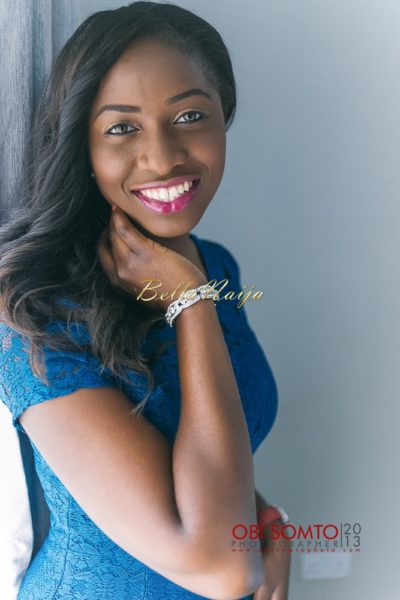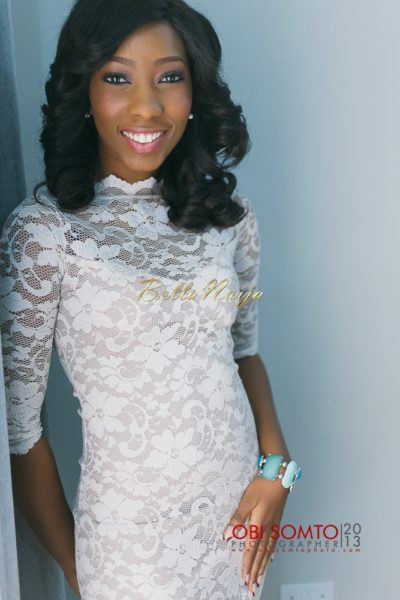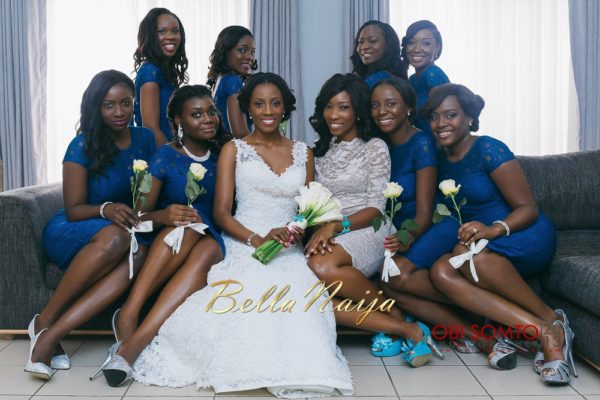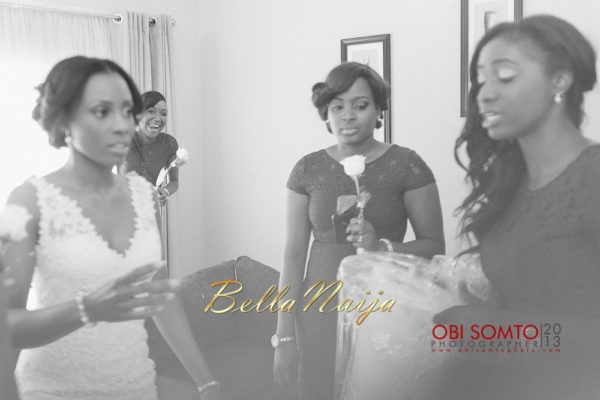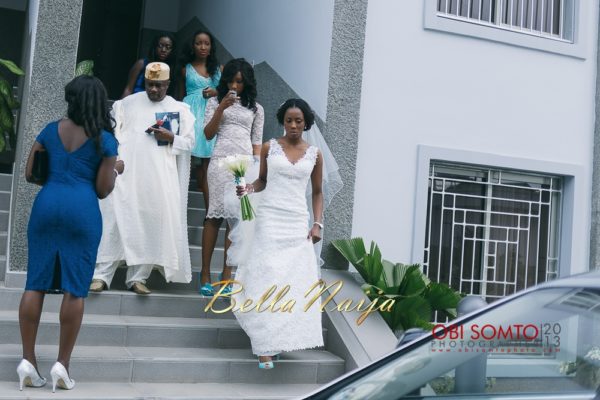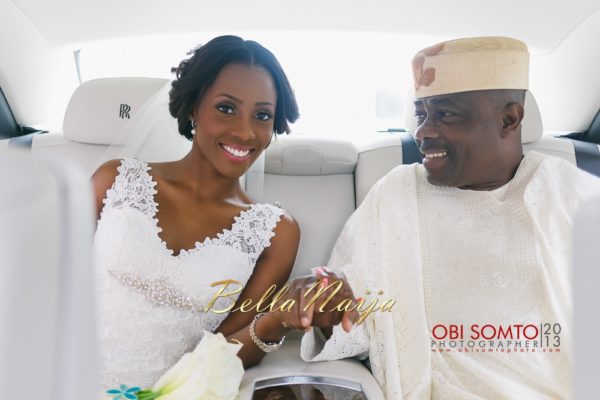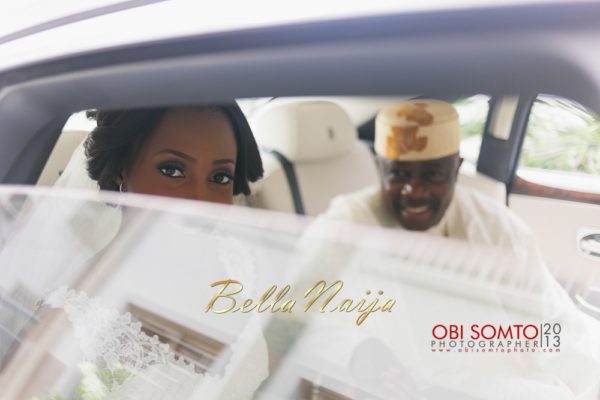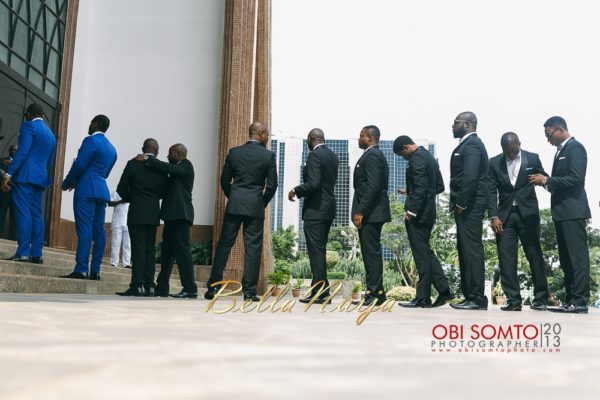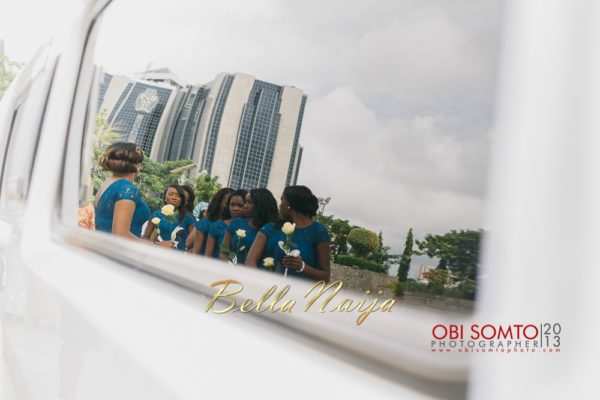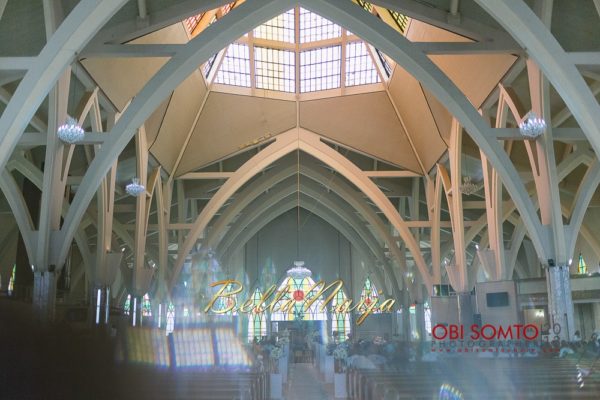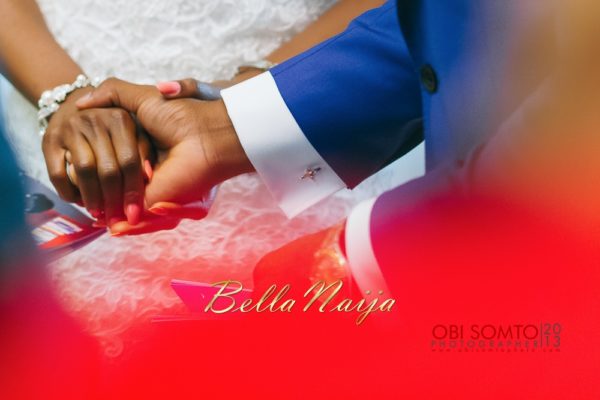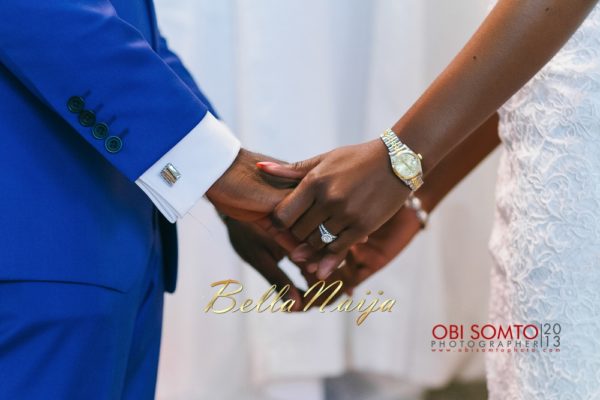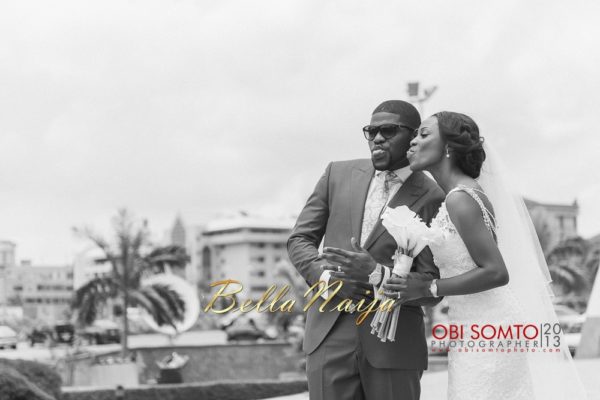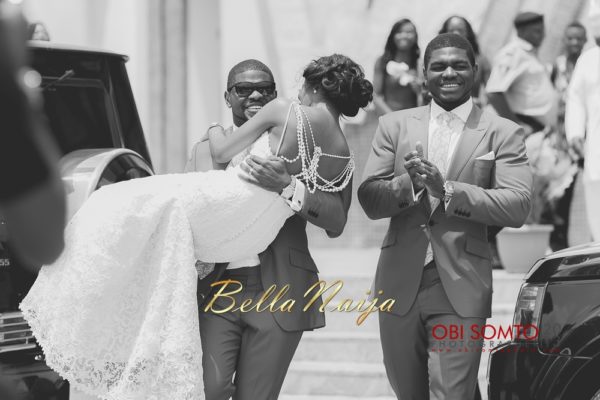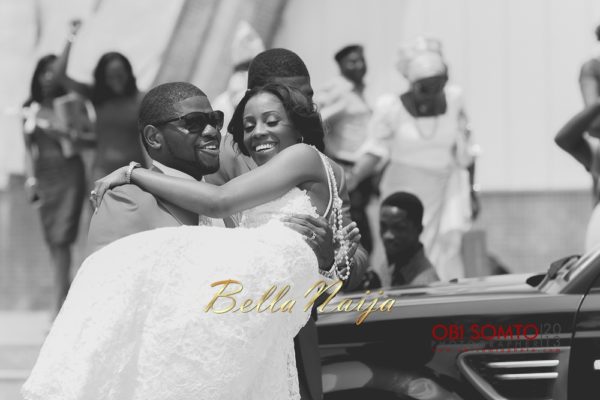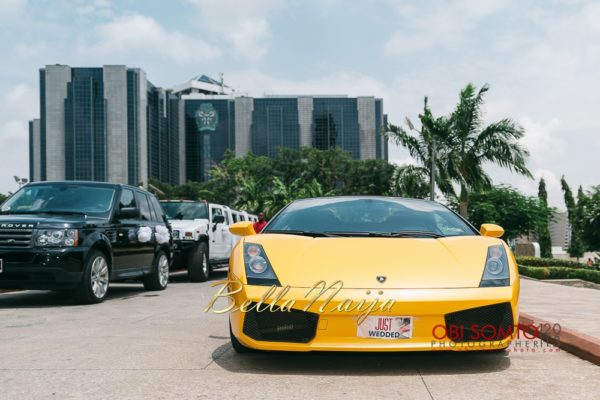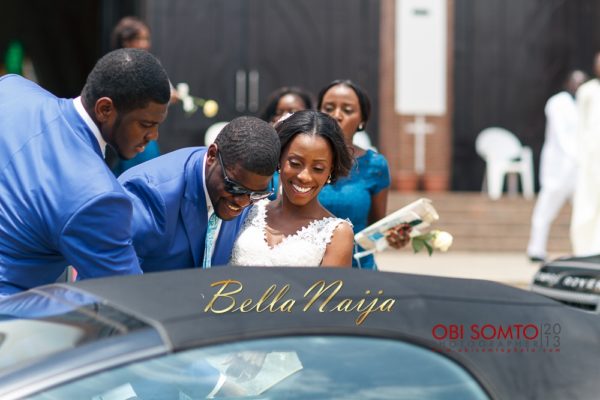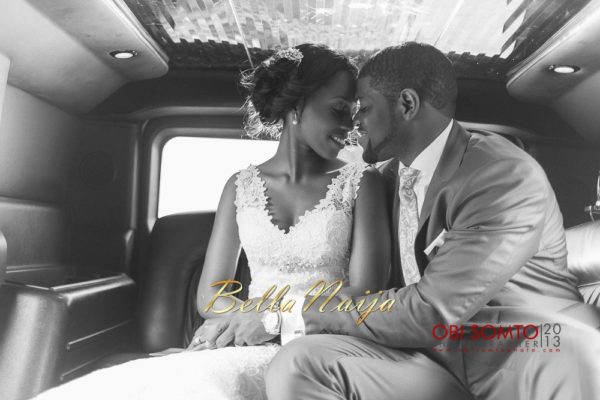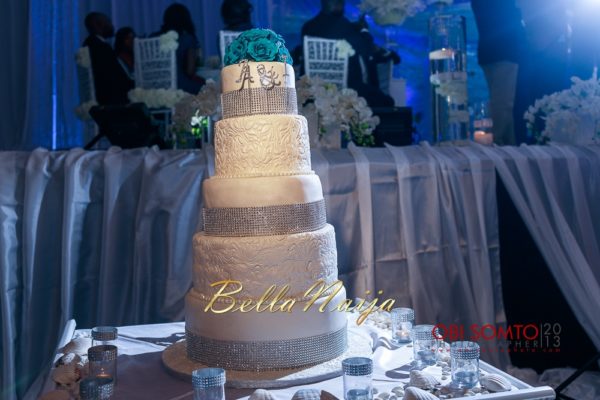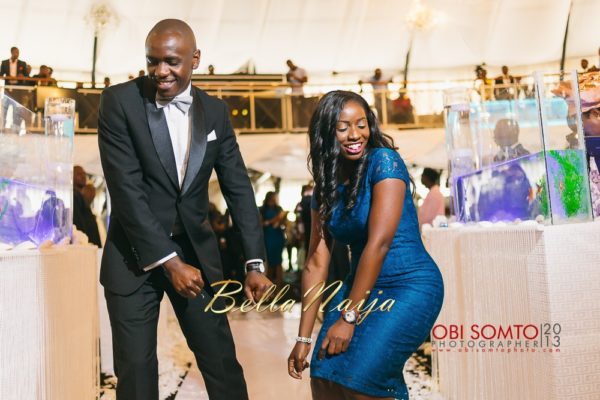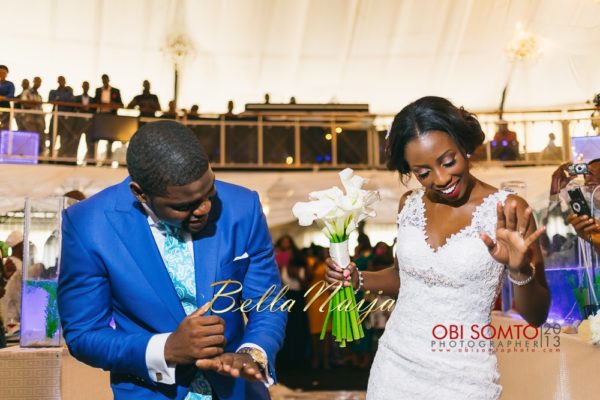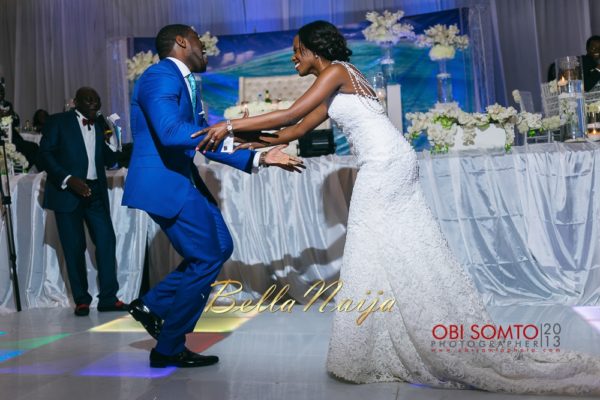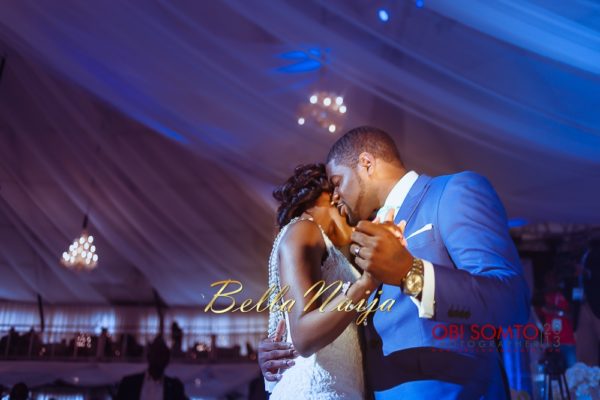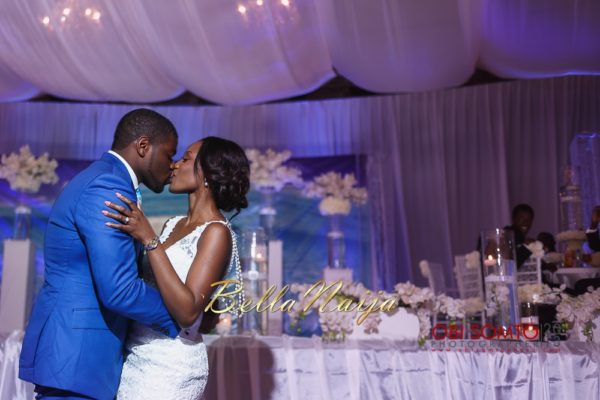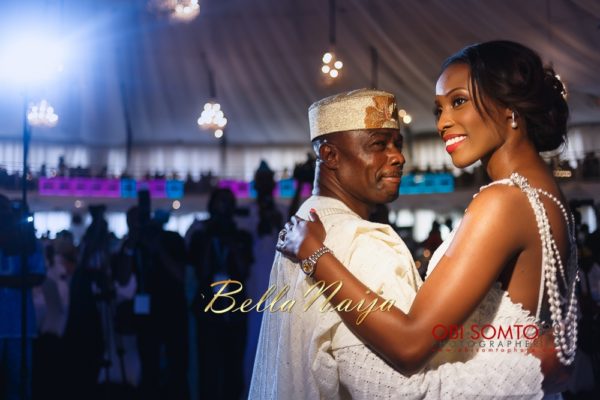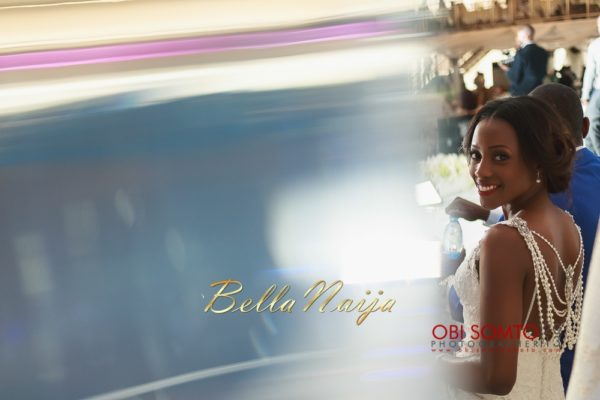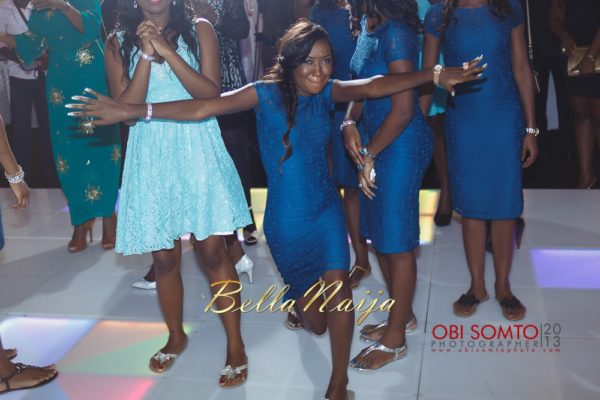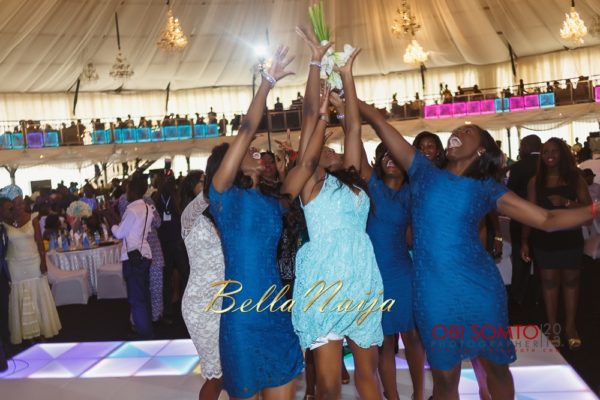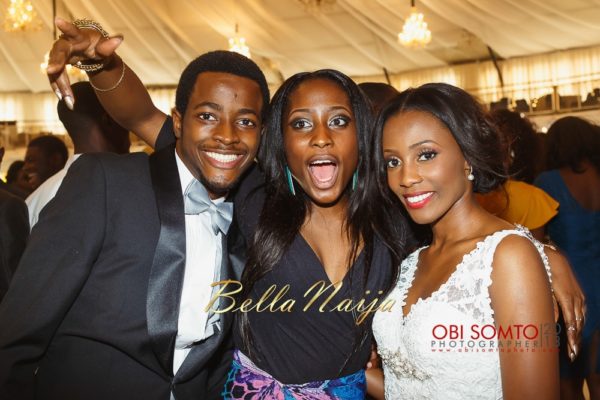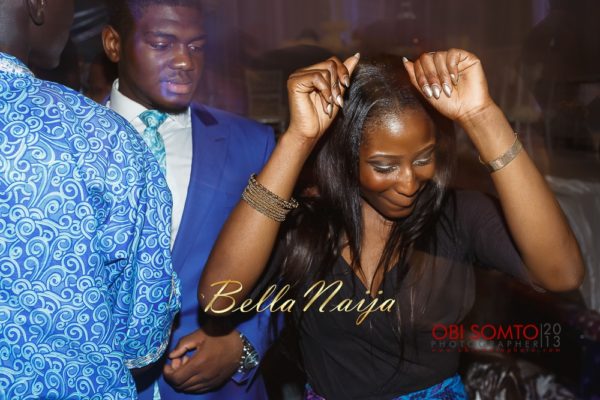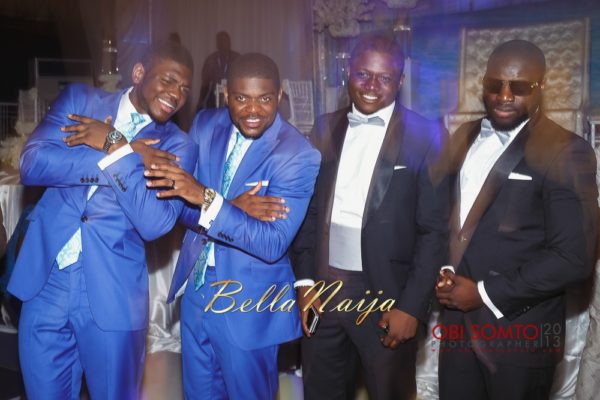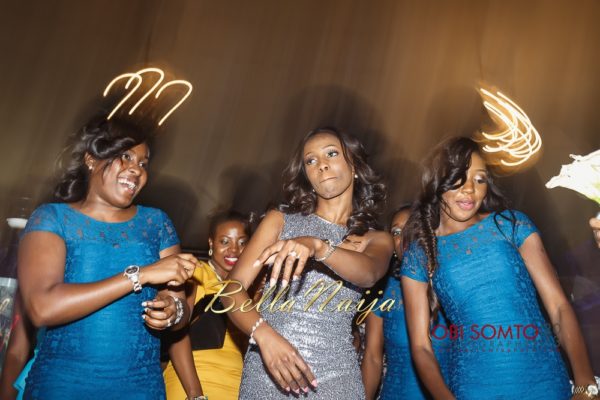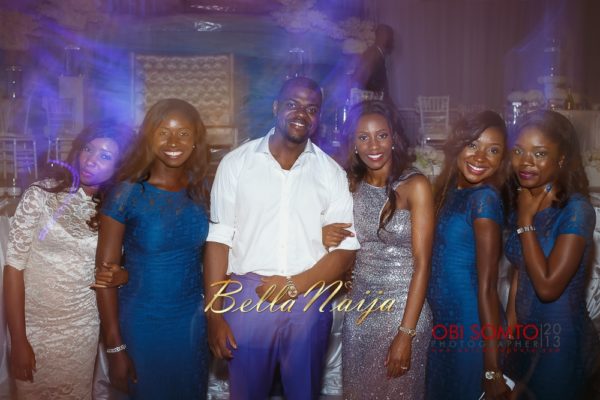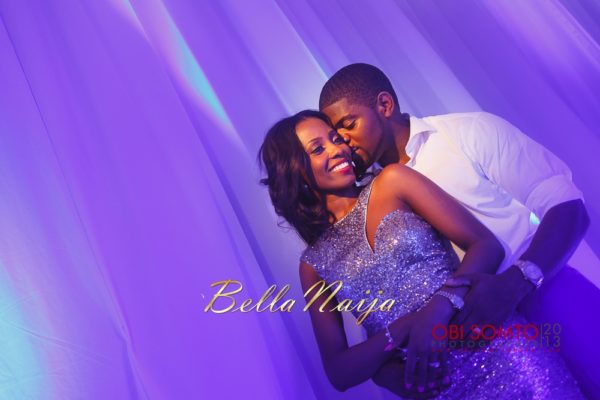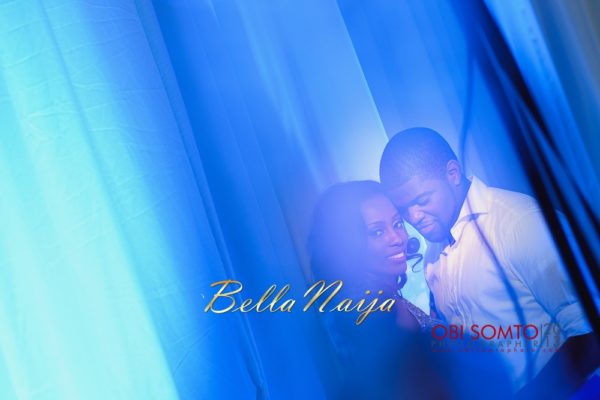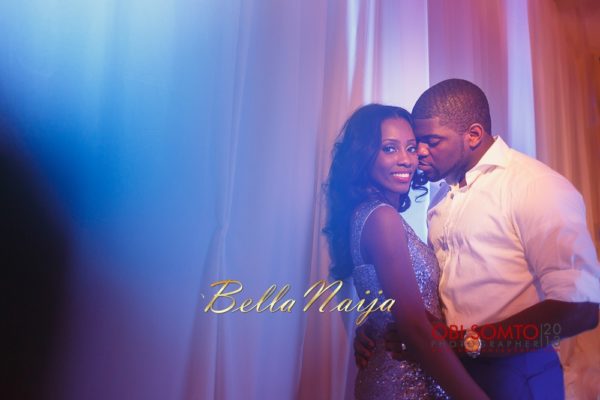 Photography: Obi Somto Photography | www.obisomtophoto.com
Couple's Official Photographer: DuduGuy
Wedding Details
Wedding Date: 13th July 2013
Venues
Church: Ecumenical Centre, Abuja
Reception: ThisDay Dome
Wedding Colours: Aqua Blue, White & Silver
Wedding Attire
Bride's Makeup: Fati for Mamza Beauty
Bride's Hair: Yinka XnB, Lagos
Wedding Dress: Ronald Joyce from Mia Sposa, Hatton Garden, London.
Groom's Suit: Gieves & Hawkes, Savile Row, London
Bridesmaids' Attire: Dorothy Perkins
Groomsmen's Attire: Alexander Dobell
Vendors
Planners: Couple's Family & Daxon Contractors
Wedding Cake: 3A Event Solutions
Decor: Red Diamond Events
Bouquet: 3A Event Solutions
Performers: Frank Edwards, Nathaniel Bassey
Comedian/MC: I Go Dye
Sound: I AM Events (Church)
DJ: DJ Neptune
______________________________________________________________________________________
We love weddings as much as you do – get in touch for inquiries, inspiration & more!
E-mail: weddings (at) bellanaija.com | E-mail for #AsoEbiBella: asoebibella (at) gmail.com