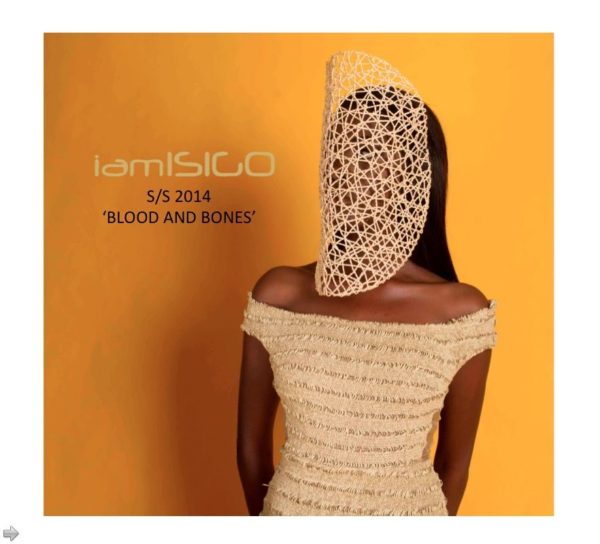 Good morning! It's Monday, we know, the most hated day of the week. But let Bubu Ogisi, Creative Director of Nigerian design label iamISIGO calm your nerves with her new collection, "Blood & Bones".
The collection draws its inspiration from exploring and celebrating the human body through a unique combination of colours, style and self examination. According to Bubu, the collection was "created while I was pregnant, my body went through so many changes. My "blood" and my "bones" were creating another being, my son. My body inspired me to create a collection that reflects my innermost workings."
The human body is a fascinating organism; its mechanism is still not fully understood by scientists. It's no wonder that the human anatomy has inspired so many curious inventions. The burgundy section of the collection represents a more formal, sultry and sophisticated look (representing the blood). The beige/light brown designs have a rural but feminine look. They are less formal and sophisticated, organic and earthy – representing the bones of the body.
View the Blood & Bones Collection below.
Photo Credits:
Photography: Lakin Ogunbanwo
Makeup: Jide Adedeji
Styling: Bubu Ogisi for BOFC
Model: Ndidi Odogwu
For more information on iamISIGO please send an email to [email protected] | Follow them on Twitter: @iamISIGO | Call
+2348034087789, +233246553835 or +33689344447 | Buy their pieces at The Chine Machine, 100 Rue des Martyrs, Paris;  L'espace, 19a Olosa street off Karimu Kotun, Victoria Island, Lagos; GreyVelvet, Ikeja Mall, Lagos; GreyVelvet, Centro Lekki Mall, Lekki phase 1, Lagos.