Good morning BN Beauty Belles!
It's a new day, a new week and another chance at getting your favourite BN Beauty looks down. To kick off our day we have got a makeup tutorial from one of our favourite BN Beauty gals, Chidimma Umeh of ThatIgboChick.
With a beautiful ankara inspired makeup tutorial, she is giving our fabulous Aso-Ebi bella's and Ankara divas a great alternative for makeup looks. It features a bright silver mobile lid and tear duct, an orange base and rosy cheeks set on a pretty face.
Here is what you need to get the look.
Eyebrows
Mac Veluxe Brow Liner – Deep Dark Brunette
Mac Studio Finish Concealer – Nw45
Eyes
Mac Paint – Bamboo
NYX Eyeshadow Base
Casabella Blush – Sunkist
Sephora Makeup Made Simple Palette – 25 (Lid)
Sephora Makeup Made Simple Palette – 29 (crease & outer v)
Mary Kay Eyeshadow – Espresso (crease)
Mac Eyeshadow – Rice Paper & Bamboo (highlight)
Mac Fluid Line – Black Track (liner)
Mac Feline Eye Kohl – Waterline
YSL Babydoll Mascara
Red Cherry #43- lashes
Face
Black Up Creme to Powder Foudation
Mac Studio Finish Concealer Nw40- Highlight
Ben Nye Banana Powder
Black Up two way cake – TW 11
Cover Girl Queen Collection Bronzer – Ebony Bronze (contour)
Cheeks
Mac Blush – Raizin
Lips
MacLlip Pencil – Cork
Wet n Wild Matte Lipstick – Just peachy
Kayge Cosmetics Lip Gloss – Melon
Watch!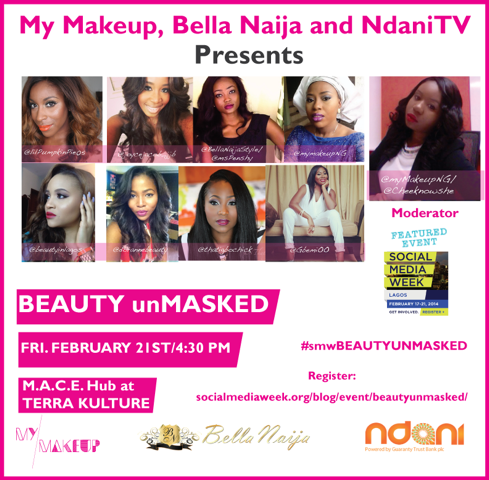 Great news for our beauty buffs, Chidimma will be presenting at a special Beauty Panel discussion organised by MyMakeupNG tagged "Beauty UnMasked" for the Social MediaWeek. This event, supported by BellaNaija & NdaniTV, will also have Jennifer Obiuwevbi (BellaNaija Beauty), Jackie Aina (LilPumpkinPie05), Ezinne Alfa (Beauty in Lagos), Theodora Mogo (Doranne Beauty), Tayo Sojebe (My Makeup NG Co-Founder), Bukky Kinoshi (My Makeup NG Co-Founder) Gbemi Olateru-Olagbegi (OAP & CEO Speakerboxx) and Joyce Jacobs (Joyce Jacob Beauty) on the panel.
Want to meet these amazing Beauty entrepreneurs? You can by registering here: www.socialmediaweek/blog/event/beautyunmasked. See you there.
Photo & Video Credit: ThatIgboChickcom