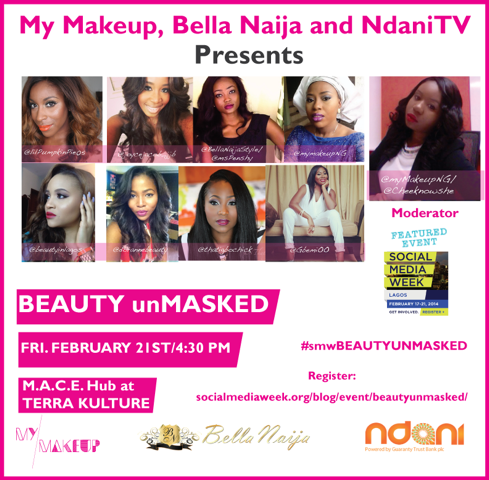 Hi everyone. We have got some great news for our ever-so-beautiful BN Beauty Belles. This Friday, 21st February 2014, yours truly (I am talking about me, Jennifer Obiuwevbi) will be sitting down with some of Lagos' fab beauty vloggers, bloggers and beauty influencers at the Social Media Week 2014 Lagos: Beauty UnMasked event.
We will be discussing various facets of beauty especially misconceptions about beauty and how social media has re-defined beauty and self-acceptance. It is going to be fresh, interactive and above all informative.
You can register to attend and I can't wait to meet you all there. Check out details on the event below.
***
This week, over 30,000 African tech and new media enthusiasts will converge on the continent's most populous city, Lagos. Young African women like Jackie Aina who is known on YouTube as LilPumpkinPie05, will join a clan of African beauty bloggers, vloggers and influences at this year's event.
Jackie will be participating on a panel discussing future trends in the Nigerian beauty industry with BellaNaija's Beauty Editor, Jennifer Obiuwevbi; Celebrity Makeup Artist, Joyce Jacob; Beat 99.9 FM OAP, Gbemi Olateru-Olagbegi; Celebrity Makeup Artist, Theodora Mogo and beauty bloggers Ezinne Alfa of Beauty in Lagos and Chidimma Umeh of ThatIgboChick.
Bukky Kinoshi and Temitayo Sojebe, Co-Founders of My Makeup & Co. organized this year's panel.The goal of this discussion is to empower Nigerian women by discussing how Nigerian social media stars are redefining beauty and determining trends while promoting self-acceptance. The panel will also highlight current misconceptions around "beauty" in Nigeria and the Diaspora.
Lastly, it will explore how content curators can determine trends on social media while incorporating tradition and culture.
Also, My Makeup will be hosting a makeup masterclass with LA based Makeup Artist, Jackie Aina on Saturday 22nd February 2014  by 12PM at White Space Lagos, 58 Raymond Njoku, Ikoyi, Lagos. To register, please visit: http://www.beautyrevolutionng.com/shop/beauty-unmasked-masterclass-a/
Check out a video of Jackie Aina (a.k.a LilPumpkinPie05) talking about the event and an exclusive workshop with her.
This event is proudly sponsored by My Makeup, BellaNaija & Ndani TV.
Date: Friday 21st February 2014
Time: 4:30PM
Venue: M.A.C.E Hub, Terra Kulture, Plot 1376, Tiamiyu Savage, Victoria Island, Lagos.
To register for the event please visit http://socialmediaweek.org/blog/event/beautyunmasked/
__________________________________________________________________________________________
BellaNaija is a Media Partner with the Social Media Week: Beauty UnMasked Event.