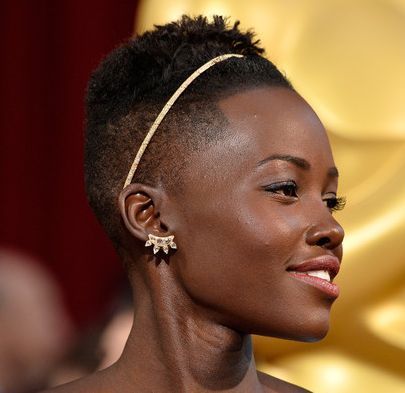 From Margot Robbie and Julia Roberts' new hair colour to Lupita Nyong'o and Naomi Watts' funky hairstyles, the dresses weren't the only things to watch at the 2014 Oscars! The stars brought their A-game for the evening and we can't wait to share all our faves with you.
Check it out. BN Beauty presents Our Top 5 Favourite Hair & Makeup Looks from 2014 Oscars.
Beauty
Kerry Washington
Scandal actress Kerry Washington stunned the red carpet, baby bump intact, in a beautiful Jason Wu gown(the first Oscar red carpet appearance for the designer) and her hair played along beautifully.
She picked plum as her go-to lip colour and her makeup look centered on a vampy aubergine lipstick while she kept the rest of her face neutral (Olivia style).
Her hair stylist of 15 years, Takisha Sturdivant-Drew gave the inside scoop on Kerry's hair for the big night. According to her, "I saw the Jason Wu dress and knew right away that she had to have a lot of hair and texture. Also, I wanted it to look kind of beachy, because of the dress was strapless and skin baring."
Irrespective of the rainy day, Takisha didn't use any product to keep the hair in place. She says "Wavy hair is better in this weather. Straight hair would have been a problem, but this is great hair weather."
We loved the look and it looks like vampy was a fave for a lot of actresses as Christin Milioti also rocked the vampy look.
Naomi Watts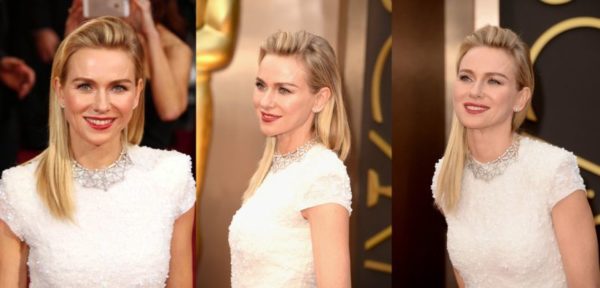 Ever since saw Naomi capture the attention of the massive ape with a soft side in King Kong, we knew her beauty was one for the books.
The star dazzled in a beautiful white Calvin Klein dress and had her blonde highlighted locks swept back . We love how pretty she looks, complementing her baby blue eyes with long lashes, rosy cheeks and a red lip.
Olivia Wilde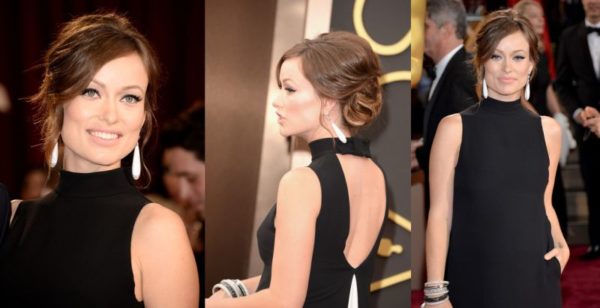 Olivia showed up at the Oscars in a fab Valentino dress that showed off her baby bump perfectly. She channeled her best Audrey Hepburn impression with pretty cat eyes, a nude lip and a gorgeous side swept up-do.
Jada Smith
Hey Mrs Smith! Jada and Will were one of the couples we absolutely loved on the red carpet and in real life. The actress/singer/momager left it pretty in pink with her fabulous dress by Atelier Vercase and complemented it with a beautiful pastel pink eyeshadow and a pretty nude face.
She looks so timeless it's painful to stare. But we don't want to look away!
Emma Watson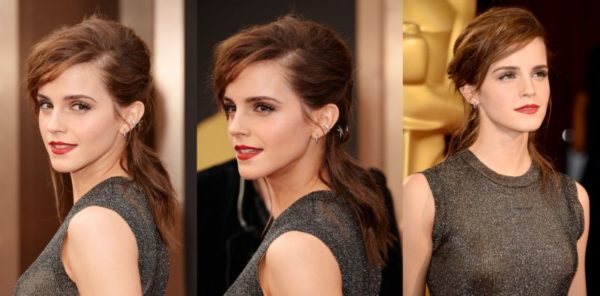 Emma Watson never disappoints. Stunning in Vera Wang, The Bling Ring star gave us a double dose of fabulous.
She brought back the half-up half-down hair style which we haven't seen in a while (actually since the 90s) and gave it a twist leaving some flyaways and tussling it up. And boy are we jealous of her strong brows! She let them do the talking with a bold red lip and minimal eye makeup.
Hair
Lupita Nyong'o
All hail Lupita! The 12 Years A Slave goldmine actress won the Best Supporting Actress award and looked stellar doing it. She donned the red carpet in a 'Nairobi blue' Prada gown (as Lupita calls it) with beautiful jewels and a headband designed by Fred Leighton which added a fab touch to her princess look. She wore an 18kt yellow gold diamond headband and a pair of 18kt yellow gold rose-cut diamond crescent earrings. Kai, it pays to know how to act sha!
Her hair stylist Larry Sims described hoe he got her fab hairstyle. According to Hollywoodlife.com, "Larry started Lupita's look by applying a quarter-size amount of Smooth 'N Shine Go Pro Curls Gelle Parfait on Lupita's damp hair, and then diffused her hair to create a fine curl and texture.
Larry then used Smooth 'N Shine Go Pro Gro Crème Oil to smooth out the front of Lupita's hairline. He also applied the Crème Oil on the sides of her head to give her hair a smooth and shiny finish."
Don't you just love the look? A show of hands, who is going to try out the look?
Maria Menounos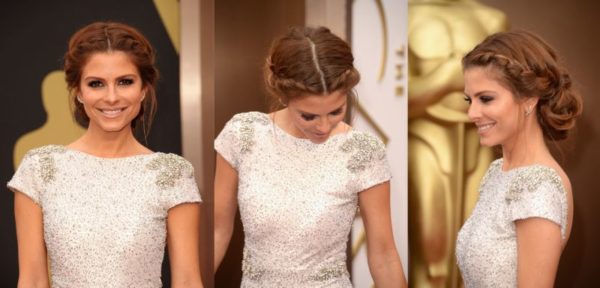 Braids are always a go-to hair style!
Rocking a wispy up-do is the stunning Maria Menounos. She paired her fabulous embellished gown with a two-strand twist up-do and tussled it up for a more ethereal effect. Love it, saved the photo, trying it next week! 🙂
Jennifer Lawrence
A cat eyeliner is always the way to go right? J-Law's makeup look was created by Ve Neill but what caught out attention was the volume in her sleeked back hair. Jennifer's hair was styled to the max! Celebrity hairstylist Jenny Cho created the look using Suave products. Those products must be fall-proof, because even after her unfortunate fall, she didn't need to touch up.
We also loved how the hair left just enough room for her gorgeous gown to shine.
Sandra Bullock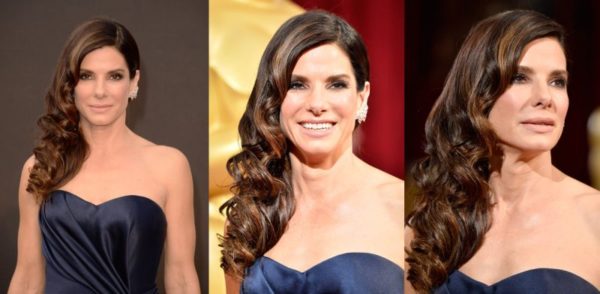 Sandra Bullock is another beauty that brought her beauty A-game. Sandra stuck to a beautiful smokey eye with blue hints and let one of this year's major hair trends shine. Sweeping her long locks to the side, Sandra sported big wavy curls that proved to be a favourite for everyone!
The side-swept look was also a favourite for Kate Hudson and Jennifer Garner.
Margot Robbie
The beautiful Wolf of Wall Street actress, Margot Robbie ditched her signature gold locks and took a walk on the dark side. She adorned beautiful brunette tresses coupled with a gorgeous vampy/gothic makeup look that totally blended with her all black Saint Laurent dress.
Let us know…which hair colour do you prefer Margot in? Blonde or Brunette?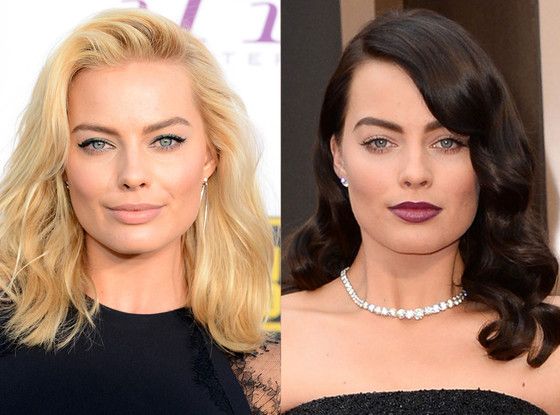 Photo Credit: www.zimbio.com