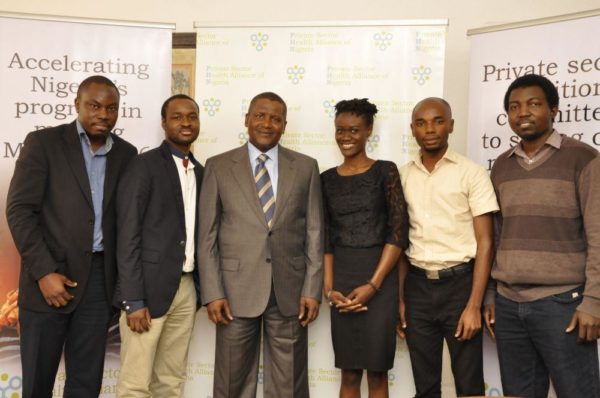 Nigeria's first ever Healthcare Hackathon was kicked off recently by the Private Sector Health Alliance of Nigeria (PHN), the public private institution led by Alhaji Aliko Dangote (Founding Patron), Bill Gates, Jim Ovia (Co-chair), Dr. Muhammad Ali Pate (Co-chair), Aigboje Aig-Imoukhuede, Sola David Borha, Muntaqa Umar-sadiq (MD / CEO) and other corporate leaders – in partnership with the Ministry of Communication and Technology open data day (Co-creation hub and Idea hub), the Saving One Million Lives Initiative (SOMLI), NPHCDA, World Bank, Code for Africa, and Cousant Technologies.
The Private Sector Health Alliance is a private sector led coalition that seeks to mobilize the private sector to contribute to the Saving One Million Lives Movement and advance Nigeria's progress in meeting the health related MDGs by focusing on innovation, strategic partnerships, advocacy and impact investments.
The landmark healthcare hackathon saw teams of tech entrepreneurs participate in the day long hackathon where PHN provided representative healthcare datasets that included facility level, household and programmatic data points for the leading causes of mortality (including malnutrition and malaria). In addition, locations of primary healthcare centers and referral hospitals in all 36+1 States in the country were unveiled with State level human resource for health data and other socio-economic indicators. PHN also gave cash prizes to three winning teams that developed the most innovative mobile and ICT solutions based on the datasets provided.
Meeting the winner of the healthcare hackathon, iQube labs (who used PHN healthcare datasets to developed an innovative mobile health solution to address supply chain challenges for essential health commodities and incorporated GIS / crowd sourcing layers to potentially estimate alternative routes to support the distribution and management of drugs in crises prone States); Alhaji Aliko Dangote said that "as part of the innovation pillar of the Alliance, we recently launched the Nigeria Health Innovation Marketplace (NHIM), an intervention aimed at providing a convergence platform for identifying and incubating innovative health products, technologies and approaches – in a bid to provide market linkages to enable promising health innovations such as iQube labs achieve scale and impact on the nation's effort in meeting Millennium Development Goals (MDG) 4, 5 and 6".
Co-chair of PHN, Jim Ovia congratulated the winners and stated that the NHIM comprises 3 core elements; Virtual Health Innovation Portal, Health Innovation Hub/Incubator and Health Innovation Challenges/Hackathons.
During the landmark hackathon, the CEO of the Private Sector Health Alliance, Dr. Muntaqa Umar-sadiq in his remarks stated that "it is humbling to see an army of computer programmers and tech entrepreneurs develop mobile and ICT solutions that will empower the true heroines of the Saving One Million Lives Movement: the thousands of midwives, female community and village health workers, working in many rural areas across the country to save the lives of women, newborns and children".
The Technical Lead of the Saving one Million Lives Initiative and Special Adviser to the Honourable Minister of Health, Dr. Kelechi Ohiri added that, "the healthcare hackathon re-iterates the importance of technology, data and capital in accelerating progress in saving at least one million lives by 2015".
PHN has engaged different segments of its private sector members (telecommunication members, financial institution members, pharma / FMCGs members, healthcare providers amongst others) to co-develop and unveil innovative partnership projects to contribute to the Saving One Million Lives Movement.
With its telecommunications members, PHN is leading an intervention in partnership with NPHCDA, Ministry of Communication and Technology, States and LGAs to address last mile vaccine cold chain challenges such that the excess power/electricity capacity from selected mobile phone masts/towers in high disease burden jurisdictions (which have the full complement of 24 hour power supply and security etc) can be used to power the refrigeration of viable vaccines at selected mobile phone masts situated in close proximity to Primary Healthcare Centres – thus addressing the logistics, power and transportation bottlenecks at the front lines and increasing the number of routine immunization days in selected primary healthcare centres.
PHN is also working with its financial institutions members and NPHCDA to leverage the multi-faceted interaction points that financial institutions have with customers (text messages, online platform, print media, bank branches etc) to optimize the awareness and demand generation during the biannual Maternal Neonatal Child Health weeks (MNCHW) and other notable national campaign weeks. This will complement government efforts and use a more strategic and high impact approach.
PHN Pharma and FMCG members are working towards bringing to bear their supply chain systems to reduce the stock out rates of life saving health commodities in selected primary health care across the country.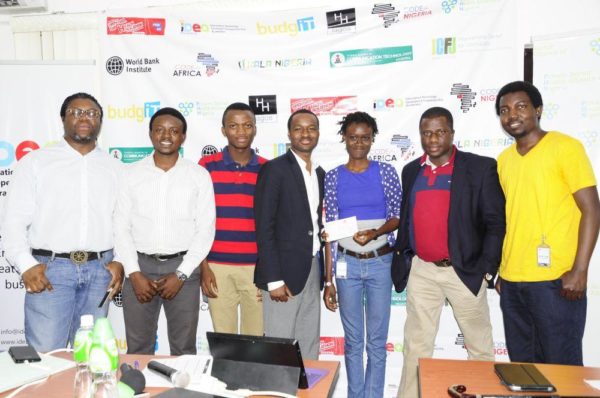 Other State bespoke public health interventions addressing malnutrition and malaria through innovative approaches are underway.
PHN calls on private sector companies and corporate leaders to join the platform that Private Sector Health Alliance provides and pool collective capabilities, assets and resources to deliver greater impact.
Other hackathon winners include Health Central; showcasing an integrated predictive service delivery tool and Health IT; for providing access and info about health infrastructure and human resources for health mapping to empower patients Information about broader health innovation challenge coming soon.
For more information please visit www.phn.ng | Facebook: www.facebook.com/Private-Sector-Health-Alliance | Twitter: @phn_alliance
__________________________________________________________________________________________
Advertorial – Sponsored Content