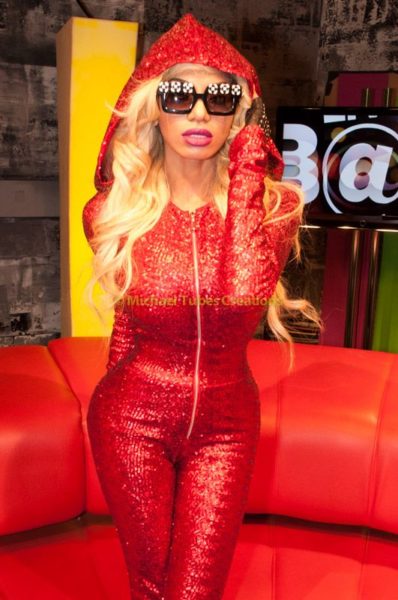 Dencia is on a media roll…on a mission to defend and promote Whitenicious.
Have you seen her latest interview on Channel 4 News – click here to watch. She also scored another TV interview with BBC for an all new episode of BBC Focus Africa – Watch below.
The Cameroonian pop star was also present with Jim Iyke for an interview on Vox Africa's hit show – Live @Battersea. She wore a custom sequined red jumpsuit and black Versace heels.
Host Adesope Olajide asked about her brand, Lupita Nyong'o and the upcoming interview with Oprah Winfrey's TV network.
On if Whitenicious is a bleaching cream, Dencia explained how hydroquinone is used in most creams to tone and lighten dark spots.
"It will bleach your skin, yes. But, is that what I'm selling it for? No." She goes on to say "I'm a Christian and if I was selling Whitenicious for the purpose of bleaching the whole skin and lying about it, I don't think God would have blessed me with selling out in 24 hours. God doesn't like dirty and I believe that because I'm honest about what I'm doing, whatever the media is saying that is their problem. My little voice will be heard one day. As the saying says lies travel around the world before the truth gets to put on its shoes."
She also explained the old pictures of her being darker that circulated online and now she is extremely lighter. Dencia stated that she had a tan and she's naturally light.
On the controversy surrounding Lupita's speech in which she was mentioned, she says "In this age in 2014 you think that if a little girl wrote a letter she wouldn't come out and say that it was her. Someone in her camp sent me an email saying that the letter was made up.
Let me tell you something about us black people, we always like to bring each other down. I'm building an orphanage in Cameroon. There are amazing things I'm doing with orphanages. I do all these things and I don't talk about it because I believe it's God's work that I'm doing and the bible says that when you give with your right hand, your left hand should not know.
When you look at Lupita, she has all this publicity, what is she doing for charity, what does she stand for, what is she supporting. Then you look at the small girl Denica, she's the black girl from Africa, she's probably ignorant and she doesn't know what she's doing. Let me jump on her and get some media, because at the end of the day she got media off of it. When people get publicity they want more.
At the end of the day, I don't care about her story and I don't want to talk about her or say anything negative against her. We just talked about her, did I say anything negative. I thank her for the publicity." she says.
On the much buzzed about documentary "Light Girls" for OWN, Oprah Winfrey's Network, she says "I feel like they want to take advantage of Whitenicious. They need the show, they need me but you know what, if the pay is good, I'll do it…The questions they want to ask me they can ask Rihanna, Beyonce and Nicki Minaj because they have all lightened their skin. But since they are bigger, you can't ask them and you want to ask me so, pay me."
Photo Credit: Michael Tubes Creation | Sync Photos