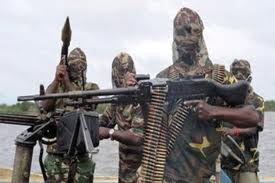 On Thursday evening, a top Boko Haram Leader – who is yet to be confirmed as the "Oga at the Top" – was captured by Special Forces while trying to escape the Gwoza Hills, Borno in a black Toyota Land Cruiser with his escort.
Punch exclusively got the inside scoop, and reports that 70 insurgents of the Boko Haram sect were also killed.
The Boko Haram leader is said to be captured alive and flown immediately out of Borno to Abuja for a rigorous interrogation in one of the military camps.
"On Thursday, soldiers arrested a top member of the Boko Haram around the Gwoza Hills after the battle of Wednesday night when troop took over the hills.
The Boko Haram member must be a very high ranking member of the group if not the head because he had several Toyota Land Cruiser jeeps in his escort when he was captured.
Another thing is that they didn't want anybody to know his identity; the commanders immediately flew the man to Abuja; as we are talking, the man is being interrogated there. A highly placed security source confirmed the arrest of the Boko Haram leader but would not make any further comment on the issue." the source revealed.
In the battle, a few soldiers were shot and are currently being treated at a Maiduguri hospital.
It is understandable that the government is yet to announce that a top leader has been captured because they will like to properly interrogate. It will be interesting to see how it all plays out.
BN will keep you updated on the story.