It was a tough competition, but after a lot of sweat, persistence and creating amazing menswear, Nigerian designer Rodney Emeka emerged as the winner of the MTN Young Designer of the Year award at the 2013 Lagos Fashion & Design Week. With a background in Accounting, fashion design seemed far fetched, but passion, drive and talent moved Rodney from what he though would make his family happy to what he envisioned himself doing all along – fashion designing.
With 2 collections to his name; his Fall/Winter 2013/14 "Work Hard, Play Hard" & his debut 2012 collection,  already in the minds of fashionistos and fashion enthusiasts, Rodney has accumulated devoted celebrities that wear his brand  like IK Osakioduwa, Desmond Elliot, Alex Ekubo and Burna Boy. 
Today, BN Style talks to the designer on his next steps after winning the highly coveted Young Designer award, what that means to his brand and what design means to him.
Who is Rodney Emeka?
Rodney Emeka Igwedinma is the winner of the MTN Young Designer of the Year award 2013. I am currently a student of University of Lagos, studying Accounting. I am from Anambra state and the last born of a family of seven. My dad is a retired civil servant while my mom is a tailor and we are a happy lot.
I attended Ladoke Akintola University of Technology (LAUTECH) Ogbomoso where I studied Biochemistry. But when I developed my talent as a fashion designer, I had to leave LAUTECH for University of Lagos, UNILAG where I started seeing things happen for me in my career. Although I spent many years at LAUTECH, I think it was a wise choice moving to UNILAG because it exposed me to a lot of things.
I started my career in 2011 after leaving LAUTECH while studying a science based course and was forced to begin my university education afresh in Lagos having gained admission to study Accounting. Interestingly as a kid, I had enjoyed art based classes but due to family pressure I went through school as a science student. My decision to transit to Accountancy was based on my belief that the course would provide the best platform to fulfil my vision as a fashion designer. And it wasn't hard to switch because I already had a combination of science and arts courses in my O'Level.
When did your career in fashion begin?
My career in fashion started professionally in 2011. My mom is a tailor and she always put us through tailoring when we were young. Although back then, I was a bit stubborn and didn't find the experience pleasurable but she insisted that we all learn the art. It was as if she knew what was coming ahead in the future.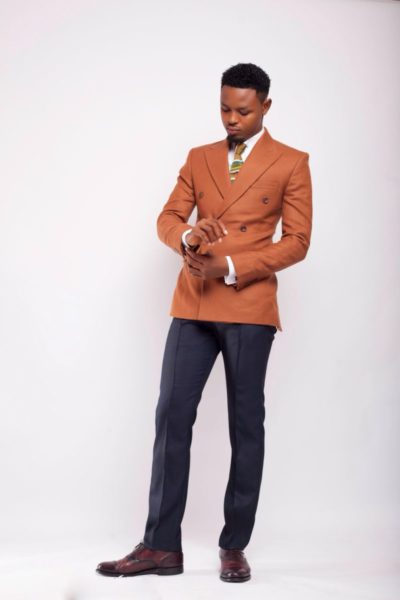 When I got to LAUTECH, I became very serious about the craft when I saw some things that inspired me – there was a business case for it and I was hooked on it. I am into men's clothing, so while at LAUTECH I saw boys looking good, fresh and wearing made clothes that were tailored here in Nigeria. My plan on entry was to change motifs in terms of the way boys were dressed. I brought out a collection and had a shoot for it but only my friends and close associates saw it. Then in 2012, I did another collection which was a bit more colourful. It was featured on BellaNaija and this launched me into the industry; people got to know about me and my works.
In 2013, I launched another collection – "Work Hard, Play Hard" which gained more traction than the first before doing the latest collection, "Man About Town", which was showcased at the 2013 Lagos Fashion and Design Week. So as you can see, it's been a season of hard work these last two years.
Winning the MTN Young Designer Award was a very important highlight in your career. What did that achievement mean to you personally?
It's everyone's dream to be a winner. And so I was very elated when my name was announced as the winner. I have a certain fulfillment from winning the competition because I have put in a lot into this craft. The joy is actually premised on my preparations. I prepared for it.
At the last edition in 2012, I attended the closing finale where the winner was announced. I studied the process and workflow of how the models and designers presented their materials. That was on the 28th of October 2012. From that point on, my preparations began for this year's edition. So when it happened, I was like "Hey Rodney! Your next hurdle begins".
Some of your suits have a whimsical appeal while others look more dapper and 'GQ'. Tell us what inspires your designs?
I draw inspiration from art, the environment, nature and music. They provide the stillness with which I birth my design concepts. However, my goal as a fashion designer is to be the number one Nigerian's menswear label to go global. I want to sell on a worldwide scale. And this explains why I have a tilt towards the British cut.
For some it's drinking a hot cup of coffee, for others it's sitting in a very bright room. What do you do before you start a creative process?
The first stage of my design process is organizing my thoughts and collecting images (Mood Board) to enable me channel the creative excitement towards a cohesive collection. It captures the mood or flavor of the design project as well as reflects the target customer. I get to sit down with the client to understand what he really wants and what occasion he is wearing the piece to – red carpet show, dinner, office wear.
Once I understand what the client's thinking is, I sketch out my designs that are compatible with the purpose or occasion. When the client is satisfied, I go out to select fabrics that will help to interpret the sketched designs. After this, I cut the fabrics and get them into the factory for production. The customer then comes back for a fitting to make sure that it's the perfect style as conceived. If there are adjustments, we take them back and amend accordingly till we meet the client's expectation.
You are relatively young in the fashion industry. What do you think has been your biggest career mistake so far?
I'd say the biggest mistake I made is not believing in myself. It wasn't until I began believing in my gift, that things began falling in pleasant places.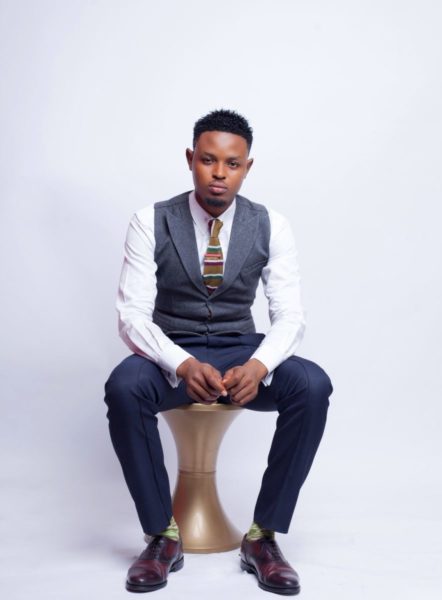 Who are some of your favorite designers home and abroad? Or is it just you?
As a bespoke men's suit designer, I find inspiration from the Okunoren Twins, maybe because we are in the same line of business. But I dare say that they have got some interesting designs in their kitty. On the international front, I admire the works of Tom Ford, Ozwald Boateng and DSquared2. I also look up to the works of Tiffany Amber, Mai Atafo and Lanre Da Silva-Ajayi.
How long does it take you to create a piece?
If I am making a shirt, it could take me about two hours to make – cut, sew and the finish line. However, starting from the design process, as designers we don't just make dresses, we make collections. This bit takes a little while as you need to get inspired; you need to arrange things together to create a collection. It can't be done in hours or 3 – 5 days. It takes a longer period to pull things together. All things being equal, it takes about 14 working days to produce a piece.
Who is your dream muse?
Jackson Pollock, an influential American painter and a major figure in the abstract expressionist movement. Many artists know him for his unique style of drip painting.
What matters most to you in design?
Finish, finish and finish. Just as you witnessed at the LFDW show, our finish line looked perfect and that is something many people don't expect from a young designer. We pay attention to details and try to make it look so nice. We will continue to place value on the finishing for our collections and the details in our clothing line.
Do your models have to have any specific requirements to model for you?
Yes, I pick my models based on the collection theme. It depends on the story I am telling in the collection. For example, the "Man About Town" collection tells the story of a traveler. A man that loves adventures, style and doesn't follow trends. He creates his own trend. So in picking models for this collection, I was looking for faces that could actually interpret the story behind the collection. Being a colourful design, I tried as much as possible to pick the hard faces because it's not a causal wear. It's only for the bold, daring and someone who's not afraid of any style.
Do you think the African fashion market is becoming saturated?
Yes, I honestly think it is however, there is usually space in the sky for all the birds under heaven.
This may sound odd, but what do you dislike the most about designing clothes?
This may even sound odder but I dislike nothing about designing. The anticipation, creative process, everything pumps me up. It's the cherry on the cake – the client loving the worth of his money and me loving the look of my handwork. It's a blessing. However, there are times when clients call you up and make very unrealistic demands. Imagine someone calling you up four days to his wedding and telling you he wants a bespoke suit? This is knowing fully well that this order should have been placed at least three months to this proposed wedding date so that we can get the chance to sit down and map out the look and feel of the suit. So because they know I am a designer and not being mindful of what I might be doing at that moment, they make those kind of calls and place me under undue pressure to perform a miracle. At times like this, I just say, damn, I hate this job.
Tell us about your personal style
My style is predicated on comfort and flexibility. It isn't something that is so loud, it is usually very simple. Even though it looks like what everyone can put on, it is sophisticated and classy. That's my style.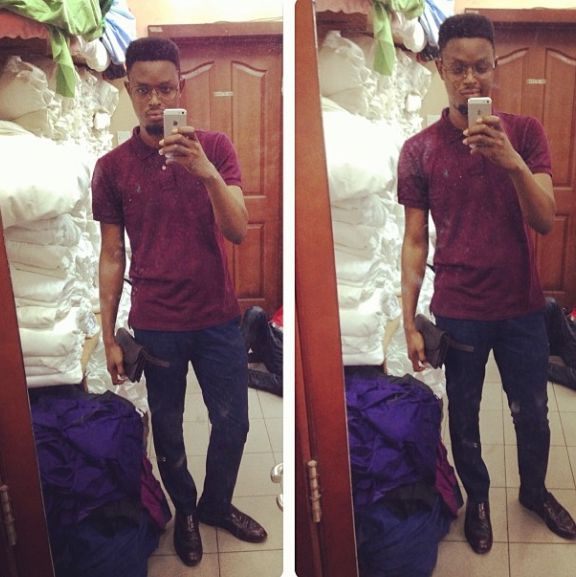 Would you describe yourself as an artist?
Yes I am. The same way an artist uses colored paints to tell stories on a canvass or paper is the same way I use my fabrics and colors to evoke the same emotions.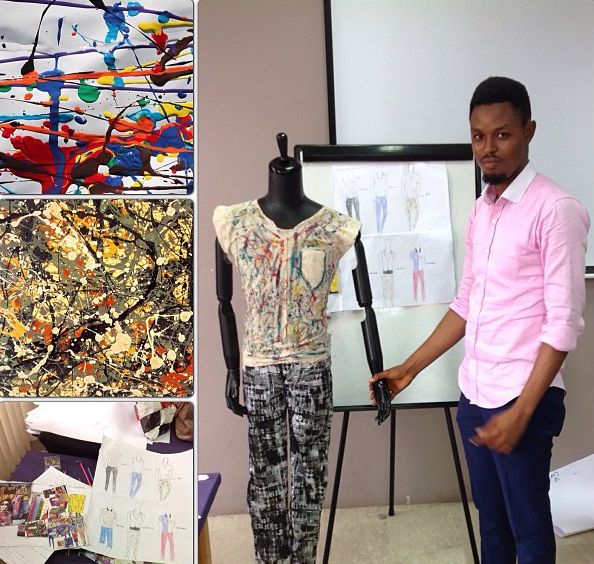 What's next for McMeka? The designer and the brand.
First things first, as a designer I want to go through the process. My immediate plan is to shoot my Spring/Summer 2014 collection which we just showcased at the 2013 Lagos Fashion and Design week. When we are done, I will be doing my Autumn/Winter 2014 collection in the first quarter of next year. I also intend to launch my site and put my collections online so as to increase point of sale.
The LFDW is my first fashion show. I hope to showcase my stuff at the ARISE fashion show and maybe the Mercedes Benz Africa Fashion Week. The key to my success is planning. I planned to win, it wasn't accidental or happenstance and then the God factor. I am so grateful for this platform given me by MTN. For the brand, our Ad Campaign shoot is coming out soon and it would be followed by my lookbook.
What advice do you have for upcoming designers that are looking to be the next big thing in Fashion?
My advice is very simple – Always believe in yourself no matter the circumstances, fashion designing is innate.
Just for Fun
Name 5 celebrities that have worn your suits so well they made you proud to be a designer
1. Desmond Elliot
2. IK Ikponmwosa Osakioduwa
3. Uti Nwachukwu
4. Burna Boy
5. Alex Ekubo
What is the name of your favourite movie?
I love Quentin Tarantino's Django, and the old Dracula. I am also a big fan of the TV series, Game of Thrones.
Which menswear designer would you forfeit a design award for?
Dsquared 2.
If you were stuck on an island, what 3 things would you want to have with you?
Sketch pad, pencil and water.
Which female Celebrity do you think would look great in one of your pieces?
1.Genevieve Nnaji
2. Rita Dominic
3. Tiwa Savage
4. Juliet Ibrahim
Watch McMeka's pieces on the Spice TV Fashion Fiesta runway


Thank you to Rodney for the great interview and we wish him great success in his future endeavors.
Photo Credit: BellaNaija | Sereinemagazine.com | Pose4fun.blogspot.com | Infashionrehab.com | Instagram.com/mcmeka